BEQUIA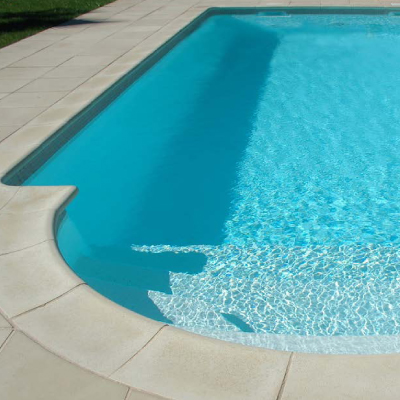 Recommended retail price 2023 starting from :
Our Price starting from :
Ref. Abatik 024336
Ref. Provider OMICRON-SFILT
BEQUIA polyester shell pool 10,60 x 4,00 m, 1,50 m flat floor without filtration
Rectangular polyester shell 10.60 m x 4 m, flat floor, 1.50 m in depth,
Fast and easy installation,
Durable pool solution resistant to ground movement,
Numerous sealing parts supplied,
4 available colours
In stock
BEQUIA pool in detail
This pool has a depth of 1.50 m, a length of 10.60 m and width of 4 m. The BEQUIA's dimensions allow total swimming freedom and comfort.
You can completely benefit from your pool, for training or recreational purposes.
The
BEQUIA
offers an easy solution to obtain an inground pool in your garden
Installation is simple and easy without the requirement of complicated masonry work.
The BEQUIA is reliable, boasting automated manufacturing and excellent resistance and water tightness.
Zoom on polyester shell pools
Why choose this type of pool?
Because you are sure to benefit from a quality choice of materials and a unique automated manufacturing techniques, which are the guarantee of your pool's quality.
Swimming Pool Online and its manufacturer offer the following complete service to professionally position your pool:
- Delivery by the manufacturer (crane truck)
- The qualified drivers check and validate the correct level of the concrete screed using a laser level
- Positioning in the pool cavity checked and validated using laser level
- Installation of lateral drain (supplied by Client, PVC Ø125 mm, 2 m long)
Composition
1) Gel Coat : The gel-coat is a resin-based coating that ensures the protection of the shell against osmosis and UV rays.
It also creates the pool shell colour. There is an available choice of white, blue, beige or grey.

2) Barrier Coat : The barrier coat is a protection which is composed of a vinyl ester protective coat, avoiding osmosis.

3) Glass fibre layers: Alternating several types of glass fibres mixed with isophthalic resin (to provide resistance to hydrolysis and excellent mechanical resistance).

The design of the shell is concluded with the simultaneous projection of glass fibres mixed with ortho-phthalic resin to offer further mechanical resistance.

The application of glass fibre in layers ensures the rigid aspect of the shell.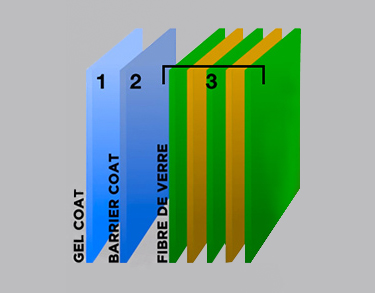 Focus: Construction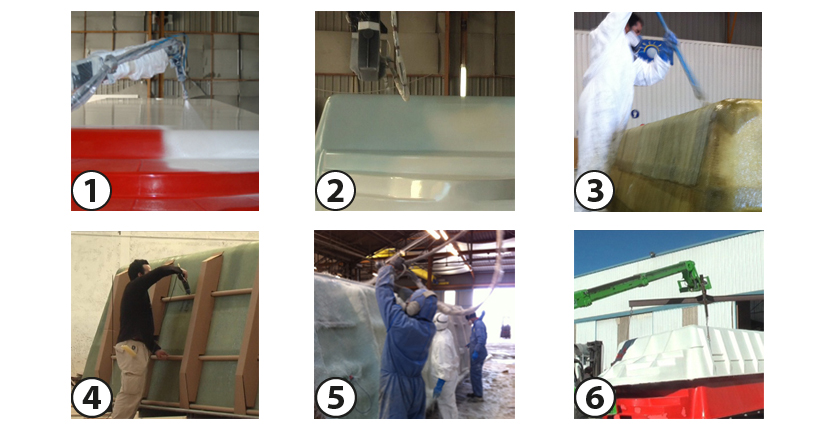 Almost totally automated, the manufacture of BEQUIA is completed in several stages, following a rigorous quality control system.
The BEQUIA shell is composed of several coatings, guaranteeing a long lifespan and resistance:
1)
Automated application of gel-coat: The gel-coat is a resin-based material the ensures the protection of the shell.
It also provides the shell colour: White, blue, beige or grey.
2)
Automated application of barrier-coat: protective vinylester coating avoiding the risk of osmosis.
3)
Application of glass fibre layers: providing better adhesion, this step is carried out manually. The glass fibre layers are applied in the following order - Mat, Tiss-Mat followed by ortho-phthalic and isophthalic resins.
4)
The positioning of reinforcing templates.
5)
Projection of stratifying glass strand fibres.
6)
Unmolding.
Final step: Assembly of sealing parts (main drain, projector, brush adaptor) and skimmer entry are drilled into the shell structure.
Guarantees

10 years capitalised guarantee on manufacturer on pool shell

10 years on the positioning into pool cavity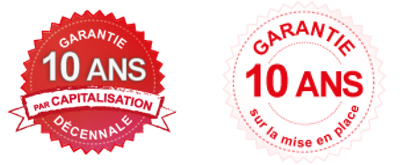 Dimensions and equipment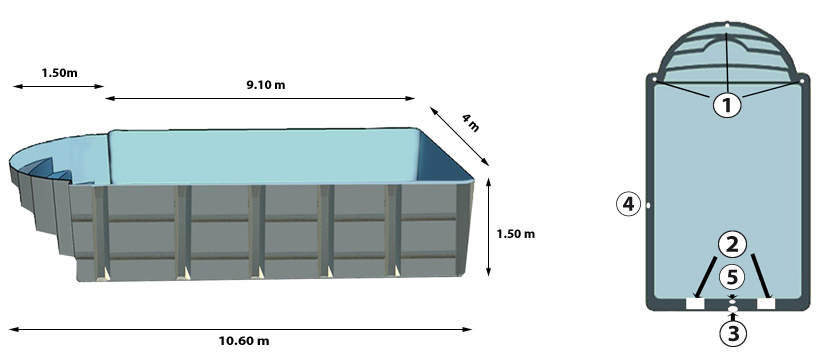 1.
3 discharge nozzles,
2.
2 skimmers,
3.
1 white lighting projector,
4.
1 brush afaptor,
5.
1 main drain
Available colours (viewed as seen in water) :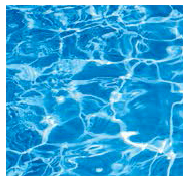 Blue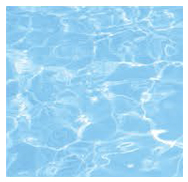 White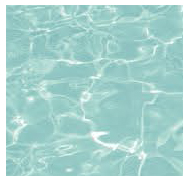 Beige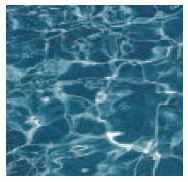 Grey
Elements supplied with the ANEGADA pool
Sealing parts
1) 2 skimmers
2) 1 main drain
3) 1 brush adaptor
4) 3 discharge nozzles
5) 1 white projector + connection box (Colour projector available on option)

Elements on option : filtration
Filtration Kit

PVC plumbing kit
1) 1 50 m roll of flexible PVC Ø50 mm
2) 4 Ø50mm valves
3) 4 Ø50 mm T connections
4) 5 Ø50 mm 45° connections
5) 18 90° elbow connections
6) 3 Ø50 mm 1"1/2 male union connections
7) 1 collector, 3 outlets
8) 2 Ø50 mm sleeves
9) 4 m Ø50 mm PVC PN16 piping
10) Tub of blue glue
11) 1 container of solvent
12) 2 rolls of Teflon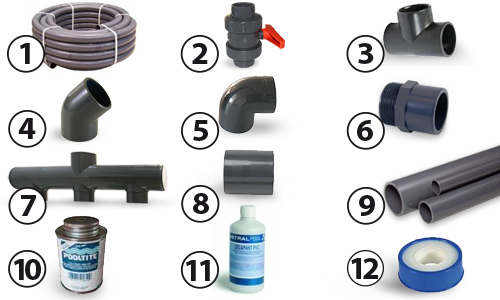 Maintenance kit

Coping
The Bequia integrates polyester coping, 27 cm.
Economic, the Bequia is quickly installed and your pool project is rapidly finalised.
For an optimal finish, we equally can offer a supplementary pool coping kit. Made from reconstituted stone, rounded in shape, fitting perfectly the contours of your pool. A sheet layout is provided to facilitate installation.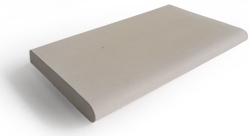 Stone
Delivery and positioning of pool shell

The positioning of your Bequia pool follows step by step installation:
1) Excavation: Once the 0 level has been defined (reference point for finished work under pool coping), excavate your pool cavity.
ie : for a pool, 1.5 m in depth, dig 1.6 m to allow for the concrete screen to be positioned at approximately 10cm high.
2) Screed : the reason for the concrete screed is to level the ground surface before the positioning of the shell to arrive at 0 level. Composed of washed gravel with a granulometry of 6/10 or 6/14.
The required quantity will be evaluated depending on the dimensions of the pool cavity.
3) Delivery of the Bequia pool shell by the supplier.
4) The positioning of the pool.
5) Installation of peripheral plumbing and backfill.
6) Hydraulic connections in the technical shelter.
7) Concrete belt.
8) Installation of coping and fill your pool :
a security system must be put into place before filling your pool
Find out more about pool security
Do you have questions concerning the feasibility of your project? Or one of the above steps? Don't hesitate to contact one of our advisors today!
Swimming Pool Online recommendations: Points to consider when implanting your pool
- Sun exposure
- Protection against dominant wind
- Integration to your outdoor area
- Coherent planning (engine access, crane truck access etc...)
Check with your local authorities if you need to ask for permission to install a pool
.
OBLIGED : Equip your pool with a security system
Equip your Bequia pool with an electrolyser
Equip your Bequia pool with a heat pump
Equip your Bequia pool with a counter current unit
Warranty
10 years on shell
2 years on material
Photos non-contractual
Price incl. VAT
Ask for a free quote bequia
Other product : BEQUIA
Starting from 11709 eur Including VAT.
Please fill in this form carefully. Our commercial service will handle your request promptly.
---
UK freephone hotline
Monday Friday 9.00 19.00, Saturday 10.00 18.00

---