Automatic pool cleaners

Electric pool cleaners

Aquabot Jet
Aquabot Jet
The Aquabot Jet
is an electric pool cleaner specifically designed for use in private pools. Perfectly adapted for a maximum surface of 60 m². The Aquabot jet is compatible with all pool finishes (ceramic, concrete, fiberglass...)and shapes. Very easy to use, cleaning efficiently and totally the bottom surface of your pool using its powerful suction system. Its hydraulic propulsion motor and 4 driven wheels give a fluid and fast trajectory allowing a short and efficient cycle.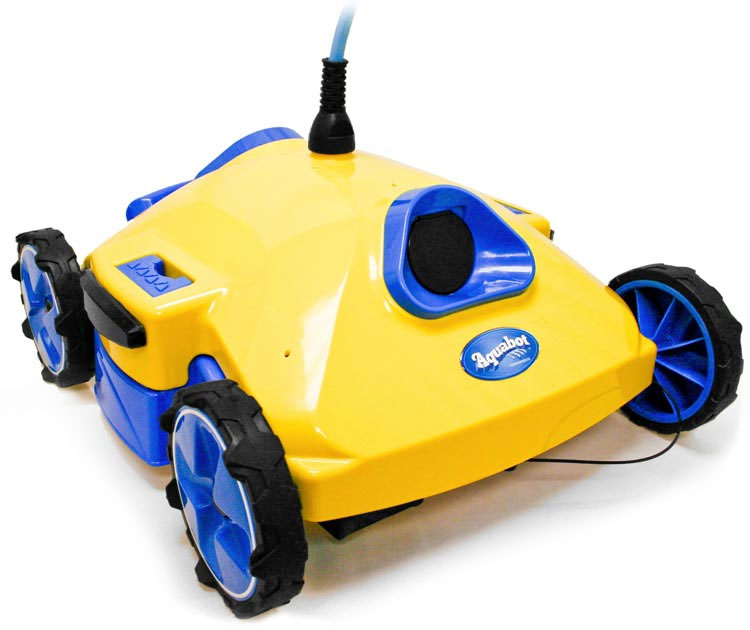 How does it work?
The Aquabot Jet pool cleaner has been designed to clean efficiently the bottom surface of your pool. Its suction capacity collects quickly all residue, filtering up to 18 m³ of water per hour. The hydraulic propulsion motor assures a fast trajectory. Complete with an obstacle detector, the unit completes a whole clean of your pools bottom surface without risk of being blocked in its path or hitting walls or steps. It's cleaning cycles are short: 1 or 2 hours depending on your pool's size and optimises cleanliness

Easy to use

Obstacle detector

Powerful suction system

Water economies and available spare parts

Just plug in

Easy access to filter
Very simple to use, cleaning the bottom surface of your pool easily without modification of your hydraulic installation.
1
Unroll the supplied floating cable and connect to your cleaner (important: Check that the low current transformer is not plugged into the electrical supply)
2
Submerge your cleaner into the water holding it by its handle. Evacuate the air in the unit by moving backwards and forwards in the water.
3
Connect the cable to the low current transformer.
4
Plug in the low current transformer
5
Choose the cleaning cycle adapted to your pools dimensions a press the ON button situated on your control box
6
You cleaner begins its cleaning cycle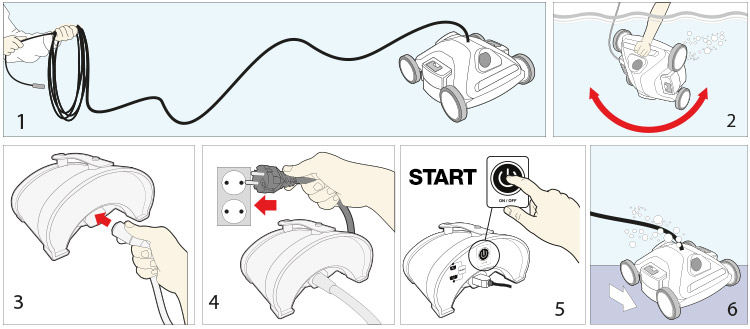 When your cleaning cycle is complete, the
Aquabot Jet cleaner
stops its activity automatically.
Important :
The low current transformer must be placed at a minimum distance of 3,6 metres from the waters edge and be at least 12cm above ground level.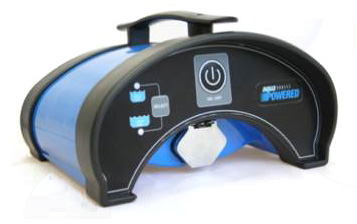 Control box

The Aquabot Jet pool cleaner is equiped with a control box.

This box uses an ON/OFF function, allowing you to program your cycle in coherence with the dimensions of your pool:

1 hour : For smaller pools

2 hours :For larger pools
Easy maintainance
Using the
Aquabot Jet
ensures easy access to the filter bag. All you need to do is open the upper cover, pressing the two lateral buttons simultaneously. Take out your filter and rinse in clean water, once rinsed, put back into place, close and lock the lid.
Features
Type of pool
in ground or above ground
Maximum dimensions
10 x 6 m
Compatible with shape of pool
Rectangular, round, oval, specific shape
Compatible with pool finish
Liner, PVC, ceramic, fiberglass, painted concrete
Trajectory
Propulsion by hydraulic jet
Filtration capacity
Large filtering capacity for everyday or intensive use
Access to filter
Top Access (easily opened on top surface)
Type of cleaning
Suction on bottom surface of pool
Cleaning cycles
1 or 2 hours depending on dimensions of pool
Length of floating cable
12 m
Warranty
2 years
Photos non-contractual
Price incl. VAT
Ask for a free quote aquabot jet
Other product : Aquabot Jet
At best price 490 eur Including VAT.
Please fill in this form carefully. Our commercial service will handle your request promptly.
---
UK freephone hotline
Monday Friday 9.00 19.00, Saturday 10.00 18.00

---