Pool equipment

Solar showers

HELIOS 35L solar shower
HELIOS 35L solar shower
The HELIOS 35L shower functions with a 360° solar captor, creating a continual exposition to the sun to supply hot water, free of charge. In addition, this shower features a water temperature indicator and a hot/cold water mixer tap to obtain the desired temperature.
Water temperature indicator.
Regulate the temperature of your water with the mixer tap hot/cold water. The shower's reservoir capacity is 35 litres.
The shower head is adjustable in height and inclination and so, is easy to use.
The shower head is also removable, allowing the user to easily rinse feet.
Fast connection to hose pipe.
Delivered complete with drilling schema.
1. The shower head can be orientated and removed from its support for a more practical utilisation.
2. The shower head support is regulated in height using a sliding action.
3. The inclination of the shower head can be adjusted.
4. Water temperature indicator.
5. Mixer tap hot/cold water.
Dimensions
Total height of the shower with arm raised
2m20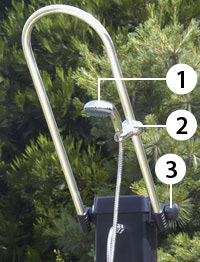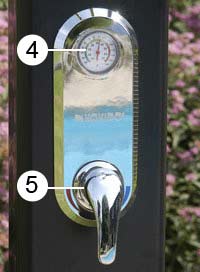 Warranty
2 years
Photos non-contractual
Price incl. VAT
Ask for a free quote helios 35l solar shower
Other product : HELIOS 35L solar shower
At best price 302 eur Including VAT.
Please fill in this form carefully. Our commercial service will handle your request promptly.
---
UK freephone hotline
Monday Friday 9.00 19.00, Saturday 10.00 18.00

---