Pool covers - pool covering solutions

Pool shutters

MOUV AND ROLL battery powered pool shutter
MOUV AND ROLL battery powered pool shutter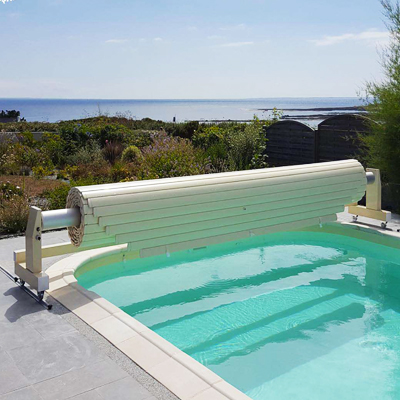 Recommended retail price 2023 :
Our Price :
Ref. Abatik 017093
MOUV AND ROLL battery powered above ground pool shutter
Automatic cover for pools up to 12 x 6m,
Mobile axis on rails, ideal for free form pools, reduced installation space
Battery powered, Simplified installation without cable power
Complies with standard NF P 90-308
In stock
The Mouv and Roll battery powered above ground pool shutter replies to the needs of those who wish to secure their pool whilst preserving it's esthetic.
It is ideal for use with specifically shaped pools (cut angles, rayons greater than 15cm, oval...)
*
that cannot use a static automatic shutter, but is compatible with traditional pools.
Its axis is positioned on rails, allowing the pool surround and border to be freed when the shutter is in a rolled position.
The battery powered motor simplifies installation (no cable connection is required).
The Mouv and Roll conserves water temperature and therefore prolongs the swimming season, pool water evaporation is reduced and time spent cleaning the pool is shortened. Your pool water remains cleaner for longer. Opaque slats reduce photosynthesis, the main cause of algae development and proliferation.
If a salt electrolysis water treatment system is used in the pool, we strongly recommend the use of the stainless steel guiding rail available on option.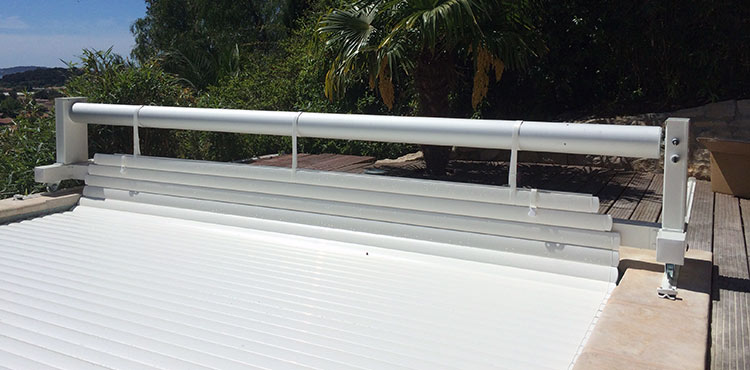 Inner dimensions of the pool
Price incl VAT*
6m x 3m
4380€ Price incl VAT*
7m x 3,5m
4610€ Price incl VAT*
8m x 4m
4870€ Price incl VAT*
9m x 4,5m
5330€ Price incl VAT*
10m x 5m
5650€ Price incl VAT*
12m x 6m
6400€ Price incl VAT*
*
The above prices are calculated for departure from manufacturer, white slats and battery power.
Other dimensions are available - contact us today on our international number + 33 475 802 962 or our freephone lines France : 0800 800 099,
Belgium : 0800 14 044, Switzerland : 0800 001 941, UK : 0808 238 60 75, Italy : 800 986 375 or Spain : 800 300 103 .
Use
This shutter is adapted to pools which are :
- Existent or under construction,
- Free form or traditionally shaped *
- With maximum inner dimensions of 12 x 6m

*consult us concerning your pool shape.

Operation

The motor is powered by 2 12v. batteries. If the batteries are totally charged, the shutter is independent to run up to 10 opening and closing cycles (for a pool which measures 8 × 4m with stairs).

Comfort and security

The opening and closing manoeuvres are effectuated independently by a key connector. Three minutes is enough to roll or unroll the cover.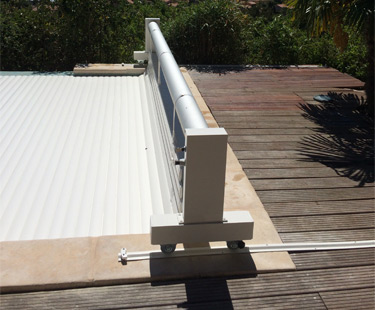 The shutter can be locked offering optimal security.
The kit includes :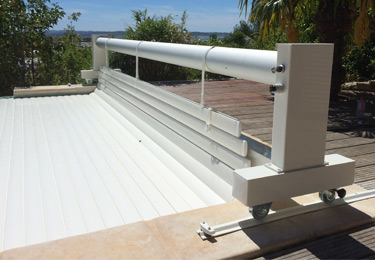 - 2 aluminium sand coloured axis supports
- 1 aluminium structural bar
- 4 wheels
- 2 3 meter rails
- 1 shutter rolling axis
- 1 electric motor contained in the axis with adjustable limit management
- 1 key command (3 positions, to be held in place) positioned on the side of the axis support
- 1 shutter composed of white slats (available colours beige, blue or grey on option)
- 1 security system composed of ABS flanges and straps to be anchored to the pool wall (or under the pool border, on option)
- 2 12v batteries
- 1 battery charge 220v/12v
- Packaging.
Details of the shutter slats
The shutter slats conform to the norm NF P90-308.

Opaque slats reduce photosynthesis, the main cause of algae development and proliferation.

Each slat is composed of 3 compartments containing air.
The air ensures buoyancy of the slats and limits the dispersion of pool water heat.

At the extremity of each slat soldered caps ensure sealing.
Slats
PVC Calcium/zinc with anti-staining and anti UV treatment
Colour
White (blue, beige, light grey or stone grey on option)
Stair option
Consult us for your quote
Colour of slats

White

Blue

Beige

Light Grey
;

Stone Grey
Assembly of the shutter covers slats

The assembly of the shutter is effectuated by clicking the slats together.

To clip one slat to the other, begin by engaging the male fixture on the left-hand slat into the female fixture on the right-hand slat (fig.1 et fig.2).

- Repeat an oscillating movement till the slats click together (fig.3)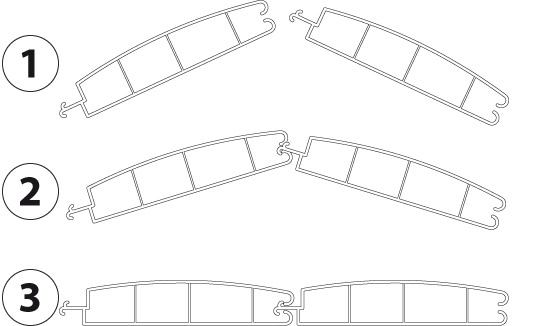 Stair cuts
When the shutter is positioned to the width of the pool, it can adapt to various shapes of stairs : rectangular (1), trapeze (2), roman (3), semi-circular (4) or free form (5) (after consultation with us).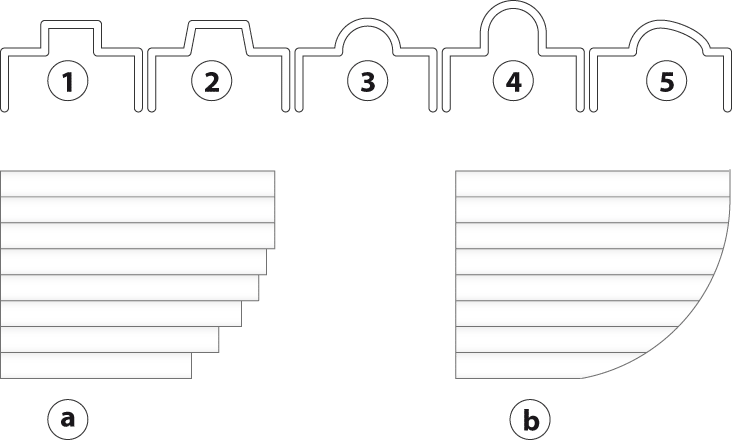 Two finishes are available for the option stair cut : Sharp cut (a) or shaped cut (b).
The sharp cut is the most economic. The shaped cut allows you to better follow the shape of the pool and is more esthetic.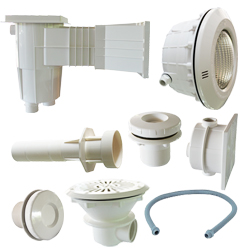 The stair cuts are available on option
Pool border trim to position axis
For existing pools with a round edged pool border, a trim is obliged to allow the shutters passage.
| | | | | | | |
| --- | --- | --- | --- | --- | --- | --- |
| Length of the pool | 4m | 5m | 6m | 8m | 10m | 12m |
| Measurement C in mm | 250mm | 265mm | 285mm | 305mm | 335mm | 350mm |
For pools with a sharp angle (
a
), the axis must be in a corner position.
For pools with a rayon(
b
) of 15cm, the axis should be positioned 15cm towards the inside of the pool.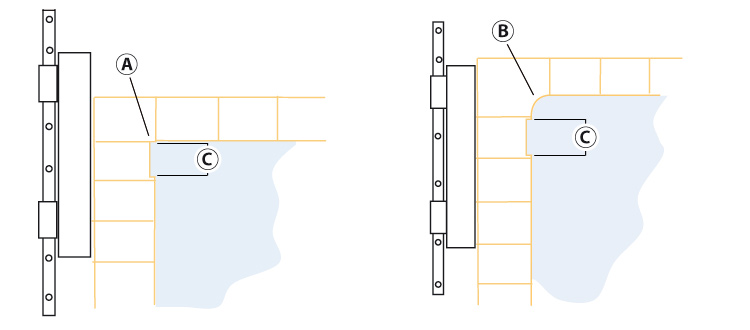 Positioning the axis
To correctly position the cover of the shutter on the water surface, the roller must effectuate full movement without obstacle. To ensure this :

- Your pool border and filtration unit must not be greater than 100mm in height to avoid all friction with the aluminium structural bar.

- The maximum outer measurement of the pool border should not be greater than 6m for a pool with an inner measurement of 5.50m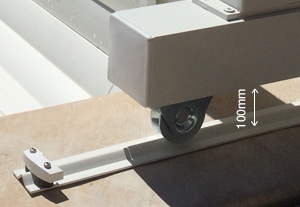 Shutter axis on mobile base installed on rails
The key command
The key command is linked to two 12v batteries integrated into one of the axis supports allowing opening and closing of the shutter.
You do not have to dig trenches to bring a cable to the shutter. This system facilitates the installation of the shutter.
Security system
This shutter is delivered with an anti-lifting system conform to the norm
NF P 90-308
. The number of anti-lifting devices depends on the width of the pool and is determined by the manufacturer.
ABS flanges + Straps + Wall supports (a)

ABS flanges + Straps + Stainless steel supports to be anchored under the pool border (b) on option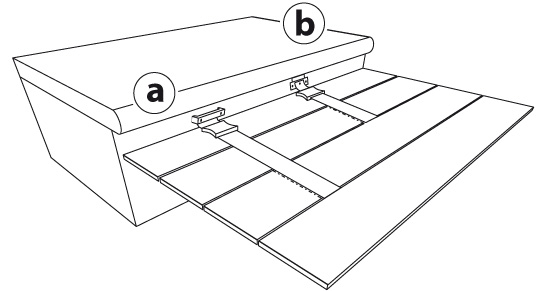 Precautions for use
This shutter can be used during all seasons. Warning, do not manipulate in case of frost.
For an optimal operation of the shutter, we advise you to conserve the water level of the pool water 10cm lower than the pool border.
During the winterizing period, we advise you to keep the water at the same level.
Packing and transport
To ensure a delivery in the best possible conditions, our transport service will contact you to arrange a delivery time.
It is essential to have 2 persons to reception your pool shutter.
Guarantee of your Mouv and Roll battery powered shutter
The axis is guaranteed for 5 years concerning the materials resistance excepting wear and tear parts, corrosion and decomposition of certain materials due to the use of shock water treatments or automatic water treatments that have not been correctly regulated and adapted to the shutters use.
PVC slats are guaranteed for 5 years concerning buoyancy, sealing and articulation.
EXCLUDED FROM THE GUARANTEE
- The non-respect of installation instructions that lead to an abnormal use of the product.
- All modification of the product without the manufacturers written accord.
- Slat colour deterioration or deformation due to non-conform use or the immersion of the motor.
- Consecutive deterioration due to weather conditions : violent wind, snowfall, violent hail, lightning.
Photos non-contractual
Price incl. VAT
Ask for a free quote mouv and roll battery powered pool shutter
Other product : MOUV AND ROLL battery powered pool shutter
At best price 3990 eur Including VAT.
Please fill in this form carefully. Our commercial service will handle your request promptly.
---
UK freephone hotline
Monday Friday 9.00 19.00, Saturday 10.00 18.00

---
Spare parts order
You are looking for a spare part for «MOUV AND ROLL battery powered pool shutter» ?
Please click the button below. Our commercial service will handle your request promptly.