Pool covers - pool covering solutions

Pool reels

OMEGA telescopic pool reel
OMEGA telescopic pool reel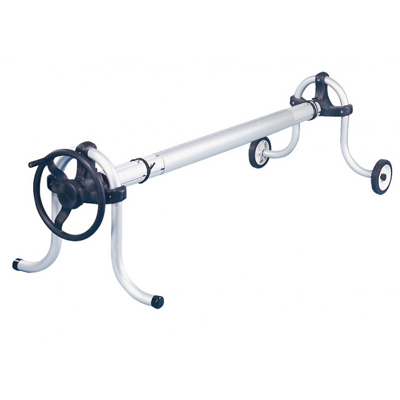 Recommended retail price 2023 starting from :
Our Price starting from :
Ref. Abatik 001603
Ref. Provider 1861250
Omega telescopic reel for pools between 2.5 and 4m
Telescopic reel for bubble cover
Anodised aluminium
For pools from 2,5 à 7,5 m.
In stock
Presentation of the Omega telescopic reel
The Omega telescopic reel for thermal covers is composed of two legs, shaped to the Omega symbol manufactured from 410 mm Ø anodised aluminium.
The reel features glass fibre reinforced synthetic resin flanges and intégrated bearings.
The telescopic axe is composed of 3 sections: 1 outer segment, 95 mmØ and 2 inner segments, 89 mmØ. The reel is positioned 360 mm from ground level.
One reel leg is static, the other mobile and is equipped with two 170 mmØ.
The synthetic resin wheel has a diameter of 350 mm.
13 bungee fixation with clips are supplied with the reel. .
This model has been designed to be positioned behind 30 cm pool coping
.
Please note, the Omega reel for pools 6 to 7,5 m has been designed for a maximum pool length of 12m.
Pool reel for bubble and summer covers with anodised aluminium axis
Ideal for pools from 5 to 6m in width,
One static leg, one mobile made from ø 40 mm tubes.
Axis ø 95 mm.
Supplied with 13 bungee straps and brakes.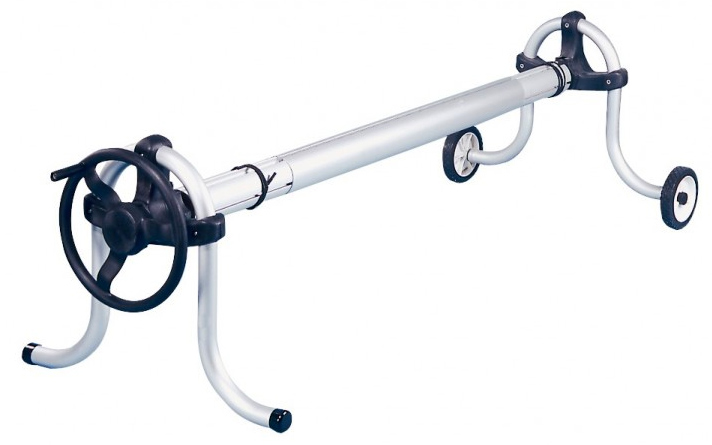 Warranty
2 years
Photos non-contractual
Price incl. VAT
Ask for a free quote omega telescopic pool reel
Other product : OMEGA telescopic pool reel
Starting from 620 eur Including VAT.
Please fill in this form carefully. Our commercial service will handle your request promptly.
---
UK freephone hotline
Monday Friday 9.00 19.00, Saturday 10.00 18.00

---