Pool covers - pool covering solutions

Pool reels

WALU COOL motorised crank barred pool covers
WALU COOL motorised crank barred pool covers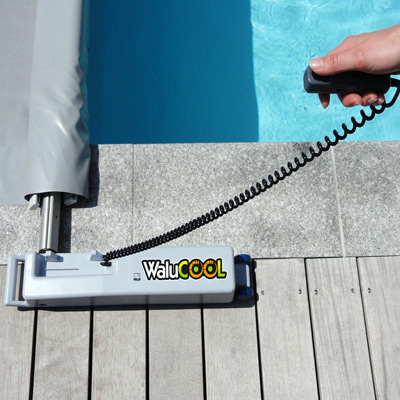 Recommended retail price 2023 :
Our Price :
Ref. Abatik 010415
Ref. Provider WALUCOOL
Motorised crank WALU COOL for barred covers
For pools with maximum dimensions of 10,00 x 5,00 m,
Allows you to roll your barred cover without effort in less than 3 minutes,
Operates with remote control
Walu cool
Rolling your barred cover becomes child's play !
Without effort and in less than 3 minutes (for a pool measuring 10 x 5 m), you can uncover your pool as you wish.
WALU COOL replaces the manual crank or central pulling strap when unrolling your barred cover.
Adaptable to all WALU POOL covers (for pools with maximum dimensions of 10,00 x 5,00 m), but also is adaptable to most barred covers (for pools with maximum dimensions of 10,00 x 5,00 m)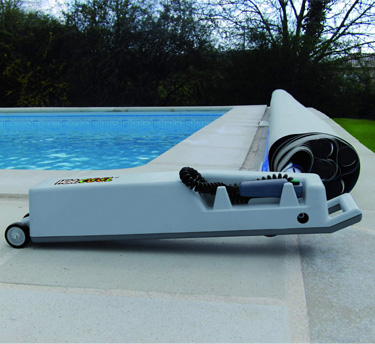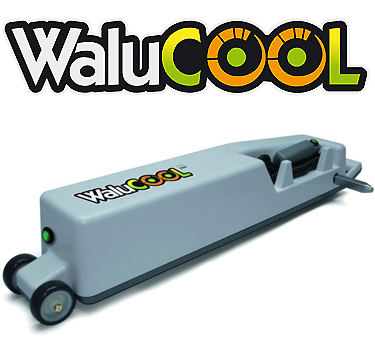 YouTube conditions the playback of its videos on the deposit of tracers in order to offer you targeted advertising based on your browsing.
By clicking on "I authorize" the plotters will be deposited and you will be able to view the video. You have the option of withdrawing your consent at any time.

For more information, visit the YouTube cookies policy
.
Intuitive and ultra easy to use !

The WALU COOL motorised crank is composed of a high-performance motor, a wired remote control and an integrated battery that provides an autonomy of around 10 rolls (for a pool measuring 10 x 5 m).

Once positioned on your cover, press the button on the remote control and the motorised crank unrolls you cover without effort.
When unrolling is completed, the REVERSE mode allows you to easily remove the WALU COOL crank from the cover.

If the rolling adaptor of your cover is situated on the left-hand side, the adaptor needed for its connection is available on option.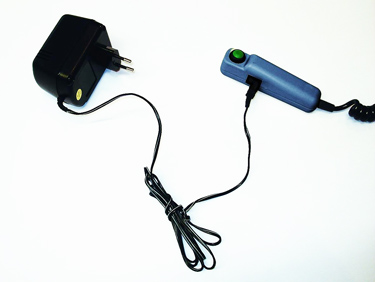 Winch option to un-roll your cover
You may require a motorised solution to unroll your cover.
The
Walu WINCH
is fixed to the ground surface at the end of the pool width, rolling the directional strap gradually.
It can be actioned by a crank or connected to the Walu POWER or Walu COOL.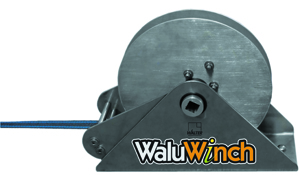 Technical features
Dimensions
670 x 110 x 120 mm
Battery
integrated and rechargeable, 12 V
Recharging
supplied jack connection to mains adaptor
Maximum pool dimensions
10 x 5,00 m
Guarantee
2 years (excepting battery)
Instructions for use
Positioning the WALU COOL male rolling adaptor*
Place the WALU COOL on a smooth, stable surface.
a) Push the 13mm square rolling adaptor into the designated position on the WALU COOL motorised crank, till it is fully inserted.
b) Tighten the screw and washer positioned at the rear of your male rolling adaptor with a pipe wrench to ensure the square rolling adaptor is fully locked into the motorisation of your WALU COOL unit.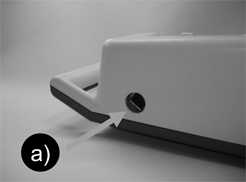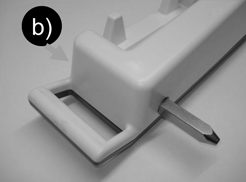 *
Optional for barred pool covers equipped with a 13 x 13mm rolling adaptor.
After the battery has been totally charged, your WALU COOL is ready to be used.
NB:Before any manipulation, it is imperative that all fixation systems used with your pool cover (ratchet tensioners, bungee straps …) are removed. At the beginning of the operation, ensure the cover rolls evenly and that no foreign bodies are placed either on your pool cover or in the trajectory of the WALU COOL. Be careful to engage a rolling action on and not under the cover.
The WALU COOL motorised crank adapts easily by the insertion of the (15 x 15 mm) adaptor into the rolling tube of your pool cover. For pool covers that feature a male rolling adapter measuring 13 x 13 mm, the rolling adaptor supplied with the WALU COOL is not suitable for use. The adaptor needed for connection is available on option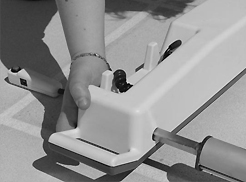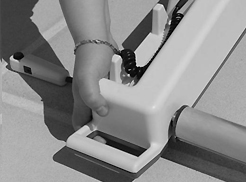 Position the WALU COOL to the right of your pool cover's rolling tube and position your WALU COOL (left hand rolling available on option).
Completely insert the square male adaptor of the WALU COOL with the female square adaptor of your cover.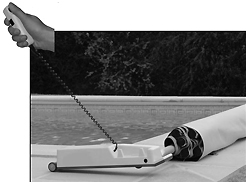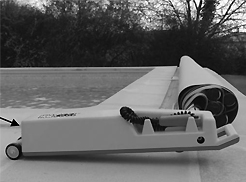 Hold the button of the remote control down and accompany the trajectory of your WALU COOL along your poolside till your cover is totally unrolled.
When the operation is complete, you can easily disengage the WALU COOL by lightly pressing the reverse button situated to the rear of the unit.
To unroll your cover, use the central pulling strap from the opposite position of the covers storage area (please refer to your pool cover's instruction manual).
Warranty
2 years (battery excluded)
Photos non-contractual
Price incl. VAT
Ask for a free quote walu cool motorised crank barred pool covers
Other product : WALU COOL motorised crank barred pool covers
At best price 790 eur Including VAT.
Please fill in this form carefully. Our commercial service will handle your request promptly.
---
UK freephone hotline
Monday Friday 9.00 19.00, Saturday 10.00 18.00

---
Spare parts order
You are looking for a spare part for «WALU COOL motorised crank barred pool covers» ?
Please click the button below. Our commercial service will handle your request promptly.