Automatic water treatment and products

Pool maintenance products, chemical water treatment

Chlorine pool water treatment products

OVY Force 5 multifunctional chlorine
OVY Force 5 multifunctional chlorine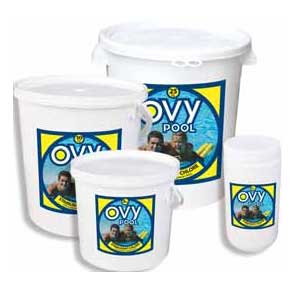 Recommended retail price 2023 :
Our Price :
Ref. Abatik 000605
Ref. Provider 155.250.050
RESERVE FRANCE OVY FORCE 5 action chlorine 4 buckets of 5kg
5 action chlorine tablets: disinfectant, anti-algae, flocculant, pH buffer, clarifier
for efficient pool water treatment
In stock
Efficient filtration, correct chlorine level, balanced pH, a pinch of anti-algae and flocculant to agglomerate impurities... OVY Force 5 chlorine reunites in one tablet the complementary functions that produce perfect pool water. OVY Force 5 is the product that definitively simplifies water treatment.
- Regular 5 action disinfectant: disinfectant, anti-algae, flocculant, pH buffer, clarifier
- Destruction and prevention against algae and its development
- Improves filtration by flocculant action

Actions :
- Purifies and eliminates, virus, fungus and algae in residential pools (or small public pools).
- Prevents lime deposits.
- Permanent flocculation and clarification of pool water.
- Chlorine stabilisation.
Advantages :
- 250g tablets, slow dissolving action without residue.
- The average level of «available chlorine» is close to 87%.
- Ensures permanent chlorination, algaecide treatment, permanent flocculation, pH regulation and clarification.
- Stabilisation protecting chlorine against exposure to UV rays.
- Efficient in all types of water, regardless of hardness level.



Recommendations for use

Place 1 250 g tablet for 25 m3 of pool water in the skimmer of floating dosing chamber every 5 to 8 days. The pH should be maintained between 7,0 and 7,4. Stabilisation levels present in pool water should be lesser than 75 mg/l.



Photos non-contractual
Price incl. VAT
Ask for a free quote ovy force 5 multifunctional chlorine
Other product : OVY Force 5 multifunctional chlorine
At best price 171 eur Including VAT.
Please fill in this form carefully. Our commercial service will handle your request promptly.
---
UK freephone hotline
Monday Friday 9.00 19.00, Saturday 10.00 18.00

---