Material and equipment for your technical shelter

Pool filtration group, pump + filter

ECO filtration pack for inground pools
ECO filtration pack for inground pools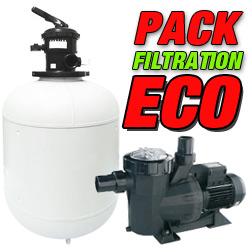 Recommended retail price 2023 starting from :
Our Price starting from :
Ref. Abatik 016248
ECO Filtration pack side valve
ASTRAL pump and filter pack
In stock
Composition of pack :
The ASTRAL VICTORIA PLUS 3/4 single-phase
The Astral Victoria Plus 3/4 HP single-phase pump obtains high-performance results. Its pre-filter has a capacity of 4.7l that retains solid debris, avoiding entry into the pump body.
These pumps are centrifugal, single-cell and self-priming. All metallic parts in contact with water are made from AISI-316 stainless steel, ensuring a longer lifespan.
Featuring IP-55 protection index and class F insulation to avoid the entry of solid or liquid particles entering into the motor. These factors allow the Victoria Plus to be installed technical shelters with high temperature and humidity levels.
Advantages
• High resistance plastic to avoid corrosion problems.
• Luranyl diffuser and Noryl turbine reinforced with glass fiber.
The use of these materials provide resistance and a high-quality finish.
• Mechanical shutting system in AISI-316 stainless steel and
silicon carbide
• Class F insulation and Index protection IP-55.
• Bearing protected against the effect of humidity.
• Auto-suction up to 2 m.
• Pump body screws made from stainless steel.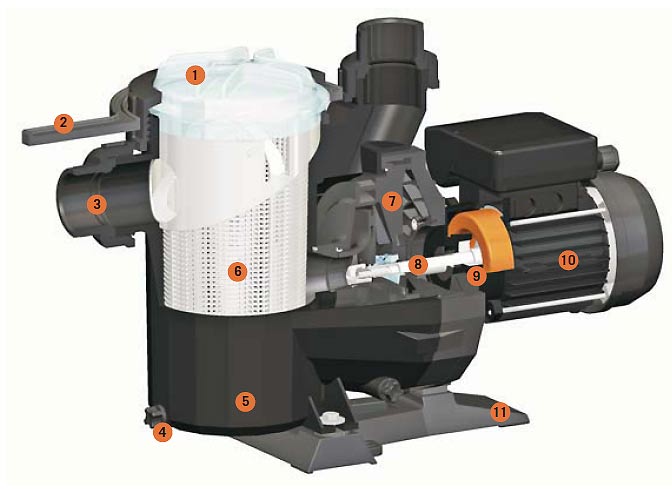 1 - Transparent pre-filter lid
2 - Pre-filter opening lid
3 - 50mm diameter connection sleeves
4 - Purge button
5 - 4,7 L pre-filter
6 - Pre-filter basket avoids debris entering the tank
7 - Noryl turbine
8 - AISI-316 stainless steel metallic trims, static sections made from silicon carbide
9 - Bearings adapted to high temperatures and humidity
10 - IP55 class F motor protection
11 - Very stable pump base
Very low noise level in operation as silent-blocs are used.
Water flow l/h at 10 metric water column from 3/4HP, 3.000rpm.
Supplied with union connections and key for cover and pre-filter lid
Dimensions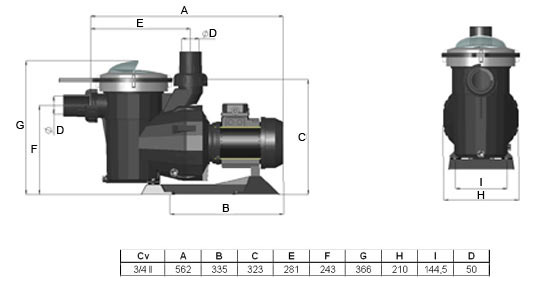 (Dimensions in mm)
Astral SKYPOOL 500 sand filter, side and top
The Astral SKYPOOL sand filters are designed to respond to the diverse requirements of residential pool filtration. Available in a diameter of 500 mm, depending on the flow of the water that requires filtering, integrating the necessary equipment to provide one of the best filters from Astral.

• Filter body made from inalterable, resistant plastic
that remains intact after contact with chemical treatment and atmospheric conditions.
• Equipped with a new generation of Astralpool selection valve, 1 1/2" 6+1way with bayonet closing system. Cycles include - filtration, backwash, rinse, recirculate, purge, close and winterize (communicating inlets and outlets).
• Transparent lid facilitates visual inspection and inner access to the filter (on the side version).
• Internal, upper diffuser optimises the repartition of water on the sand bed.
• Inner connections 1.1/2" for a better continual performance.
• Manual air valve to evacuate air if necessary.
• Manual air valve integrated into the body of the filter for an easy purge without loss of sand.
• The lower section is equipped with a tubed collector ensuring an even flow and efficient back wash cycles.
• Pressure gauge to supervise pressure level in tank.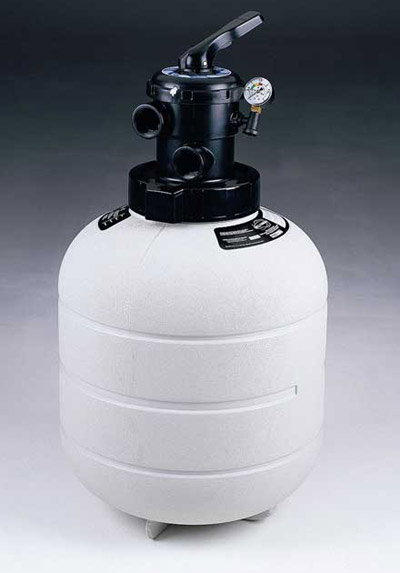 | | | | | | | |
| --- | --- | --- | --- | --- | --- | --- |
| Model | Diameter (mm) | Height (mm) | Flow (m3/h) | Connection | Recharge weight (kg) | pool volume |
| SkyPool Top D500 | 500 | 930 | 9 | 1.1/2" | 105 | up to 40m3 |
| SkyPool Side D500 | 500 | 930 | 9 | 1.1/2" | 105 | up to 40m3 |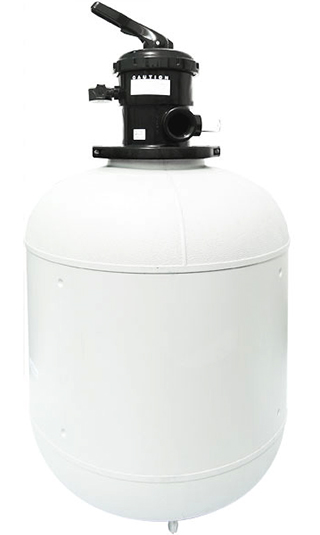 Suction action is effectuated by the main drain and skimmers.
Regular filter cleaning is required as sand becomes obstructed with impurities and stops correct water circulation. When tank pressure reaches 1,3 kg/cm2 and above, a back wash is required.
The back wash consists of inverting water circulation in the filter and ejecting impurities to the public drain system.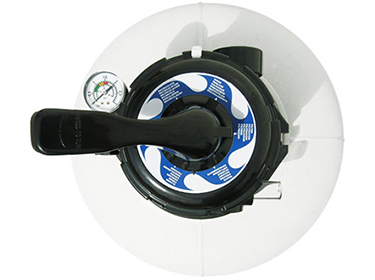 Warranty
2 years on pump
2 years on tank
Photos non-contractual
Price incl. VAT