Automatic pool cleaners

Spa and pool vacuums

Pool Blaster Cat Fish
Pool Blaster Cat Fish
The Poolblaster Cat Fish has been designed to facilitate the cleaning of above ground pools and spas. Featuring an independent filtering system, the unit collects debris and dirt in its internal filter bag.

Easy to use and handle, just immerse in water and switch on the begin cleaning your pool.


How to use the Cat Fish

This pool vacuum means you can easily clean the floor of your spa or above ground pool, regardless of its shape. It can also be used for the occasional cleaning of specific spots in your in-ground pool (such as stairs or difficult to reach corners).

Great suction power ensures optimal cleanliness. The large handle coupled with the units reduced weight (2kg battery included) facilitates movement and manipulation. Its rechargeable battery is autonomous for 45mins.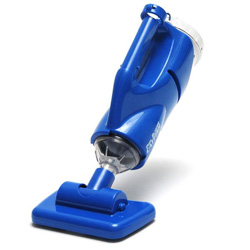 The suction head of the Cat Fish features 4 wheels facilitating its trajectory. Its suction width of 20cm quickly covers large surfaces of pool floors, minimising cleaning time and running distance (
A
).
The head is removable to reach difficult spots (
B
).
This vacuum is adaptable to all telescopic perches (
C)
.

Advantages of the vacuum
- Works independently from the pool filtration system, reducing pool filter maintenance.

- Brush head, optimising cleaning .

- Cyclone action ensuring optimal suction to collect sand, algae, leaves, insects and gravel.

- Allows you to easily clean difficult to reach spots.

- Easy to maintain : just remove and clean bag.

- Compatible with all types of pool finish.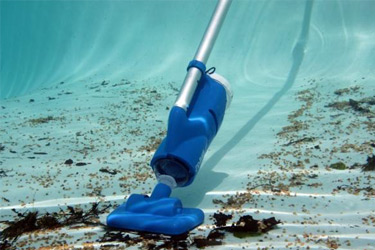 Vacuum maintenance

1. Unscrew the head of the vacuum to access the filter bag.
2. Once removed, rinse the filter bag in clear water.
3. Adjust the bag and replace in the vacuum.
4. Re-screw the head and activate the locking system.

Recharging the battery

- Pivot the cover (A) anti-clockwise.

- Connect the charger to the vacuum (B).

- Plug the charger into a domestic socket. Total charge = approx 8h.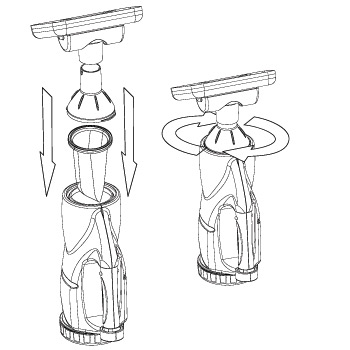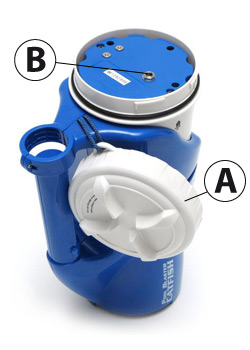 Technical features
Compatible pool shapes
Rectangular, round, Oval or free form
Compatible pool finish
Liner, PVC, ceramic, fibreglass, painted concrete
Width of suction head
20cm
Power
Rechargeable battery
Autonomy
45min with fully charged battery
Dimensions
L28 x l11,4 x h8,9cm
Weight (battery included)
2kg

Warranty
2 years
Photos non-contractual
Price incl. VAT
Ask for a free quote pool blaster cat fish
Other product : Pool Blaster Cat Fish
At best price 254 eur Including VAT.
Please fill in this form carefully. Our commercial service will handle your request promptly.
---
UK freephone hotline
Monday Friday 9.00 19.00, Saturday 10.00 18.00

---