Automatic pool cleaners

Spa and pool vacuums

Poolblaster Max pool vacuum at discount price
Poolblaster Max pool vacuum at discount price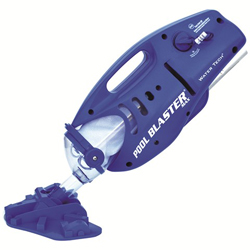 Recommended retail price 2023 :
Our Price :
Ref. Abatik 010537
Ref. Provider 104327
POOL BLASTER Max pool vacuum
Battery-operated, wireless unit.
For above ground and in-ground pools,
installed on telescopic perch,
high-powered suction,
light and easy to handle.
In stock
Presentation
The Pool blaster Max manual vacuum for pools has been designed to efficiently clean above ground and in ground pools :

- Cleans stairs or an automatic pool cover terminal using an ergonomic handle

- Pool floor cleaning: The Poolblaster Max includes a connection that allows you to quickly and easily connect a telescopic perch

Easy to use and handle, light in weight, just immerse in water and switch on the begin cleaning your pool. Independent from the filtration system, collecting all dirt lying on the pool floor. The pool blaster has its own microfiber filter bag, avoiding clogging your pool filter with collected debris.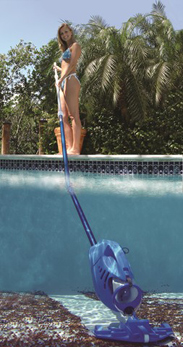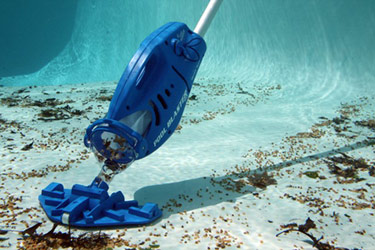 YouTube conditions the playback of its videos on the deposit of tracers in order to offer you targeted advertising based on your browsing.
By clicking on "I authorize" the plotters will be deposited and you will be able to view the video. You have the option of withdrawing your consent at any time.

For more information, visit the YouTube cookies policy
.
The
Poolblaster Max
powerful motor saves you time when cleaning your pool :
- Full and fast cleaning
- Targets tough spots: When your pool requires a deep clean, use your Poolblaster Max. Easy to install, quickly cleaning a specific zone of your pool.
Its wide cleaning head (27.3 cm) collects a maximum amount of dirt and debris, limiting the duration of its trajectory. 5 small wheels create fluid, fast movement. Featuring 8 hard brushes, scrubbing all impurities in its path. The Poolblaster vacuum equally features a specific nozzle for hard to reach corners.
The Poolblaster Max requires no power connection, working on rechargeable battery power (unit supplied with battery charger) that is autonomous for up to 1 hour.
To ensure optimal cleaning, the Poolblaster Max is delivered with its filter bag to collect all impurities - from the largest to the smallest. Maintenance is easy. Just unscrew the vacuum head to access the filter bag. Remove and rinse in clear water. Once the filter is clean, replace into the vacuum, screw and lock the head.
Technical features
Compatible surface
All type of finish
Cleaning surface (m²/hour)
164.5 m²/h : 1 pool 8 x 4 m in roughly 10 min
Rechargeable battery
Yes - recharge time 8-10 hours
Battery autonomy
Up to 1 hour
Width of suction head
27.3 cm
Suction nozzle for corners
Yes
Size of vacuum
39.4 X 16.5 X 19 cm
Minimum depth of water
40 cm
Guarantee
1 year for the electrical components 90 days for the battery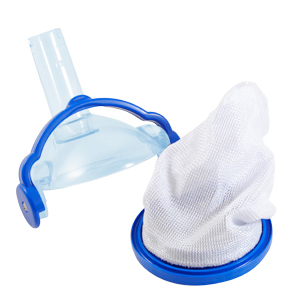 The Poolblaster Max has its own filter bag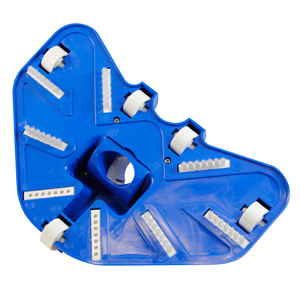 Suction head with wheels and hard brushes
Warranty
2 years
Photos non-contractual
Price incl. VAT
Ask for a free quote poolblaster max pool vacuum at discount price
Other product : Poolblaster Max pool vacuum at discount price
At best price 334.40 eur Including VAT.
Please fill in this form carefully. Our commercial service will handle your request promptly.
---
UK freephone hotline
Monday Friday 9.00 19.00, Saturday 10.00 18.00

---