Pool equipment

Liner and reinforced PVC, sealing material and pool paint

Pool paint

Pool Color pool paint for concrete pools
Pool Color pool paint for concrete pools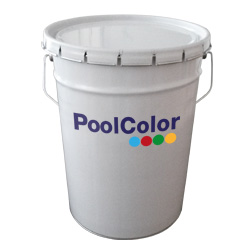 Recommended retail price 2023 starting from :
Our Price starting from :
Ref. Abatik 020985
Ref. Provider KIT-BETON-18M2
POOL COLOR - 18m² pool paint kit for concrete pools
Concrete structured pools, scratch and shock resistant withstands chemical treatment.
Kit complete with solvent, undercoat, lacquer, thinner and hardener.
Easy to apply, optimal rendering.
Choice of 150 RAL colour range available.
In stock
The
Pool Color paint kit
has been specifically developed for use in all
concrete structured pools
. Easy to apply, using a spray gun or roller, Pool Colour is the ideal choice for the construction of renovation of your pool, guaranteeing:
- Your choice of colour, to choose from 150 available colours (RAL)
- An optimal, resistant finish
- A colour that resists to shocks and pool use
- Easy to dilute and dose
- Easy to apply
Pool Color paint for concrete pools
is available as a full kit creating or reproducing a vibrant pool colour finish. Each kit renders 18m². Adapt the number of required kits to the surface area of your pool.
Pool Color paint kit includes:
- Concrete Cleaner, cleaning and stripping agent to use on pool walls and floor.
- Mat and satin surface fixator to guarantee paint adherence.
- Lacquer paint (your colour choice) with Concrete lacquer hardener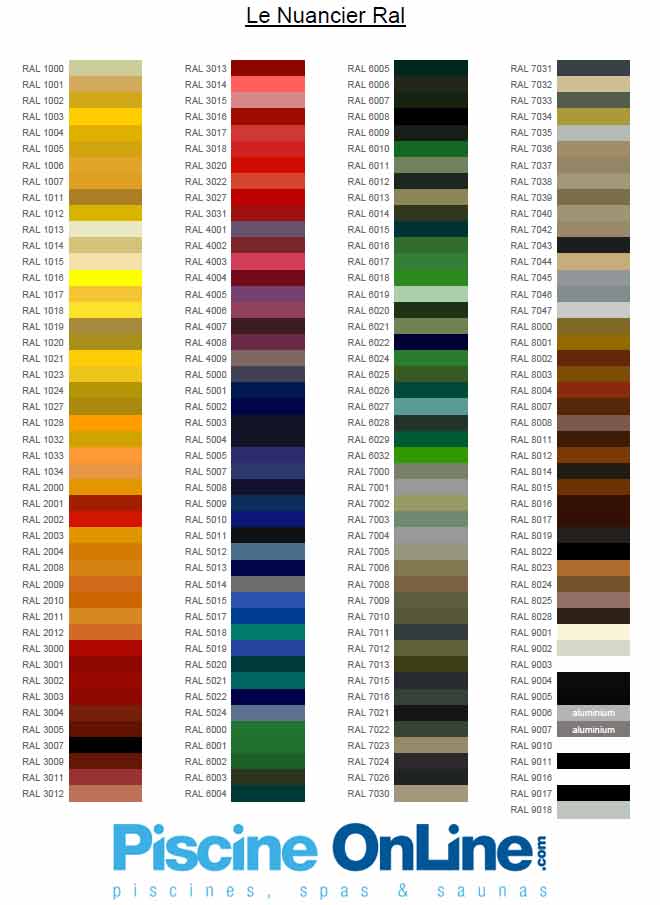 Please note : An on-screen image may not give the true impression of a colour presented in the above RAL chart. To have a true impression of the chosen colour, we advise that you consult a paper edition of the chart, available for consultation at hardware stores.
Use of Pool Color pool paint for concrete pools
There are 3 steps to follow :
Step 1 : Clean pool walls and floor
Product used: Concrete Clean. Provides a deep clean with a simple and fast application on concrete surfaces. Eliminates germs and algae that could affect adherence of the fixator or lacquer. Eliminates alkaline aspect of concrete, guaranteeing the adherence to the concrete support.
Dosing:
New surfaces: Use 1 litre of Concrete Clean for 10 L of water.
Dirty surfaces: Use 1 litre of Concrete Clean for 5 L of water.
Use: Apply Concrete Clean to the surface to be cleaned. Brush walls and floor of the pool and leave to activate for 30 mins. Rinse thoroughly in clear water.
Drying time: Approximately one week
Step 2 : Apply the surface hardener
The surface fixator ensures perfect adherence and hold of the pool paint.
Applied product
: Surface fixator, fast drying undercoat.
Dosing :
Drying time : 20 minutes, possible to apply paint
Step 3 : Paint application
Product used :
- EPOXY lacquer paint : Slightly flexible, easy to apply
- EPOXY hardener : Holds and solidifies paint once the product has been applied
- EPOXY thinner
Preparation of the product that is ready to use : Just mix the lacquer paint with the hardener and add the thinner. The product, once ready to use, should be applied in
two coats.
Dosing :
1 Pool Color paint kit for concrete structured pools including: 4 litres of lacquered paint, 2 litres of hardener rendering 2 coats on pools with a surface area of 18 m².
Once the lacquer and hardener are mixed, add the thinners. For 4 litres of lacquer and 2 litres of hardener, count a 1/2 litre of thinner.
The paint is now ready to be applied.
Required drying time : 21 days
RECOMMANDATIONS
Avoid painting during strong sun or wind to ensure your paint does not dry too quickly or form blisters. Too humid conditions should also be avoided as this can affect the correct adherence of paint to concrete.
The Pool Color paint kit does not guarantee pool sealing.
Check with your pool technician how to correctly empty your pool before painting. Certain pools can be subject to irreversible damage if not emptied correctly.
Photos non-contractual
Price incl. VAT
Ask for a free quote pool color pool paint for concrete pools
Other product : Pool Color pool paint for concrete pools
Starting from 459 eur Including VAT.
Please fill in this form carefully. Our commercial service will handle your request promptly.
---
UK freephone hotline
Monday Friday 9.00 19.00, Saturday 10.00 18.00

---