Automatic water treatment and products

Pool maintenance products, chemical water treatment

Pool shutter and cover cleaner 3L
Pool shutter and cover cleaner 3L
Descaling cleaner for pool covers, shutters and pool enclosures
This descaling, cleaning liquid based on acidic and tensoactif agents, perfectly adapted to
automatic pool shutters, tarps, covers and enclosures
.
Eliminates limescale deposits, grease stains and algae marks
between slats and surfaces.
Non-aggressive towards synthetic or metallic materials.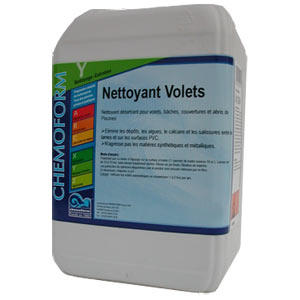 We recommend : that automatic shutters and covers are cleaned once or twice per year.


How to use

1 l of cleaning liquid per 10 m2.

Pulverise or apply the solution without diluting to the surface which should be cleaned.
Allow reacting for 10 to 15 min, without totally drying.
Rinse with clean water with the pool filtration system on.
Particles of dirt trapped by the product will be retained by the filter and eliminated by a back wash.
If required, readjust the pH of the pool water.

Product storage:
o To be stored in the product's original container, closed, upright, frost protected
o PE containers, which are totally empty and perfectly clean can be recycled.
Safety guidelines
Never mix in concentrated form with other chemical solutions
Consult the instructions and safety guidelines on the container label.
Photos non-contractual
Price incl. VAT
Ask for a free quote pool shutter and cover cleaner 3l
Other product : Pool shutter and cover cleaner 3L
At best price 51 eur Including VAT.
Please fill in this form carefully. Our commercial service will handle your request promptly.
---
UK freephone hotline
Monday Friday 9.00 19.00, Saturday 10.00 18.00

---