Saunas and accessories

Traditional steam saunas

HARVIA Variant Line saunas

HARVIA Variant Line sauna S1515
HARVIA Variant Line sauna S1515
Anticipate 3 to 4 persons to reception your sauna.
Characteristics - Variant Line
3 interior finishes are available : Formula (standard finish), Exclusive (on option) and Solar (on option).
You can from choose from 4 different essences of wood to panel walls, ceiling, windows and door: Spruce, Pine, Aspen or Alder.

Spruce is a slow growth, robust Finnish wood. It's light colour and natural finish remains stable over time and offers a natural finish.
Pine wood offers a light tint which verges towards a red shade. Its visual aspect beautifies with time. Its natural scent persists with time.
Aspen is a wood which is traditionally used for sauna construction. Light in colour, without variation of tint.
Alder wood provides refined shading, verging towards deep red. Colour develops over time, remaining with a variegated effect.
Harvia Variant Line sauna S1515
Your sauna is delivered with:

KV45 stove

Stainless steel
Capacity : 4,5 kW
Power supply : 400V
Volcanic stones supplied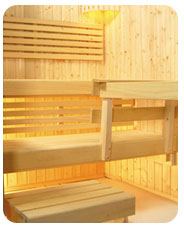 Formula interior design

15mm deep Spruce panelling
Abachi back rests and benches, rounded front facing boards
Dimensions :

151cm(L) x 151cm(l) x 201cm(H)

Glazed door 62cm x 185cm
Abachi lower bench
Abachi upper bench
Abachi backrest
Abachi inter bench panelling
Spruce stove protection
Accessories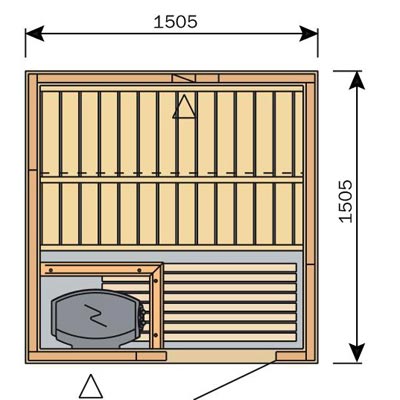 Accessories :
Head rest, hygro-thermometer, lamp + wooden lamp shade, wooden bucket and ladle, hourglass
A Sauna is an ideal complement to your swimming pool.
Warranty
2 years
Photos non-contractual
Price incl. VAT
Ask for a free quote harvia variant line sauna s1515
Other product : HARVIA Variant Line sauna S1515
At best price 3386 eur Including VAT.
Please fill in this form carefully. Our commercial service will handle your request promptly.
---
UK freephone hotline
Monday Friday 9.00 19.00, Saturday 10.00 18.00

---
Spare parts order
You are looking for a spare part for «HARVIA Variant Line sauna S1515» ?
Please click the button below. Our commercial service will handle your request promptly.