SKIN EXTREM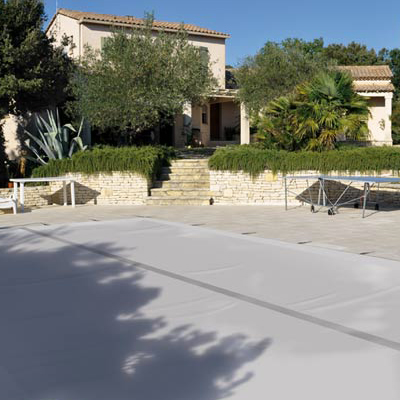 Recommended retail price 2023 starting from :
Our Price starting from :
Ref. Abatik 007323
Ref. Provider SKIN EXTREM A
Skin Extrem shape A opaque winter cover
PVC canvas, density 600g/m²,
Doubled eyelet fixation system,
Rain evacuation grid with gusset,
Standardised up to 14.8 X 6.8m (dimensions of finished cover)
For pools up to 90²m maximum
Complies with standard NF P 90-308
In stock
| | | | |
| --- | --- | --- | --- |
| Compatible pool shapes | Shape A* | Shape B* | Shape C* |
| Price per m² | 21.00 € | 23.00 € | 26.00 € |
*= minimum order: 20 m²
Skin Extrem
Two of the major advantages is included features and long lifespan of the cover.
SKIN EXTREM
conforms to the norm NFP 90-308
.
Made from reinforced PVC polyester fibre with a density of 600g/m², creating an important resistance in ratio to the covers weight that results in an exceptional surface tension and long life span.
Its fixation system coupled with crystal PVC reinforcements protect the cover from abrasion on the pool surround.
Opaque pool cover to maintain water limpidity, reduce the use of chemical water treatment products and facilitate the springtime startup of your pool.
Offering the following advantages :
- Excellent mechanical resistance.
- Fast and easy installation and removal.
- Reduces the risk of a falling hazard for animals.
- Retains dirt, leaves, insects, dust etc...
- Maintains water limpidity and eases the springtime startup of your pool.
The
central evacuation grid with gusset
ensures fast evacuation of rainwater. The gusset placed under the central grid conserves opacity, avoiding the penetration of sun rays into the pool water as to reduce photosynthesis whilst stopping the formation of water pockets.
Compatible pool shapes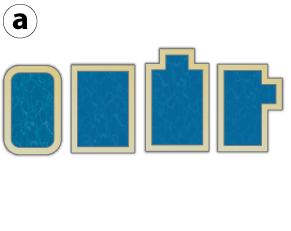 Shape A : For rectangular pools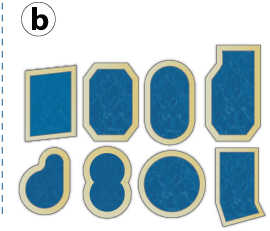 Shape B : For oval, round, eight-shaped, parallogram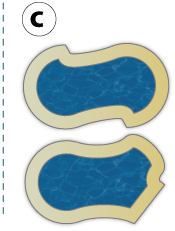 Shape C : For other types of pools
Available colours for the pool cover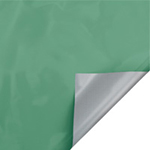 Almond green - Grey underside SB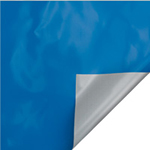 Blue - Grey underside SB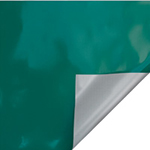 Green - Grey underside SB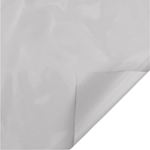 Grey - Grey underside SB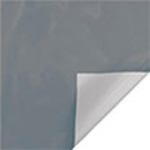 Dark grey - Grey underside SB
Technical characteristics
Perfect for pools with a maximum surface area of 90m²
This cover features a peripheral strap positioned on the underside of the cover, crystal reinforcement, eyelets positioned every 1 meter approx and rainwater evacuation grill.
Supplied with bolt pitons, springs and storage bag.
- Material
Flexible PVC, density 600 g / m² reinforced with a polyester frame.
- Rupture resistance
2500 N / 5 cm (fabric chain), 2000 N / 5cm (fabric frame).
- Tearing resistance
270 N (in the direction of the chain and frame).
- Treatments
anti-UV, anti-cryptogamic and anti-bacterial.
- Border finish
sewn strap with crystal PVC reinforcements.
- Overlap
+ 0,40 m if the width of the pool surround is greater or equal to 0,30 m
-
+ 0,35 m if the width of the pool surround is lesser or equal to 0,30m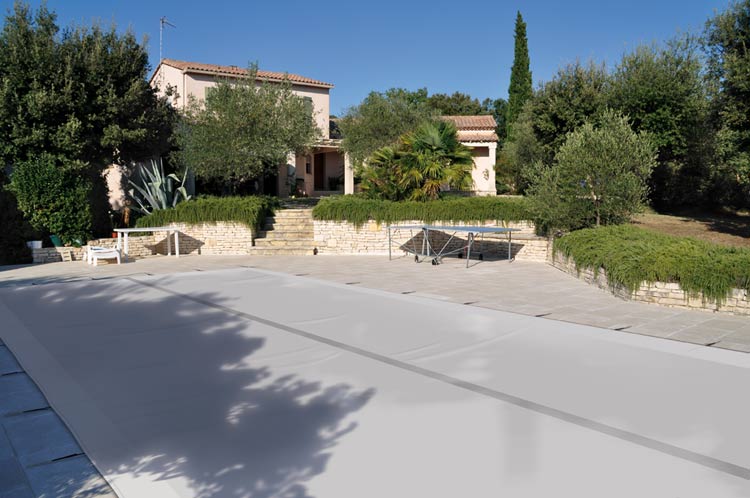 Schema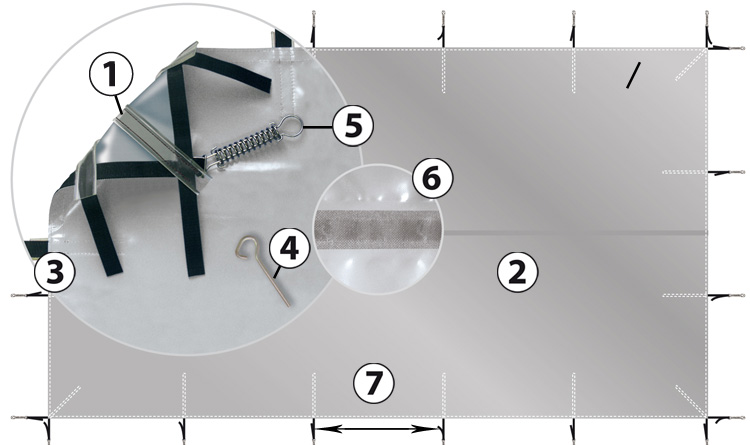 1/ Crystal reinforcement
2/ Strap and crystal reinforcement
3/ Peripheral understrap
4/ Bolt piton
5/ Stainless steel spring
6/ Rainwater evacuation grid with gusset
7/ 1.00 m maximum
Available stair cuts

a/ Straight stair cut
b/ Roman stair cut
1/ PVC reinforcement
2/ Crystal reinforcement
3/ Strap
4/ Central evacuation grid with gusset
Fixation systems available on option
Depending on the ground surface around your pool, several fixation systems are available on option for your
SKIN EXTREM
: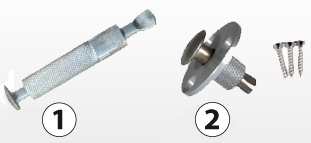 1)
Stainless steel / aluminium socket head piton - 10 mm in diameter / Length 60 mm2
2)
Anchor bolts for wood with screws / Length 30 mm
Precautions
In the case of exposure to strong wind, we strongly recommend the use of
B-PACK peripheral counterweight for pool covers
facing dominant winds.
They ensure the cover is firmly maintained against the pool coping, avoiding movement which leads to abrasion and premature use.
To limit use, it is imperative that the cover is not in contact with the edge of pool coping.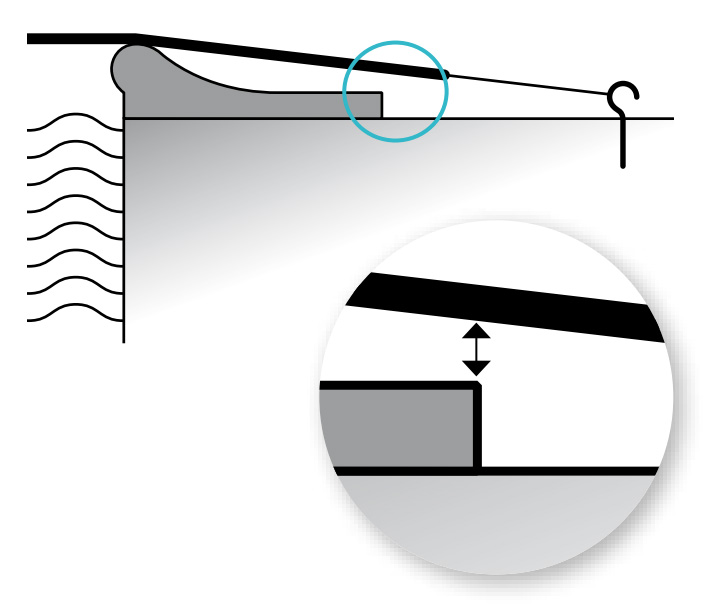 Guarantee
The covers guarantee concerns the materials used for manufacture and the covers assembly. The guarantee does not cover damage caused by incorrect installation, poor maintenance, or abrasion caused by rubbing on the pool surround.
Warranty
3 digressive seasons manufacture and material
Photos non-contractual
Price incl. VAT
Ask for a free quote skin extrem
Other product : SKIN EXTREM
Starting from 21 eur Including VAT.
Please fill in this form carefully. Our commercial service will handle your request promptly.
---
UK freephone hotline
Monday Friday 9.00 19.00, Saturday 10.00 18.00

---
Spare parts order
You are looking for a spare part for «SKIN EXTREM» ?
Please click the button below. Our commercial service will handle your request promptly.