Pool equipment

Sealing parts for pools

Tradipool plumbing kit for technical shelter
Tradipool plumbing kit for technical shelter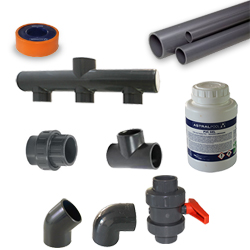 Recommended retail price 2023 :
Our Price :
Ref. Abatik 012419
Ref. Provider 30130A
TRADIPOOL technical shelter plumbing kit for pools up to 80m³
All the plumbing elements required for the construction or renovation of your technical shelter,
Ensures the filtration system connection (pump and filter) to the pool peripheral plumbing system,
For pools up to 80 m³.
In stock
The
Tradipool
pack ensures the liaison between the pump and filter in our technical shelter. It equally connects your filtration system to the peripheral plumbing system of your pool. The Tradipool pack provides the hydraulic circuit of the technical shelter for pools up to 80 m³. The pack contains :
- A Ø50 mm PVC collector (1)
A collector has three inlets to connect the skimmer (or several), the main drain and the brush adaptor to your filtration pump.
- 5 PVC PN-16 Ø50 mm valves (2)
- 3 valves to connect collector inlets
- 1 valve for discharge nozzles
- 1 valve to evacuate waste water, at the filter outlet
- 5 Ø50mm union connections to screw on or stick (3)
- 3 PVC T connections to stick (4)
- 15 PVC 90°elbow connectors Ø50 mm to stick (5)
- 5 PVC 45° elbow connectors Ø50 mm to stick(6)
- 1 pot of PVC glue (7)
- 4 rolls of Teflon
, to seal your plumbing circuit (8)
- 2.5 m of rigid PVC PN-16 Ø 50 mm to stick (9)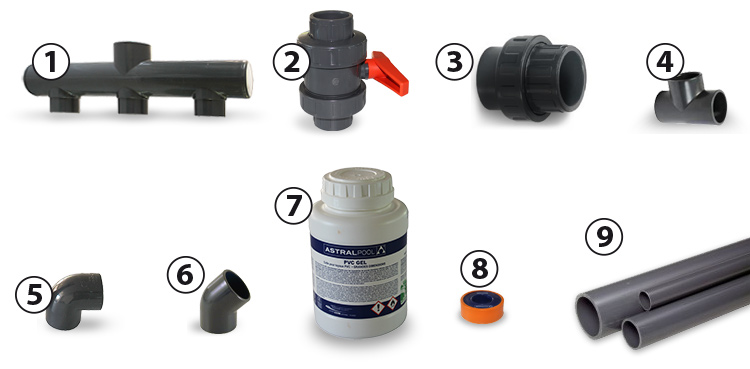 Example of installation in technical shelter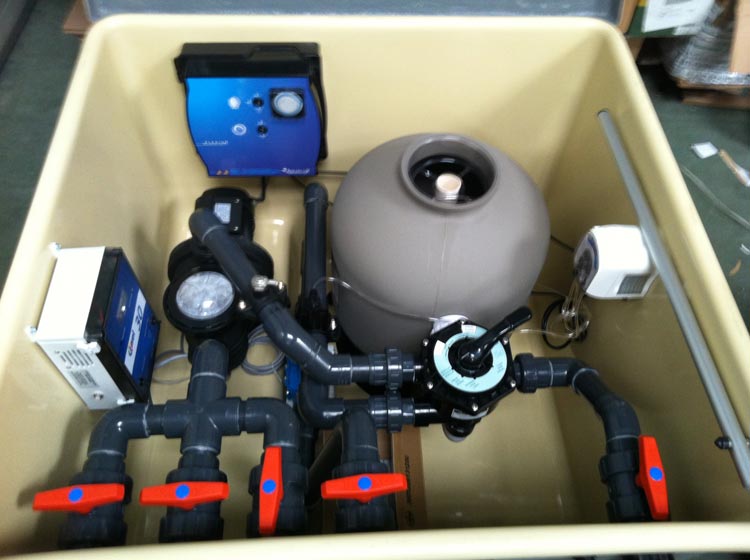 Photos non-contractual
Price incl. VAT
Ask for a free quote tradipool plumbing kit for technical shelter
Other product : Tradipool plumbing kit for technical shelter
At best price 340 eur Including VAT.
Please fill in this form carefully. Our commercial service will handle your request promptly.
---
UK freephone hotline
Monday Friday 9.00 19.00, Saturday 10.00 18.00

---