Pool security material

Pool alarms, fall detection

VisioPool pool alarm
VisioPool pool alarm
VisioPool fall detection alarm diffuses a 100 dB siren which is linked to pressure sensor and activates if a person falls into the pool water.

The VisioPool promotes pool security even if you forget to rearm the system during the 15 minutes that follow pool use via the automatic supervision program.
When in supervision mode, the VisioPool adapts to pool water agitation, following the norm NFP 90-307-1:2009.

The VisioPool security alarm has a simple design and is adapted to most pools that require supervision (mounting system, hardware and batteries are supplied).

Discreet and elegant, the VisioPool alarm integrates perfectly into your pool environment, requiring no particular maintenance.

The VisioPool alarm is conform to the norm NF P90-307/1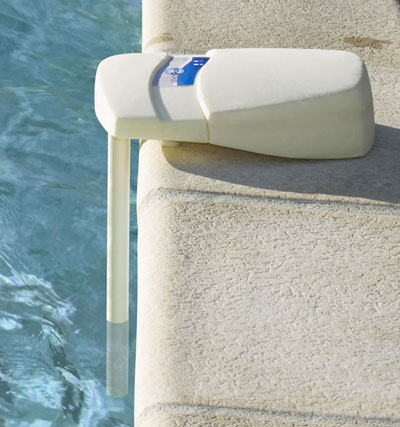 Implantation of the VisioPool security alarm for pools
The alarm should be fixed on the pool coping in such a way that it cannot be removed by hand. The underside of the alarm casing is pre-drilled so fixation to pool coping is facilitated.
The norm NFP 90-307-1 relative to pool alarms imposes fall detection in a maximal delay of 12 seconds.
The maximum radius for alarm detection in 12 seconds is 7 meters.
This indicates your alarm should be positioned to cover the totality of your pool configuration (please refer to below schema).

To adapt to larger pools, several VisioPool units can be used if required.
Technical characteristics of VisioPool alarm system
Each VisioPool is delivered ready for installation and use, including:
- A plate featuring an electronic card, 100 dB siren, contact with locking mechanism and battery support.
- VisioPool® casing,
- A tube with threaded end connection,
- O-ring,
- 4 professional quality batteries,
- User and instruction manual,
- Guarantee certification to be returned to the manufacturer.

+ Hardware pack including:
- 2 contact keys,
- 2 command magnets,
- 4 plastic rawlplugs,
- 4 stainless steel square nuts,
- 4 stainless steel screws M4 x 20 mm,
- 4 stainless steel screws 4 x 30 mm,
- 2 stainless steel screws 4 x 40 mm,
- 2 stainless steel screws 4 x 50 mm,
- 4 flexible washers,
- 4 spacers ensuring adaptation to all types of pool coping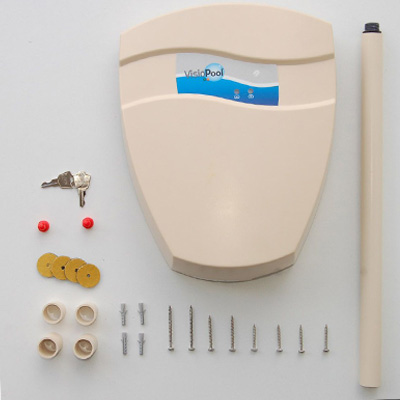 This system is not compatible with
immersed pool borders
(beach pools),
infinity / cascade pools
or
above ground pools with flexible structure
Warning
Zero risk is non-existent: Only active adult supervision associated with the VisioPool® pool alarm system equals an acceptable level of security.
The use of this system is by no means a reason for less supervision or a replacement for active visual supervision of the pool and its surroundings.
Fast reaction is a determining factor in the case of an accident.
Warranty
2 years
Photos non-contractual
Price incl. VAT
Ask for a free quote visiopool pool alarm
Other product : VisioPool pool alarm
At best price 199 eur Including VAT.
Please fill in this form carefully. Our commercial service will handle your request promptly.
---
UK freephone hotline
Monday Friday 9.00 19.00, Saturday 10.00 18.00

---
Spare parts order
You are looking for a spare part for «VisioPool pool alarm» ?
Please click the button below. Our commercial service will handle your request promptly.