Around the Pool

Pool bikes, aquabiking

Water Rider 3 from Waterflex
Water Rider 3 from Waterflex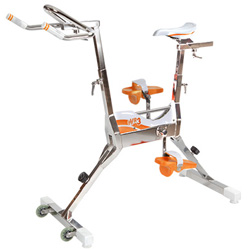 Recommended retail price 2023 starting from :
Our Price starting from :
Ref. Abatik 019702
Ref. Provider WX-WR3
Water Rider 3
Aquabike for regular use
Adjustable saddle, handlebars
Aquaspeed 2 pedals for barefoot comfort,
Water evacuation holes
Transportation handle
Easy entry and exit from pool,
3 training positions.
In stock
The Water Rider 3 aquabike combines the benefits of an aquatic sport and cycling. The handlebar design offers 3 different training positions, suitable for confirmed sportspersons as well as those who wish to get back into shape, gently. The pool water diminishes the sensation of effort, contributing to the efficiency of exercise. Robust, easy to install and comfortable, the WR3 means you can enjoy the virtues of aquabiking in all simplicity.


From gentle exercise to intensive training

Immersed to the waist, you pedal at your own rhythm as if using a traditional exercise bike. Pedalling in the water creates a less traumatic movement and limits aches and pains. You training session remains totally efficient. Water resistance coupled with the effort of biking multiplies the efficiency of your workout and you obtain:

- Optimisation of muscular training
- Prioritisation of burning fat
- Fast calorie burn (up to 800/h)
- Loss of weight

The pool water massages your body, favouring the destruction of cellulite and diminishing orange peel effect. There is also an important cardiovascular aspect to this form of exercise : The heart rate is slower compared to a training session held in the open air.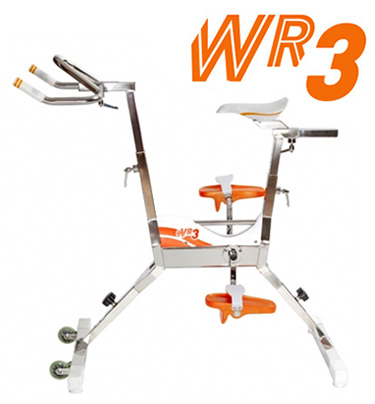 The
Water Rider 3
has been designed for regular use, whatever your level of training may be. Suitable for confirmed sportspersons who wish to better their endurance level intensively or anyone who wishes to benefit from a superior muscle tone, loss of weight or well-being. Aquabiking contributes efficiently to muscular reinforcement and is recommended if you wish to better your muscle tone or reduce water retention. This method is also advised in the case of rehabilitation. This form of exercise allows you to work on several zones in particular : Bottom, thighs, abdominals, calfs...

Maximum comfort during your session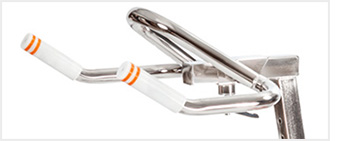 Ergonomic handlebars with easy grip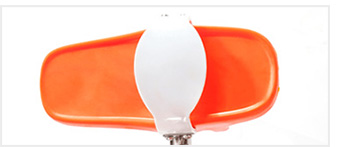 AquaSpeed 2 pedals
The WR3 has been designed to guarantee optimal comfort during your exercise session.

To integrate perfectly to your objectives the handlebars of the WR3 offers 3 training positions depending on your objectives :

- Standard
- City biking
- Stimulating race

The handlebar is easy to grip, your natural body position is comfortable, avoiding useless effort. The distance between the aquabilkes legs and saddle are equally considered in the design of the WR 3, so you are perfectly at ease in your movements.

Considering foot comfort, the WR3 is equipped with AquaSpeed 2 thermoformed pedals. Perfectly ergonomic and adjustable from 36 to 44 so you can pedal barefoot in total comfort.

The AquaSpeed 2 pedals accentuate front and rear pedalling and add to the effect of resistance.
Easy to install and use

Water evacuation by perforation
The light weight of the WR3 facilitates the installation of the aquabike in the pool water.

The perforation system rapidly evacuates water so the aquabikes exit from the pool water is facilitated, assisted by the transportation handle.

This indicates the WR3 aquabike is easily installed and removed from the pool.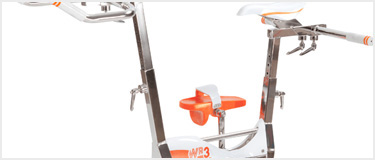 Comfortable sitting position, adjustable saddle, natural posture respected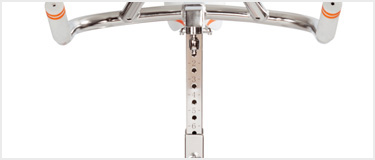 Handle adjustable in depth
Details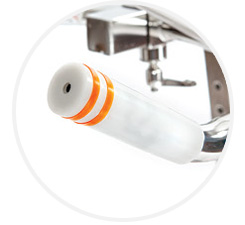 Ergonomic grip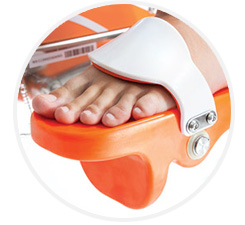 AquaSpeed pedals, barefoot comfort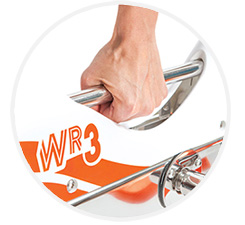 Transportation handle
Technical features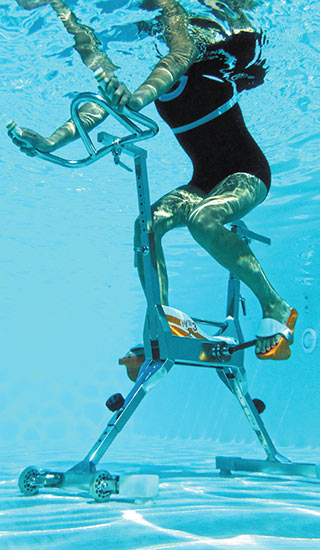 Dimensions
L 55 x l 95 x H 155 cm
Adapted depth of pool
1,20 to 1,60 m
Compatible pool finish
All (liner, shell, PVC, tiles, polyester...)
Construction material
100% Stainless steel AISI 316L marine quality
Finish
Brushed steel with anti-corrosive treatment
Water resistance
Optimised using AquaSpeed 2 pedals
Pedals
EVA, total comfort barefoot
Pedal structure
Stainless steel ball bearings and sealing rings
Saddle
Ergonomic, perforated PVC, comfortable sitting position, easy to care for
Wheels
Mounted on ball bearings, white, anti-trace, easy transport
Handlebar
Ergonomic in design, protective anti-trace handle bars
Stability
White stabilising blocks, anti-trace protection
Possible adjustments
Handle bar and saddle : in height and depth / Legs : front and rear
Adjusting method
Innovating Click & turn system, to adjust to a vertical position, avoiding injury
Guarantee
3 years on the metallic structure, 6 months on wear and tear parts (ex : saddle, foam, footstraps...)

On option :
The multi-training bar :
can be attached behind the saddle and allows many complementary exercises to be introduced to your session. Featuring silicone, anti-slip handlebars for easy use.
The comfort saddle :
Very comfortable, recommended for heavier users or those who require greater comfort.
The bottle holder :
Fixed to the handlebars of your aquabike, you can hydrate all through your session.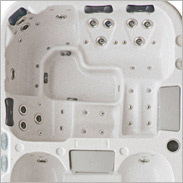 Warranty
3 years on structure
6 months on wear and tear parts
Photos non-contractual
Price incl. VAT
Ask for a free quote water rider 3 from waterflex
Other product : Water Rider 3 from Waterflex
Starting from 855 eur Including VAT.
Please fill in this form carefully. Our commercial service will handle your request promptly.
---
UK freephone hotline
Monday Friday 9.00 19.00, Saturday 10.00 18.00

---