Our pool solutions

Wooden pools - in or above ground

Wooden swimming pool STAVANGER oval shaped
Wooden swimming pool STAVANGER oval shaped
Key features
| | | | |
| --- | --- | --- | --- |
| Dimensions | Filtration | Rates | - |
| Width 3,90 m Length 6,20 m Height 1,20 m | 8m³ | Consult us | - |
| Width 3,90 m Length 6,20 m Height 1,33 m | 8m³ | Consult us | - |
| Width 3,90 m Length 6,20 m Height 1,46m | 8m³ | Consult us | semi-sunk 50 cm |
| Width 3,90 m Length 6,20 m Height 1,46m | 8m³ | Consult us | above-ground |
| Width 4,60 m Length 8,10 m Height 1,33 m | 12m³ | Consult us | - |
| Width 4,60 m Length 8,10 m Height 1,46 m | 12m³ | Consult us | semi-sunk 50 cm |
| Width 4,60 m Length 8,10 m Height 1,46 m | 12m³ | Consult us | above-ground |
Options available
Optional: technical room, attached to the pool
(exotic wood)
110 x 75 x 114(h)
Consult us
110 x 75 x 127(h)
Consult us
110 x 75 x 140(h)
Consult us
| | | | |
| --- | --- | --- | --- |
| Model | Optional coping (exotic wood) | Optional summer cover (blue 400 microns) | Optional winter cover (green colour) |
| 3,90 x 6,20m | Consult us | Consult us | Consult us |
| 4,60 x 8,20m | Consult us | Consult us | Consult us |
Optional Liner and lighting
Beige, Sand colours
Consult us
Optional technical room, separate from the pool
(exotic wood)
125 x 75 x 114(h)
Consult us
Option Pack: Lighting
Flat lighting 100W diameter 28 cm + Waterproof electrical box IP65 with differential circuit-breaker 30mA, clock and transformer
Consult us
Made of grade 4, autoclave treated red pinewood. Self-suporting complete swimming pool kit with filtration unit and ladder.
Key functions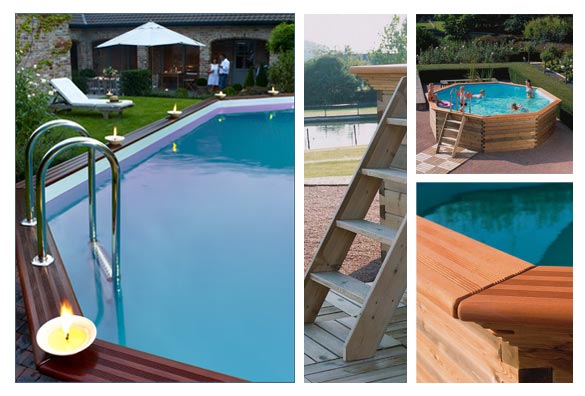 Wooden swimming pool kit composition
Red pinewood structure, treated under pressure, thickness 45 mm
Extra thick pool borders are clipped on top of the basic structure (exotic wood optional)
Exterior ladder made of fir tree (exotic wood optional)
Stainless steel interior ladder
Stainless steel ironmongery (rods, screws, brackets, bolts,...)
Antibacterial treated pre-cut underfelt.
Liner 75/100, colour opal blue
Sand filter (with sand and gravel) flow 6/9/12 m3 per hour (depending on models)
Adapted power pump
Accessories included (pipework, unions + valves, skimmer, return inlet... )
Maintenance kit and water treatment products
Wooden oval shaped swimming pool kits come with metal bracing
3 installation possibilities
You may install your wooden swimming pool Stavanger in three different ways:

ABOVE-GROUND
SEMI-SUNK
SUNK IN THE GROUND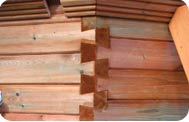 Patented system of dovetail joints
, avoiding protruding angles and optimising wood structure solidity.


The joints are reinforced by a
stainless steel threaded bar with a nut
which allows you to tighten the frame. The structure is perfectly well interlocked.
Accessories and options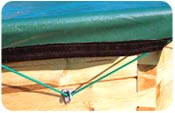 Winter cover green colour
Winter cover allows you to keep your pool water clean over the wintertime. It keeps safe your pets from falling into water.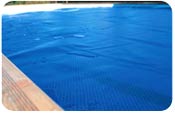 Blue summer cover 400 microns
Always fit a cover on your pool. They reduce heat loss substantially and keep pool water warm for a long time.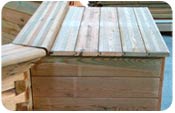 Technical room
This technical room made of exotic wood matches perfectly your wooden swimming pool. It is especially designed and sized for all the equipment needed (pump, filter, …)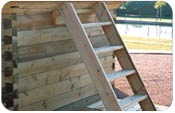 Exotic wood ladder
Exotic wood ladder Abatik is of great quality: solidity, longevity and aesthetics !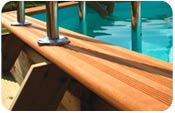 Exotic wood coping
Designed in very resistant wood, the top coping integrates harmoniously into the base structure.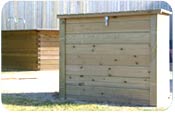 Technical room, separate from the pool
This technical room is equipped with a padlock and a spring hinge.
Your wooden swimming pool assembling stages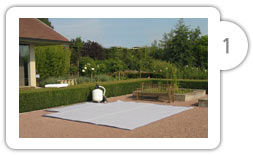 Build a concrete slab and install the underfelt
plane et pose du feutre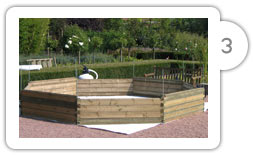 Assemble the wood beams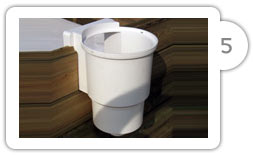 Mount the Skimmer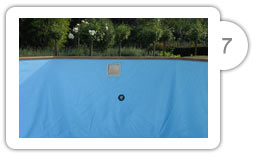 Install the liner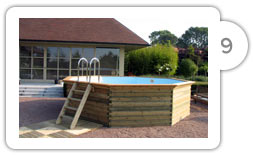 Put in the stainless steel ladder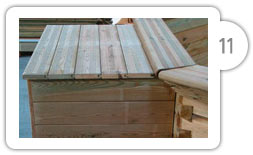 Install the technical room and the filtration unit (optional)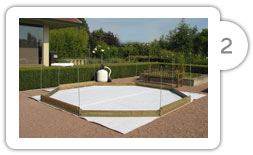 Set up the wood beams and angle stainless steel threaded rods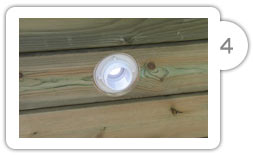 Install the return inlet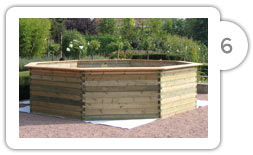 Install the top coping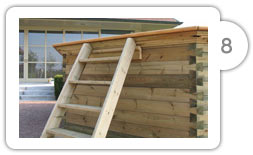 Install the wooden stairs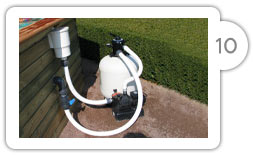 Mount the filtration unit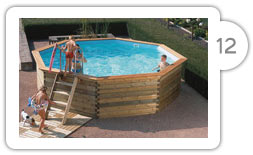 Enjoy!
For other dimensions dial our freephone hotline number
Photos non-contractual
Price incl. VAT
Ask for a free quote wooden swimming pool stavanger oval shaped
Other product : Wooden swimming pool STAVANGER oval shaped

Please fill in this form carefully. Our commercial service will handle your request promptly.
---
UK freephone hotline
Monday Friday 9.00 19.00, Saturday 10.00 18.00

---
Spare parts order
You are looking for a spare part for «Wooden swimming pool STAVANGER oval shaped» ?
Please click the button below. Our commercial service will handle your request promptly.