Pool equipment

Pool lighting, projectors and bulbs...

SeaMAID white LED for above ground pools
SeaMAID white LED for above ground pools
Designed for labour-free installation without specific tools, the SeaMAID LED white light projector finds its perfect place in all rigid walled above ground pools, featuring, at least, one discharge nozzle with 1.5" female threading.
The projector's advantages
Resistant
The supporting structure and optic are constructed using polycarbonate injection, giving high resistance to shocks, heat and chemical aggressions from water treatment systems.
Dependable and secure
An optic specifically developed for aquatic lighting, soldered using ultrasound.
Efficient
The optic obtains an excellent diffusion of light in water, harmonious and non-glaring for bathers.
Economic
The lighting source is composed of 18 Samsung LEDS and couples energy economy with high-quality.
The SeaMAID projector is supplied in a kit form including a 6m cable, a 230V/12VAC transformer with socket plug, a 1.5" discharge nozzle and an adapter.
Easy to install
Just lift the front cover and unscrew the discharge nozzle. Place the supporting plate of the projector opposite the discharge outlet in the pool wall and re-screw the nozzle into place. If the nozzle model does not fit, use the supplied adaptor. Pass the cable under the pool coping and connect the projector to the electricity supply via its transformer.
YouTube conditions the playback of its videos on the deposit of tracers in order to offer you targeted advertising based on your browsing.
By clicking on "I authorize" the plotters will be deposited and you will be able to view the video. You have the option of withdrawing your consent at any time.

For more information, visit the YouTube cookies policy
.
The force SeaMAID
SeaMAID uses a renowned, active Research & Development department that is equipped with a unique testing lab : A subaquatic measurement device designed in collaboration CSTB, Nantes, France and the National Testing Laboratory (Laboratoire National d'Essais -LNE). Using this device, SeaMAID can precisely measure the true lumen of its lighting systems in their operational environment as requested in the European regulation 1194.
The test results are incontestable and correspond to the reality of operational lighting in an aquatic environment.
White LED projector for above ground pools
| | | | | |
| --- | --- | --- | --- | --- |
| Colour temperature | Ra (CRI*) | Diffusion angle | Rated Luminous Flux | Utilised luminous flux |
| White 6500 | 87 | 120° | 804 lumens | 660 lumens |
*CRI : Colour Rendering Index
Installing the projector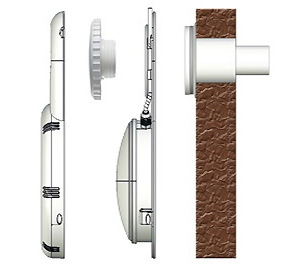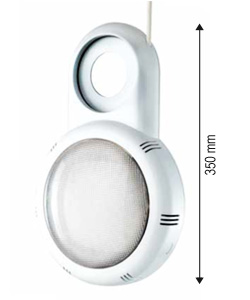 Technical features
Supply voltage
12V AC 50Hz/60Hz
Max luminous flux
280lm +/- 10%
Lifespan LED
>10.000 Hours *
Projector lifespan
15.000 Hours*
*
The lifespan is an indication based on information supplied by the manufacturer. This indication is in no way contractual and can vary depending on the frequency of use and variating, fluctuating electrical currents.
Warranty
2 years
Photos non-contractual
Price incl. VAT
Ask for a free quote seamaid white led for above ground pools
Other product : SeaMAID white LED for above ground pools
At best price 120 eur Including VAT.
Please fill in this form carefully. Our commercial service will handle your request promptly.
---
UK freephone hotline
Monday Friday 9.00 19.00, Saturday 10.00 18.00

---