Pool equipment

Pool lighting, projectors and bulbs...

Seamaid white pool bulb PAR56
Seamaid white pool bulb PAR56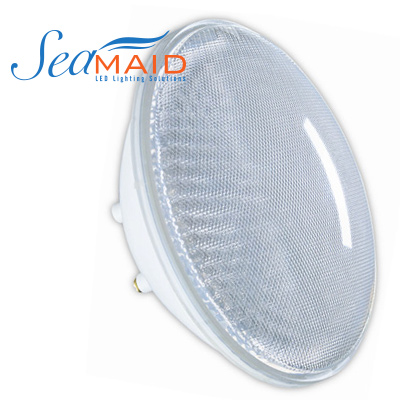 Recommended retail price 2023 :
Our Price :
Ref. Abatik 017080
Ref. Provider 501139
SeaMAID whilte LED bulb 24.2w with remote control
LED pool projector bulb,
Easy installation with all standard PAR56 alcoves,
Very low electrical consumption,
Powerful beam, 1450lm maximum,
White light
In stock
SeaMAID bulbs diffuse an intense light, valorising your pool whilst reducing your electrical consumption.

Using universal dimensions, the SeaMAID lamp is installed without any particular manual work in any standard PAR56 alcove to replace a classic, 300w incandescent pool bulb.


The force of SeaMAID


SeaMAID uses a renowned, active Research & Development department that is equipped with a unique testing lab : A subaquatic measurement device designed in collaboration CSTB, Nantes, France and the National Testing Laboratory (Laboratoire National d'Essais -LNE). Using this device, SeaMAID can precisely measure the true lumen of its lighting systems in their operational environment as requested in the European regulation 1194.

The test results are incontestable and correspond to the reality of operational lighting in an aquatic environment.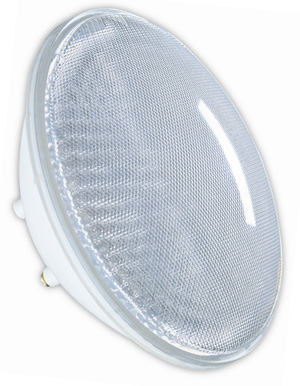 PAR56 39 LED bulb with remote control
| | | | | |
| --- | --- | --- | --- | --- |
| Colour temperature | Ra (CRI*) | Diffusion angle | Rated Luminous Flux | Utilised luminous flux (angle 120°) |
| Cold white 75000K | 88 | 120° | 1655 lumens | 1354 lumens |
*CRI : Colour Rendering Index
Techncial details
A PERFORMANT AND RESISTANT POOL BULB
Designed with polycarbonate injection, the SeaMAID bulb is highly resistant to shocks, heat and chemical aggression of water treatment products.
This bulb features two moulded screw terminals that ensure the waterproof aspect of the bulb and its solidity to the power supply connection.
The optic of the lamp has been studied to dispatch light in a homogeneous and visually comfortable manner throughout the pool water. The optic is soldered by friction (method used to assemble polymers) and so provides a high level of resistance.
AN ECONOMIC POOL BULB
A luminous source powered by LED represents a substantial economy : SeaMAID LED bulbs use 20 times less power and have a lifespan 50 times superior to a classic incandescent bulb.
To install you SeaMAID bulb, just fit a 2 x 1,5mm² cable section to a toroidal transformer with a 20w protection. You save on supplies and material.
Technical details


Control box model

Remote control model

Radio module SeaMAID + optional remote control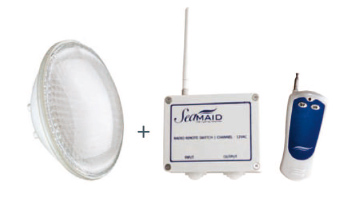 Supply voltage
12V AC 50Hz/60Hz
Maximum luminous flux
1100lm +/- 10%
Colour
White 7000/8000 degrees Kelvin
European energy classification
A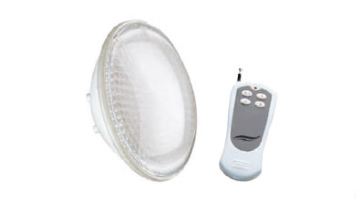 Supply voltage
12V AC 50Hz/60Hz
Maximum luminous flux
1860lm +/- 10%
Colour
White 7000/8000 degrees Kelvin
Program
1 fixed colour and 3 intensities
Control
On/Off + supplied remote control
European energy classification
A
*
The lifespan is an indication based on information supplied by the manufacturer. This indication is in no way contractual and can vary depending on the frequence of use and varying, fluctuating electrical currents.
The capacity of the transformer
The transformer on which you connect your SeaMAID LED bulb must have 12V tension.
The capacity of the transformer must be in adequation with the power of the lighting projectors that will be connected to the transformer. Anticipate a 20% superior safety margin when calculating the power consumed by the lighting projectors.
The below table indicates the number of SeaMAID bulbs that a transformer can supply, depending on its capacity.
Capacity of transformer
Maximum number of SeaMAID bulb
Installing the bulb
The pool bulb
(2)
can be installed in all PAR-56 standard alcoves
(1)
replacing an incandescent bulb. Its connection is easy and the bulb is guaranteed to be waterproof.

With low energy consumption, you can use the bulb intensively without a risk of overheating the transformer, resulting in electrical complications.
If you are simply replacing a classic incandescent bulb, or if you are in a construction configuration, the bulb can be fitted on standard systems in around 5 minutes.
- Before all operation cut the lighting projectors power supply
- Remove the lighting block from the pool and un-secure the bulb support
- Disconnect the bulb out of the pool water
- Check waterproof seal as well as the bulb support and change if you need to
- Spread a layer of silicone on either side of the waterproof seal
- Connect the LED lamp, screw the support into place and allow the silicone to dry for 15 minutes - then replace into the projectors alcove
- Check the waterproof aspect of the support and light the lamp
YouTube conditions the playback of its videos on the deposit of tracers in order to offer you targeted advertising based on your browsing.
By clicking on "I authorize" the plotters will be deposited and you will be able to view the video. You have the option of withdrawing your consent at any time.

For more information, visit the YouTube cookies policy
Warranty
2 years
Photos non-contractual
Price incl. VAT
Ask for a free quote seamaid white pool bulb par56
Other product : Seamaid white pool bulb PAR56
At best price 139 eur Including VAT.
Please fill in this form carefully. Our commercial service will handle your request promptly.
---
UK freephone hotline
Monday Friday 9.00 19.00, Saturday 10.00 18.00

---