Automatic water treatment and products

Pool maintenance products, chemical water treatment

Clarifiers, flocculants, anti-limescale, alkaline treatment products

OVY JET anti-algae 35 triple action treatment
OVY JET anti-algae 35 triple action treatment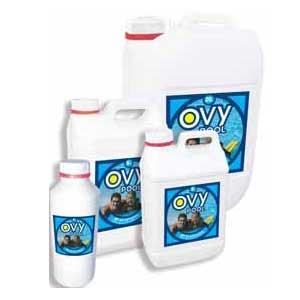 Recommended retail price 2023 :
Our Price :
Ref. Abatik 000640
Ref. Provider 612 035 010
OVY JET 35 anti algae triple action treatment 6 x 1L containers
OVY JET 35 effective preventive and curative treatment against algae, rust stains and limescale deposits 6x 1L containers
In stock
Characteristics

- Non-foaming, clarifying curative treatment
- Anti-algae, sequesters metal and limescale deposits
- Offers complete synergy with all pool treatments
- Non-foaming


Recommendations for use

For a preventive and curative treatment out of season:

The pool should be empty and clean. Hose down the pool walls with JET 35 diluted to 1 : 10. Insist on the sealing parts inserted on the pool walls: Skimmers, ducts, main drain, discharge nozzles, and tile groutings. Leave to activate for 1 hour, then fill your pool.

For maintenance treatment during the season :

Add 1/2 litre JET 35 /35 m3 to your pool water every 15 days as a preventive treatment.

Photos non-contractual
Price incl. VAT
Ask for a free quote ovy jet anti-algae 35 triple action treatment
Other product : OVY JET anti-algae 35 triple action treatment
At best price 89 eur Including VAT.
Please fill in this form carefully. Our commercial service will handle your request promptly.
---
UK freephone hotline
Monday Friday 9.00 19.00, Saturday 10.00 18.00

---