Automatic water treatment and products

UV treatment

Puriq Bright UV
Puriq Bright UV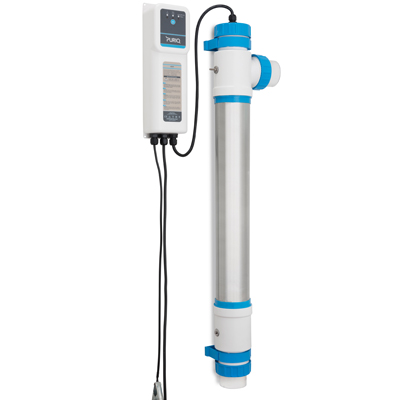 Recommended retail price 2023 starting from :
Our Price starting from :
Ref. Abatik 023656
Ref. Provider 30815
UV PURIQ Bright 40 steriliser
Automated UV water treatment system,
Compatible with all filtration systems,
Water treatment chemical consumption halved,
Ecological
In stock
The UV Puriq Bright steriliser in detail
The
Puriq Bright UV steriliser
is particularly suitable for residential use, equipping the pool with an efficient, dependable, chlorine free disinfection system.
Easy to install, allowing continuous pool disinfection without risk to pool users.
The Puriq Bright UV steriliser has been designed to disinfect all pools with a maximum volume of 120 m³, eliminating viruses, bacterias, algae and other moulds.
UV rays with wavelengths lesser than 290nm (nanometres) have been used for some time to ensure water sterilisation and collectively used materials (laboratory material, medical equipment, cosmetics, hairdressers...).
The
Puriq Bright UV steriliser
produces UV-C with a wavelength of 253,7 nm killing all viruses and bacterias, providing pure and clear pool water. This cuts in half the quantity of chemical treatment products used.

UV ray spectrum
The exclusive UV technology of the steriliser has been designed to operate for 12 000 hours, approximately 50% longer lifespan than most UV lamps available on the market.
The LED system situated on the control box easily manages your lamp and tells you when you should anticipate bulb replacement.
- Green LED : 0 to 7999 operational hours (correct operation).
- Orange LED : 8000 to 11999 operational hours (anticipate replacing your lamp).
- Red LED : 12000 operational hours (replace your lamp).
This ingenious system allows you to benefit from an optimised UV water treatment system.
YouTube conditions the playback of its videos on the deposit of tracers in order to offer you targeted advertising based on your browsing.
By clicking on "I authorize" the plotters will be deposited and you will be able to view the video. You have the option of withdrawing your consent at any time.

For more information, visit the YouTube cookies policy
Ecological
This procedure is not only ecological, it also lowers the risk of allergies, reactions, itching or odours.
Water which is discharged from your pool's hydraulic circuit is non-polluting and presents no danger to the environment.

Several available models

The Puriq Bright UV steriliser is available in three versions depending on your pool dimensions:

- Puriq Bright 40 W for pools up to 40 m3
- Puriq Bright 80W for pools up to 80 m3
- Puriq Bright 120W for pools up to 120 m3



Charateristics

The Puriq Bright body is composed of 316L stainless steel. Water carried through the body of the unit is exposed to UV rays for a prolonged period. The width of the body ensures a very low loss of pressure when water passes through the unit. The internal section is polished, avoiding deposits of dust or any other foreign body.

Installed as slave circuit with the pool filtration system, the Puriq Bright steriliser is operational only during the cycles of filtration. When the filtration pump suspends activity, sterilisation ceases.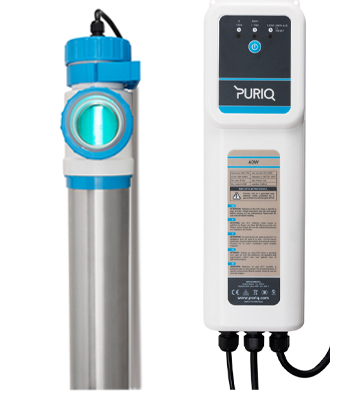 Technical characteristics
| | | | |
| --- | --- | --- | --- |
| . | Puriq Bright 40 W | Puriq Bright 80 W | Puriq Bright 120 W |
| Maximum capacity of pool | 40.000 L | 80.000 L | 120.000 L |
| Lamp capacity in watts | 41 Watts | 80 Watts | 125 Watts |
| Lamp lifespan | 12.000 h | 12.000 h | 12.000 h |
| UV-C production | 16 Watts | 27 Watts | 42 Watts |
| Recommended flow | 12.000 L/h | 18.000 L/h | 22.000 L/h |
| Maximum pressure | 3 Bars | 3 Bars | 3 Bars |
| Supplied connection | 63 mm | 63 mm | 63 mm |
Recommended capacity : 1 W per m3
Installation schema depicting UV water treatment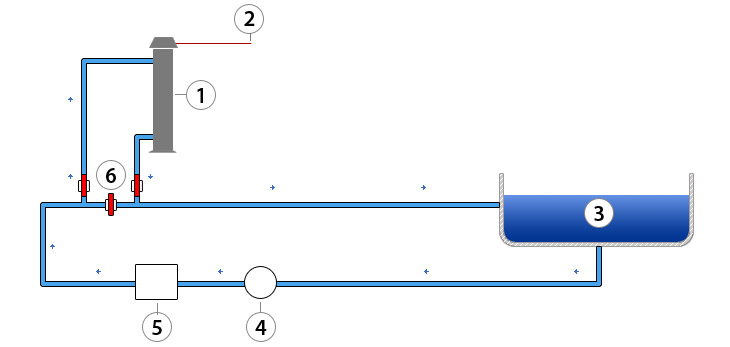 1. UV sterilisation
2. Power supply
3. Pool
4. Filtration pump
5. Filter
6. By-Pass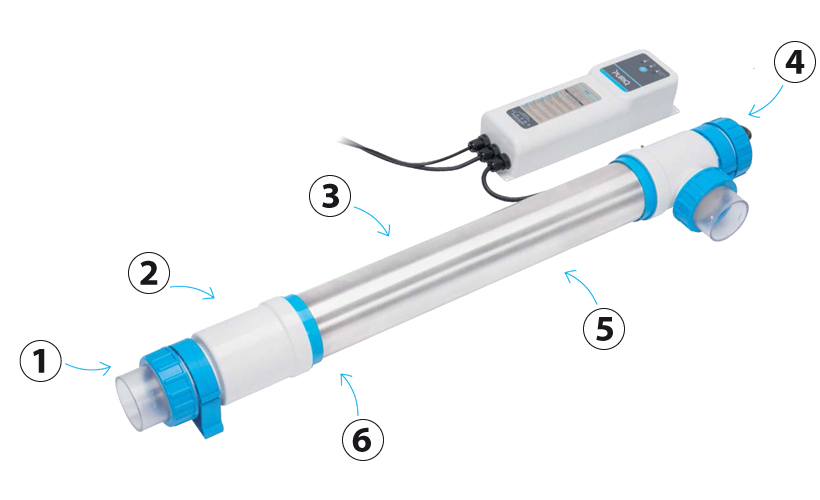 1. Easy to install
2. 100% ecological
3. Extra large housing for prolonged exposure to UV
4. Ultra-long lifespan of lamp
5. High UV production using latest technology lamps
6. 35% more production using reflection
Description of assembly parts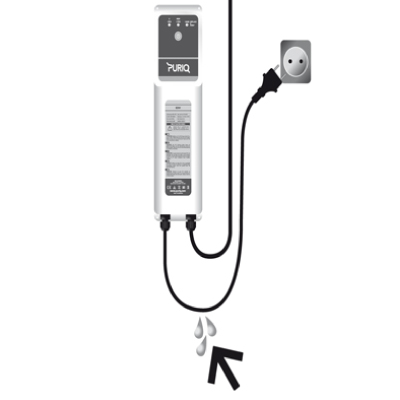 Avoid water entering into the unit's socket by forming a loop on the power cable.
Puriq Bright UV is supplied with a wall mounting kit for vertical fixation.
N: Nut
L: Dowel
M1: O-ring seal
J: UV-C lamp
K: Quartz leaf
M2: O-ring seal
O: Tube clamp
H: Self-locking nut
D: Body
P: O-ring seal
I: Adaptor
S: Switch
R: Ballast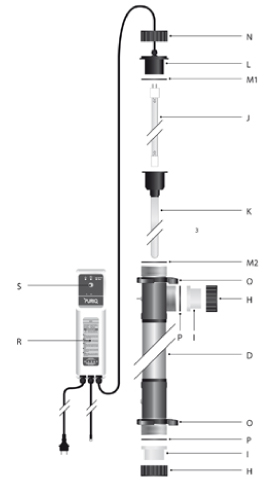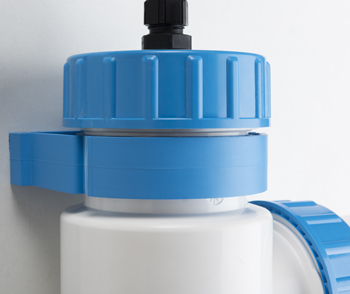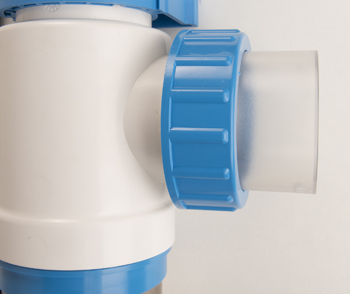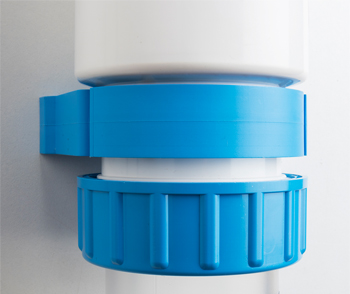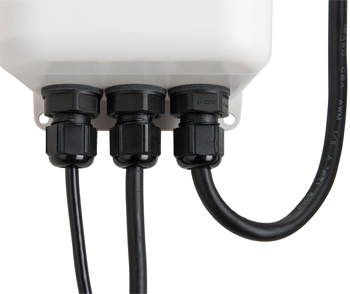 Dimensions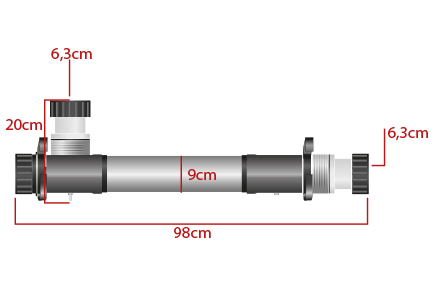 Recommendations for use
The unit should be installed in a ventilated, dry shelter away from direct sunlight. It should be introduced after the filter on the pool hydraulic circuit, vertically.
Maintenance should be completed once per semester, cleaning the lamp and quartz leaf with white vinegar or window cleaning product.
The Puriq Bright is not compatible with salt water treatment systems.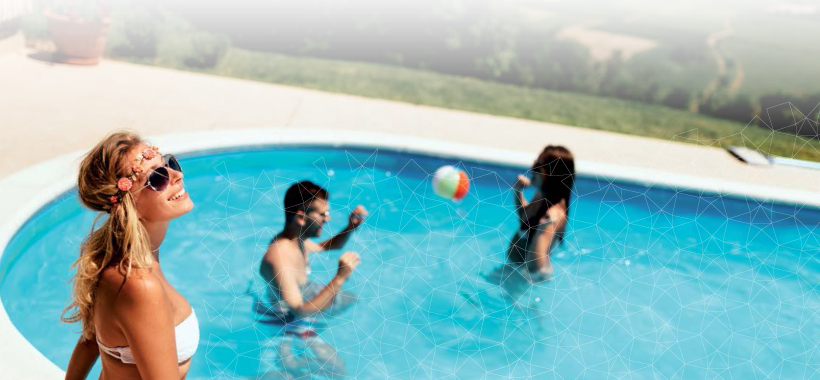 Complementary treatment products
For complementary use with UV to optimise efficiency, we recommend the use of an injection pump for remnant products:
- The
Smart Timer programmable dosing pump
is automated, simple and efficient.
To maintain swimming comfort and ensure efficient water disinfection the Smart timer chronometric dosing automates injection of your treatment product.

Smart Timer is a simple and efficient programmable dosing pump, featuring a peristaltic pump to treat pools up to 200m³.

Ideal for use with chlorine, active oxygen, flocculants and anti-algae products.

Factory set to operate with the vast majority of pools, however, you can program Smart Timer to operate with your own particular pool configuration.

Program settings allow up to 8 sequences of injection per day for a duration of 1 week.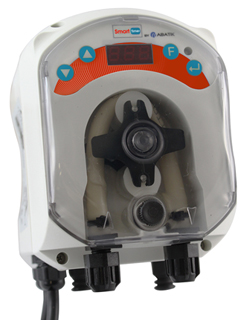 - Active oxygen is a powerful oxidising agent that also holds powerful anti-algae properties.
Oxysoft is a remnant liquid product, composed of hydrogen peroxide, to be used as a complement to the UV steriliser.
Specifically designed to efficiently treat pool water without damaging the effect of Ultra-Violet rays.
This product is non-foaming and does not contain chlorine. Its use is particularly adapted to residential pools.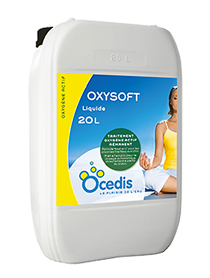 Warranty
3 years UV steriliser
2 years dosing pump
Photos non-contractual
Price incl. VAT
Ask for a free quote puriq bright uv
Other product : Puriq Bright UV
Starting from 389 eur Including VAT.
Please fill in this form carefully. Our commercial service will handle your request promptly.
---
UK freephone hotline
Monday Friday 9.00 19.00, Saturday 10.00 18.00

---