Automatic water treatment and products

UV treatment

UV Vulcan Pro Pool Treatment + UV 110W
UV Vulcan Pro Pool Treatment + UV 110W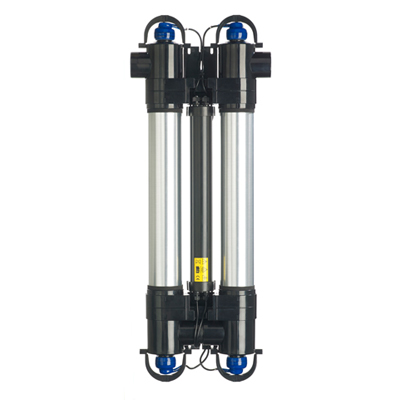 Recommended retail price 2023 starting from :
Our Price starting from :
Ref. Abatik 022219
Ref. Provider V-PP-110
Vulcan Pro pool+ UV 110W steriliser
Automatic disinfection by UV-C,
Compatible with all types of pool up to 100,000 litres,
Supplied with wall bracket for easy installation,
Easy maintenance,
Resistant equipment with a long lifespan.
Maximum pool volume 100 m3
In stock
The steriliser UV Vulcan Pro Pool is ideal for the disinfection of pool water in pools with a maximum volume of 100m3.

Simple and economic, this product starts the range with excellent value for money.

Light and easy to install, this steriliser is an excellent alternative to classic automatic water treatments.


How does UV water treatment work

At the filter outlet, pool water passes through the sterilisers chambers in which are contained 2 Ultra Violet lamps.

The UV-C rays will destroy germs, viruses, microbes, spores, algae, mosses and all other micro-organisms.

This procedure is both economic and ecologic, leaving no residue in the pool.


Advantages

- Swimming comfort : no smell, no irritation.

- Extends the lifespan of your pool material (pump, liner, ceramic joints...).

- Circulation chambers made from non-toxic ABS, UV and shock resistant.

- Lamps individually chambered for optimal efficiency.

- Easy installation and maintenance (wall bracket).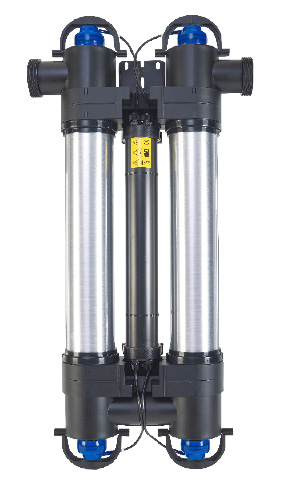 Vulcan Pro Pool + UV 110 W
The UV Vulcan Pro Pool + UV 110W is available in three versions :

- Vulcan 110W Pro Pool+ simple, to disinfect your pool water
- Vulcan 110W Pro Pool+ UV lamp lifespan indicator : to guarantee maximum efficiency, the steriliser accounts for lamps working hours and indicates when they should be changed.
- Vulcan 110W Pro Pool+ with intelligent dosing pump, for automatic, periodic liquid injection, conserving the disinfectant aspect of your pool water. The dosing pump measures the temperature of your water and injects the required amount of product. Also included UV lamp lifespan indicator.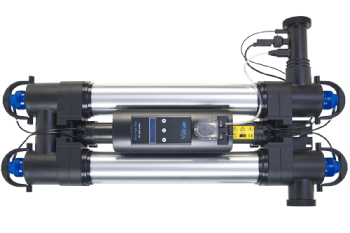 Vulcan Pro Pool + UV 110W with dosing pump
Technical features
Maximum treatment capacity
100m³
Power input
120V 50/60Hz to be connected at filter station
Maximum flow of pool filter
36m³/h
Maximum volume of pool
100m³
Connection to filter circuit
PVC sleeves to be stuck
Wattage of lamps
2 x 55w (110w total)
UV-C strength
2 x 18w (36w total)
Guarantee
2 years, lamps and quartz not guaranteed
Dimensions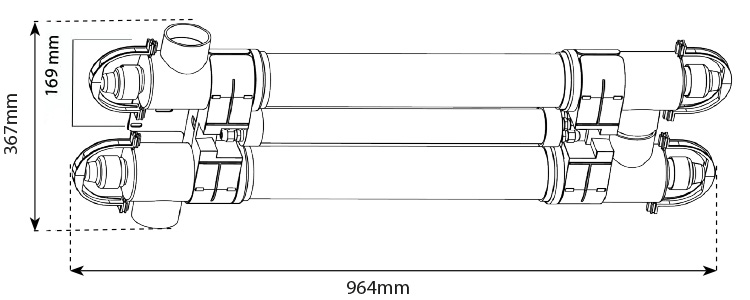 Dimensions in mm
Installation schema
The
UV steriliser
is installed using a by-pass on the filter circuit after your pool's filter. The UV pro pool is delivered with wall bracket to facilitate installation.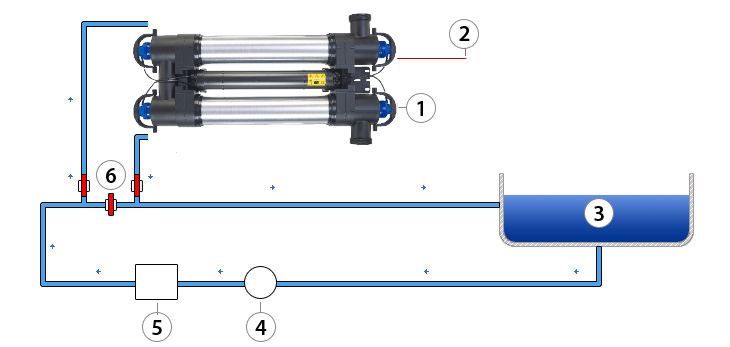 1
. UV Steriliser,
2
. Power supply,
3
. Pool,
4
. Filtration pump,
5
. Filtre,
6
. By-Pass.
Simple installation connected to the filter outlet circuit in coherence with the filter pump operation.
Connection diameter 63mm, reducer available 63/50mm (option).
Maintaining the unit
Each lamp is equipped with a luminous signal that flashes red when the lamp needs to be replaced.
The design of the
UV Vulcan Pro Pool steriliser
allows you to change the UV lamps without having to purge the system.
Nota
: The sterilisation of water is carried out during the pool filters operational cycles. When the pump is not running, water is not disinfected.
We recommend a complementary residual active oxygen water treatment.
See :
POOL-NET dosing pump
and
residual oxygen PEROXUV 2x20L
Warranty
2 years
Photos non-contractual
Price incl. VAT
Ask for a free quote uv vulcan pro pool treatment + uv 110w
Other product : UV Vulcan Pro Pool Treatment + UV 110W
Starting from 1007 eur Including VAT.
Please fill in this form carefully. Our commercial service will handle your request promptly.
---
UK freephone hotline
Monday Friday 9.00 19.00, Saturday 10.00 18.00

---
Spare parts order
You are looking for a spare part for «UV Vulcan Pro Pool Treatment + UV 110W » ?
Please click the button below. Our commercial service will handle your request promptly.