Automatic water treatment and products

UV treatment

HYDR-UV sterilisation
HYDR-UV sterilisation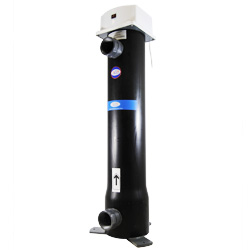 Recommended retail price 2023 :
Our Price :
Ref. Abatik 018002
Ref. Provider 051 HB
HYDR-UV 18 sterilisation by UV, specific PVC body
Automatic treatment by UV rays
Compatible with all filtration systems
Compatible with salt water systems
Maximum pool volume 80 m3
In stock
Operational system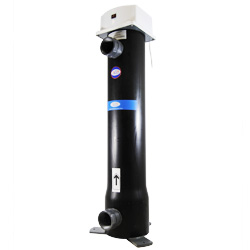 U.V disinfection (Ultra violet) is a process which is used frequently in the industrial industry because of this methods large capacity to destroy germs, viruses, bacteria, spores, algae and other micro-organisms which are present in water.
The HYDR-UV 18, sterilises your pool water using the same technology.

The steriliser is installed using a by pass on the hydraulic circuit of the filtration system.
During the filtration cycle, water circulates inside the treatment chamber. Bacterias, virus and algae are eradicated using the lamps rays.

At 254 nanometers, the optimal wavelength to eradicate micro-organisms (virus, bacteria, algae, mildew...) are UV-C rays. Capable of penetrating the DNA that perturbs the metabolism of the micro-organisms cells till destruction. All germs, are, therefore, inactive (including legionella and cryptosporidium) and cannot reproduce .

The residue of your pool water is naturally eliminated without toxic waste being evacuated into the environment.
| | | | | | | | |
| --- | --- | --- | --- | --- | --- | --- | --- |
| Model | Maximum volume of pool | Filtration capacity | Pool pump | UV lamp capacity | Number of lamps | UV cylinder diameter | Inlet / outlet diameter |
| HYDR-UV 18 | 80 m³ | 12/18 m³/h | 1 CV | 80 Watt | 1 | 160 mm | 2" |
Advantages of U.V treatment :
- Swimmers comfort: no odour, no irritation
- Prolongs the lifespan of your material (pump, liner, tile grouting...)
spectrum of U.V rays

Nota : Water is sterilised only during water filtration cycles.
When the pump stops, the pool water is not sterilised.
We recommend a complementary treatment such as the
POOL-NET 2012 dosing pump
Features
Reaction chamber
Specific PVC body
UV lamp
monobloc cell + quartz
Electronic ballast
Energy saving program that lengthens the lifespan of bulbs
Power supply
220V on slave connection to the pool filter system
Connection to filter circuit
x2 union connections unions (on option)
Guarantees
2 years on PVC body, lamps not under guarantee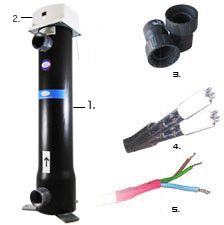 1
PVC body
2
Command box
3
x2 union connections (on option)
4
U.V monobloc lamp
5
Power cable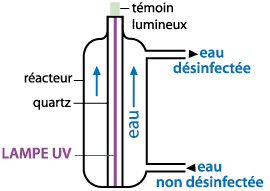 Installation for UV sterilisation system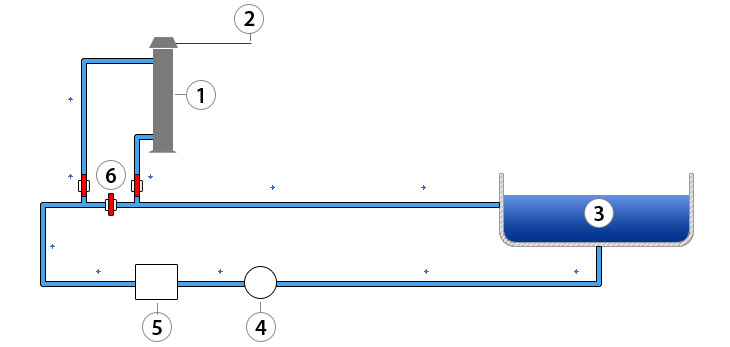 1. UV HYDR-UV 18 steriliser
2. Power supply
3. Pool
4. Filtration pump
5. Filter
6. By-Pass
Warranty
2 years on PVC body, lamps not guaranteed
Photos non-contractual
Price incl. VAT
Ask for a free quote hydr-uv sterilisation
Other product : HYDR-UV sterilisation
At best price 1032 eur Including VAT.
Please fill in this form carefully. Our commercial service will handle your request promptly.
---
UK freephone hotline
Monday Friday 9.00 19.00, Saturday 10.00 18.00

---
Spare parts order
You are looking for a spare part for «HYDR-UV sterilisation» ?
Please click the button below. Our commercial service will handle your request promptly.