Pool heating and dehumidification

Heat pumps for swimming pools

Pool Heat Pumps AQUACAL

AQUACAL SUPERQUIET SQ 155
AQUACAL SUPERQUIET SQ 155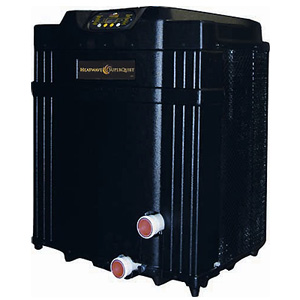 Heat pump specifically designed for swimming pools, imperative outdoor installation in proximity to the technical house.
Operational with ambient temperature up to 4,5° C.
Titanium exchanger with a lifetime guarantee.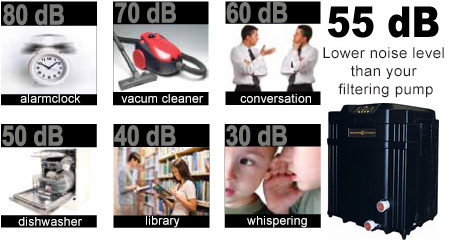 The SuperQuiet heat pumps are the top of the range product with the brand AQUACAL. This series punctuates a new standard in operation and performance, distinguishing itself from previous models by its very low noise level and reduced weight.
- Very low noise level
- Titanium water condenser with a lifetime guarantee against corrosion using Thermolink technology.
- Conforms to European norms
- Cooling liquid R410A
- Very quiet Scroll rotary compressor. Manometer to regulate water flow.
- Digital control thermostat with start/stop and warning light
- Microprocessor management, time and auto-diagnosis function settings.
- ABS bodywork
- Three-phase electrical supply
A new control panel allows you to program the principal settings of the
heat pump
. Using it's
digital thermostat
and
water flow manometer
, you can perfectly manage the temperature of your pool. Equipped with a flow switch, the heat pump automatically stops with the filter pump.
Using the reversible setting, you can cool your pool when the outdoor temperature is uncomfortably too high.
Required power supply
400 V
Minimal operational temperature
+ 4,5°c
Pump dimensions (Lxwxh) in cm
94x86x115
Total weight with packaging
159 Kg
Dimensions of pump with packaging (Lxwxh) in cm
100x89x130
*Based on private pool with cover between May and September, ambient air at 26° C
** Coefficient of performance = Rendered power / Input power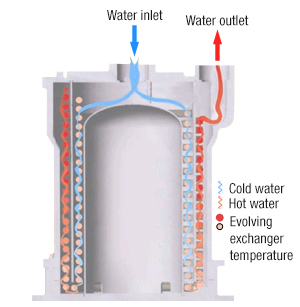 Titanium exchanger using "Thermolink" technology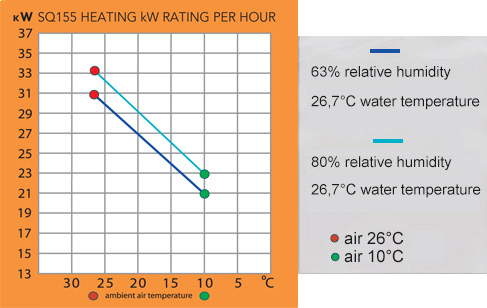 Rendering curve chart AQUACAL SQ 155
Titanium exchanger using "Thermolink" technology :
- This dual circulation creates a greater rendering power, guaranteeing the best COP
- Offers excellent sustainability without sacrificing performance and efficiency
- Guides the water flow and gas R410A in opposite directions. This conception ensures a maximal transfer of calories by means of an important differential of temperature, minimising friction loss for a total compatibility with the global hydraulic schema.
- Easy winterizing by means of a simple valve
- Lifetime guarantee
Installation schema
Hydraulic piping PVC Ø 63 using a by-pass on the filter circuit ; two threaded PVC connectors 1/2 Ø 63 supplied

1. Heat pump
2. Pool pump
3. Pool filter
4. Suction
5. Discharge nozzles
6. Condensation outlet
7. Hot air inlet
8. Cold air outlet
9. Power supply
AVAILABLE OPTION: U-CONNECT CONNECTION KIT FOR HEAT PUMP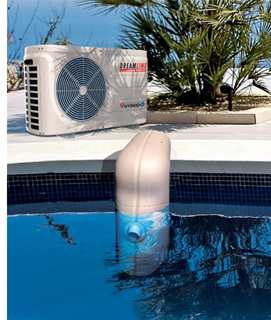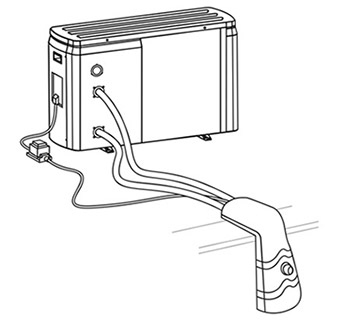 The
U-Connect connection kit
allows you to link your heat pump to your pool
without labor or tools.
This fast installation does not require a supplementary power supply and avoids the need for a by-pass. You simply connect the two supplied pipes to your
Aquacal Superquiet SQ 155 heat pump
, and join them to the portable U-Connect unit. Complete with self-priming action, the U-Connect unit remains independent from your pool filtering system. You can enjoy hot water, faster without loosing heat through a piping system which is often the case in a classic configuration.
Warranty
lifetime guarantee on exchanger
2 years on all other parts
Photos non-contractual
Price incl. VAT
Ask for a free quote aquacal superquiet sq 155
Other product : AQUACAL SUPERQUIET SQ 155
At best price 6050 eur Including VAT.
Please fill in this form carefully. Our commercial service will handle your request promptly.
---
UK freephone hotline
Monday Friday 9.00 19.00, Saturday 10.00 18.00

---
Spare parts order
You are looking for a spare part for «AQUACAL SUPERQUIET SQ 155» ?
Please click the button below. Our commercial service will handle your request promptly.