Pool covers - pool covering solutions

Pool shutters

ECA BAHIA battery powered shutter
ECA BAHIA battery powered shutter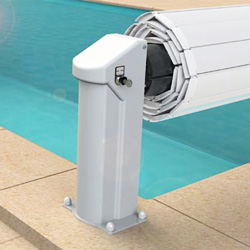 Recommended retail price 2023 :
Our Price :
Ref. Abatik 017094
ECA bahia battery powed pool shutter
Automatic shutter for rectangular pools measuring up to 12 x 5,03m,
Battery powered,
Simplified installation without cable connection,
Tubular motor with limit management
Complies with standard NF P 90-308
In stock
The ECA Bahia battery powered shutter allows you to secure your pool without undertaking extensive labour work.
Ideal for existing pools, the battery powered motor simplifies installation as it does not require a cable power source.
Conserving water temperature in your pool water to prolong your swimming season. Limiting water evaporation, maintaining water clean, reducing cleaning, opaque slats that prevent photosynthesis - the main reason for algae development. ... Just some of the positive points of using this shutter.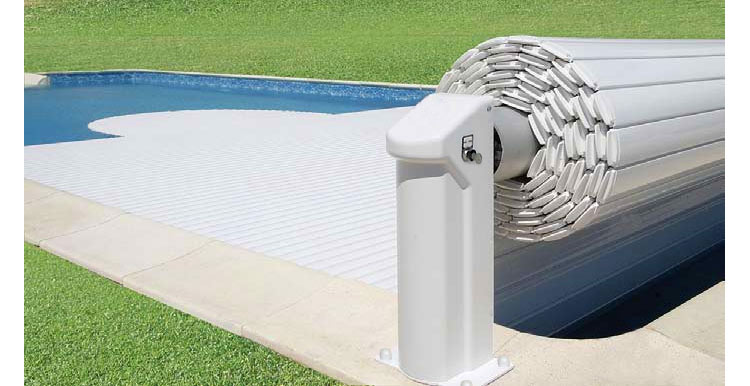 Inner dimensions of pool
Incl VAT*
*
Prices represent departure from manufacturer with battery powered mechanism and slats Available colours : White, sand, blue or grey.
The dimensions of your pool are not listed in the above table? Contact us today on one of our freephone numbers to get your personalised quote.
Use
This shutter adapts to pools that are :
- existent or under construction,
- Rectangular in shape
- Have maximum inner dimensions of 12 x 5,03m
*Consult us to confirm compatibility with your pool shape
Operation
The power source of the motor is a 12v battery. If the battery is totally charged, the shutter can remain with an autonomy of 40 cycles of opening and closing (for a pool measuring 8 × 4m with stairs).
Comfort and security
The manoeuvres of opening and closing are completed automatically with the use of a connector key. 3 minutes is sufficient to roll or unroll your cover.
Included in the kit :
- 2 lacquered aluminium axis supports, thermoformed in white or sanded finish.
- 1 axis to roll slatted shutter cover
- 1 12v electric motor contained in the axe with limit management
- 1 connector key (with 3 positions) positioned at the foot of the motor
- 1 Shutter cover composed from slats (available colours white, beige, blue or grey)
- 1 security system composed of flanges and ABS straps to be fixed to the pool wall (or, on option under the pool surround).
- 2 12v batteries
- 1 battery charger 220v/12v
- Packaging
Details of pool shutter slats
The slats of the shutter conform to the norm NF P90-308.
The opacity of the slats reduces the phenomenon of photosynthesis and avoids the apparition of algae.


Each slat is composed of three compartments. Each compartment contains air. The air creates buoyancy of the slat and limits heat loss.


At the end of each slat, caps are welded to ensure sealing.
Slats
PVC with anti-stain and anti-UV treatments
Colour
White, sand, blue and grey
On option - stair cut
Consult us
Slat colours

White

Blue

Beige

Grey
Assembly of shutter

- The assembly of the shutter is completed by a clipping system.

- To click one slat to the other, commence by engaging the lower hook to the "male"side of the right-hand slat into the "female" side of the left-hand slat (fig.1 and fig.2).

- Create a to and fro movement till the two slats "click" together completely (fig.3).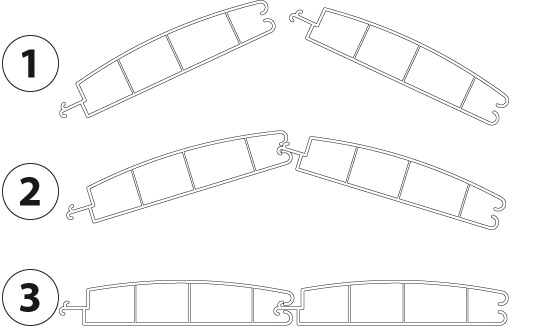 Stair cut
In the case that the ECA BAHIA battery powered shutter is positioned on the width of the pool, it is adaptable to various stair shapes : rectangular (1), trapeze (2), roman (3), semi-circular (4) or free-form (5) (after consultation with us).

Two finishes are possible for your stair cut : angled (a) or shaped (b).
The angled cut is the most simple. The "shaped" cut is perfectly formed to the shape of your pool. This solution proves to be the most esthetically pleasing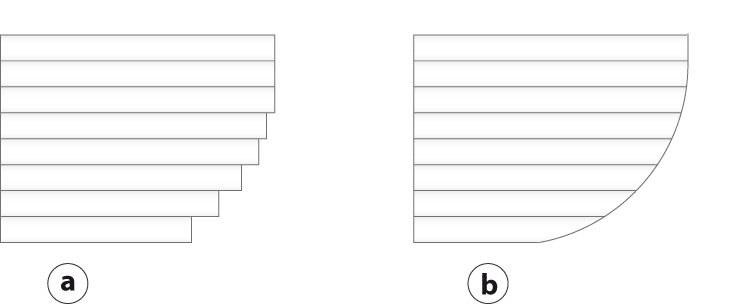 Stair cuts are on option : consult us for your specific quote
Pool surround trim to position your axis
For existing pools with a rounded surround, a trim of the pool surround is obliged to allow the smooth passage of the shutter.
Length of pool in meters
side X in mm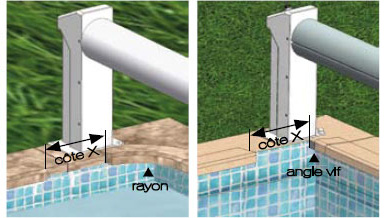 Required space for the axis and legs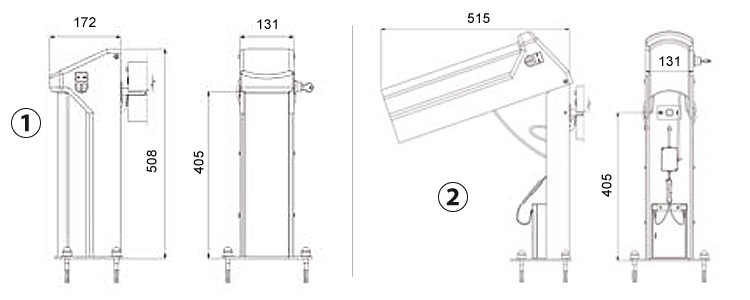 Leg closed (
1
), Leg open (
2
).
Dimensions in mm
.
Connector key
The connector key is linked to the 12v battery integrated into one of the axis supports. This allows you to effectuate opening and closing of the shutter.

You do not need to dig a trench to connect the shutter to your electrical supply. This installation system is fast and easy.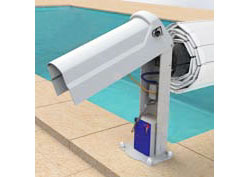 Security system
ECA BAHIA battery powered above ground shutter is supplied with an anti-lifting system. It is imperative that your shutter is equipped with a fixation system to conform to the norm NF 90-308.
You can choose from 3 systems :
System with fabric loop and strap
Installation - 2 types of fixation choice :
- On the pool wall (included in the price of the shutter )
- Edge of border (on option) with two possible heights : 2 adjusting rods (1 long, 1 short) in coherence with the pool water level
- Hardware included
Use : Easy, fabric strap with clip system
Colour of strap : White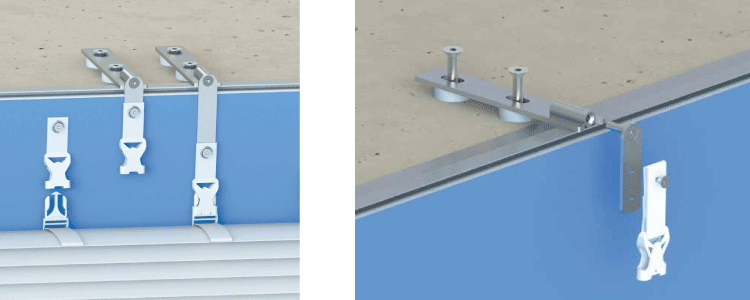 Fabric loop and strap with wall or edge of pool surround fixation, two possible heights
ABS fixation system with fabric strap (on option)
Installation : On pool wall or edge of surround - hardware supplied.
Use : Easy, fabric strap with clip system
Colour of strap : White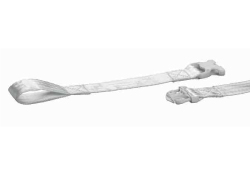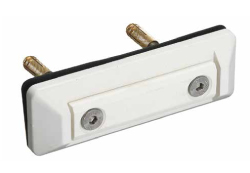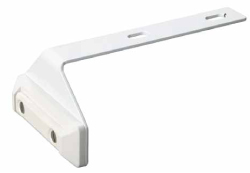 Stainless steel 316L and ABS strap system (on option)
Ultra resistant, esthetic and discreet
- Fixing point on pool wall
- Fixing point on pool surround : 2 connecting rods supplied (1 long, 1 short).
- Hardware supplied
Use :
To attach a strap : Uncover the shield on the wall plate and insert the locking system.
To free a strap: Pivot and free the locking system, replace the shield on the wall plate.


ABS straps can match the slats of your shutter in colour. You have the choice of white, sand, grey or blue

Secure opening
Warning : This fixation system is incompatible with salt treatment
How many security straps do I need for an axis without a reel protection?



Max. inner width of the pool




Precautions for use

This shutter can be used during any season, but not during frost.

For optimal operation of the cover, we recommend keeping water 10cm lower than the pool surround.

During the winterizing period, we recommend the water level is kept at the same height.

Transport and packaging


At least two persons are needed to unload and manipulate the delivery. with adapted lifting equipment.

All delivered merchandise should be checked with the driver.

Warranty
3 years Motor
3 years buoyancy and sealing of slats
3 years on rolling mecanics
2 years on battery and charger
Photos non-contractual
Price incl. VAT
Ask for a free quote eca bahia battery powered shutter
Other product : ECA BAHIA battery powered shutter
At best price 3024 eur Including VAT.
Please fill in this form carefully. Our commercial service will handle your request promptly.
---
UK freephone hotline
Monday Friday 9.00 19.00, Saturday 10.00 18.00

---
Spare parts order
You are looking for a spare part for «ECA BAHIA battery powered shutter» ?
Please click the button below. Our commercial service will handle your request promptly.