Pool covers - pool covering solutions

Pool shutters

ABRIBLUE Banc Solar automatic pool shutter
ABRIBLUE Banc Solar automatic pool shutter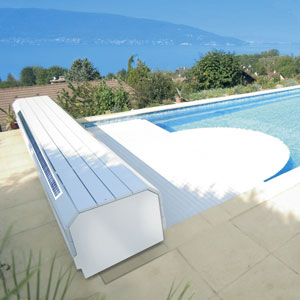 Recommended retail price 2023 starting from :
Our Price starting from :
Ref. Abatik 009488
ABRIBLUE BANC SOLAR ENERGY above ground automatic shutter
Electric power generated by solar energy
Aluminium bench with PVC or hardwood outer casing
Conform to norm NFP 90-308
Complies with standard NF P 90-308
In stock
ABRIBLUE Banc Solar Energy in detail
Inner pool dimensions
Price including VAT *
8m x 4m
7388€ including VAT
10m x 5m
8520€ including VAT
12m x 6m
11071€ including VAT

Above ground automatic pool cover featuring axis protection, power sourced by solar energy.
Ideal for an existing pool or construction project
Your pool is secured without cabled power!
Contact us today for your personalised quote including transport costs.
* Prices above represent departure from manufacturer, white PVC slats, white PVC axis protection.
2 persons are required to reception delivery.
Advantages of the automatic pool cover
ABRIBLUE Banc Solar Energy replies top the needs of those who wish to fully enjoy their pool while preserving the esthetic quality of their relaxation zone.

This above ground electric shutter features axis protection finished with PVC or hardwood (on option) slats. Installation is particularly fast and easy : perfectly adapts to the majority of existing pools or projects under construction. Its tubular motor manages limit management using external sensors and features disengaging mechanics.

This solar automatic pool cover secures your pool while limiting installation work.

- The removable outer casing of the axis protection facilitates operation of installation and maintenance as well as slat cleaning.

- Self-sufficient : The motor power is ensured by two batteries that use energy from a high-performance photovoltaic panel. When correctly positioned and orientated, it is operational all year round, as this panel requires little sunlight.

- For further security, the ABRIBLUE Banc Solar Energy is equipped with an audio signal warning of a low level of batteries, allowing a last open / close cycle to be completed. In total obscurity, the cover can complete up to 40 cycles for a pool measuring 4m x 8m leaving enough energy to secure your pool. The locking system of the cover ensures total security.

- Opening and closing manoeuvring can be completed by one person only by means of the key command. 3 minutes is enough to roll or unroll your automatic cover.

- Economic : Limits water evaporation. Reduces cleaning and keeps water clean. The pool cover conserves water temperature, creating superior thermal qualities, costing less and lengthening your swimming season.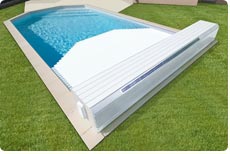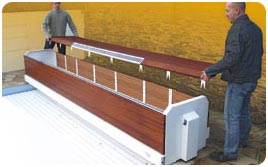 Easy installation - Requires little installation space - Protection - Security - Thermal insulation
Technical features
Flanges
Rigid white lacquered aluminium with key command and photovoltaic panel
Flange fixation
Bolts, plugs + positioning screws to adjust horizontally.
Electric motor
24 V tubular contained in the axis with adjustable limit management.
Solar panel
Photovoltaic cells
Regulating electronic card
1
Safety system
Unlocked at the axis using a safety pin
Opening and closing
3 position key command
Floating cover
Composed of slats
Axis protection frame
White lacquered aluminium
Axis protection finish
PVC or hardwood
Outer casing of axis protection
Removable for easier maintenance
Conditions of use
4 season
Maximum dimensions
7,50m x 15m
Details of slats
Slats
Extruded PVC with anti-stain treatment
Composition
Calcium/Zinc anti-UV
Performance in heat
Excellent
Clipping system
Male to female
Caps
Caps welded by manufacturer + removable fins
Available colours
White, blue, sand, grey, marble blue, transparent polycarbonate, translucid blue, silver bio layer, blue bio layer
Compatible pool shapes
Rectangular shapes, for other shapes consult us
Stair option
At the end of the pool - consult us
Slat colours

Shutter assembly
To clip one slat to the other, begin by engaging the male fixture on the left-hand slat into the female fixture on the right-hand slat (fig.1).

Repeat an oscillating movement till the slats click together (fig.2).

Attach the first rang of slats equipped with rolling straps using pliers. Equalise the lateral movement of the automatic cover (fig.3).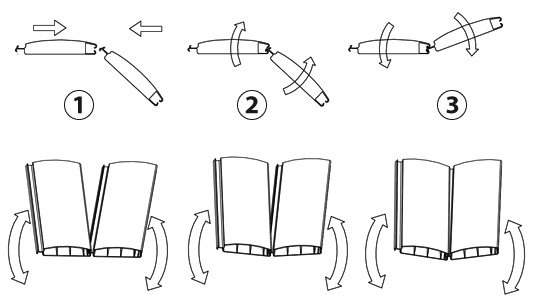 20 mm fins finish the caps. To adjust the width of the shutter cover to that of your pool, you can replace the standard fins with various sizes ranging from 10, 15, 25 to 30mm available from us. Note : all cuts of caps cancels the buoyancy and rigidity guarantee of the covers slats.
To unclip a slat, inverse the procedure (ref fig.1) by holding the lower section of the female mechanism (left-hand slat) to free the upper hook of the male section (right-hand slat).
Choice of axis protection outer casing finish
Your outer casing protection can be finished with white or sand PVC slats or hardwood slats to accord with the
esthetic of your pool
. The outer casing of your axis protection requires little maintenance and enjoys and excellent lifespan. This feature can be removable to facilitate the cleaning of your shutter slats.

Installation of automatic pool cover
Install the axis supports featuring the solar panel in the position which is most exposed to the sunlight.

In the case of an existing pool, a trim of the pool border edge may be needed to ensure the friction-free passage of the shutter.

As the axis supports are adjustable, the pool surround surface is not damaged and does not require surfacing.

For sharp angles and rayons of 15 cm maximum, position the axe of the axis supports 15cm towards the inside of the pool. For pools with a rayon greater than 15 cm, contact us.

Pool border trim
1 Anchor and horizontally adjust the axis supports.
2. Place the axis into position.
3. Assemble the slats that compose the pool cover .
4. Install the securing strap system.
5. Adjust limit management.
Preparation of the pool border
To install the axis protection, the pool surround must have an available level surface the width of the protection unit up to the pool edge on both sides of the pool. The pool surround must be adapted to the supplied fixation system. The width on which the Banc Solar Energy is to be installed must not be shaded (by buildings or vegetation...).
Required installation space
Front view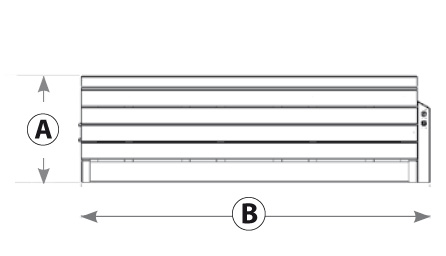 Height
(A)
:
- Length of pool lesser than 12m = 650mm
- Length of pool greater than 12m = 750mm
Total required space
(B)
= Length of pool + 200 to 300mm
->
All dimensions are in mm
Profile view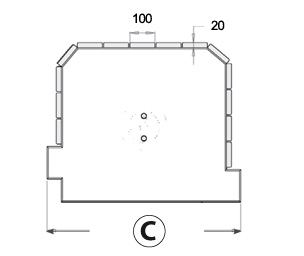 Width of bench
(C)
:
- Length of pool lesser than 12m = 750mm
- Length of pool greater than 12m = 850mm
Pool trim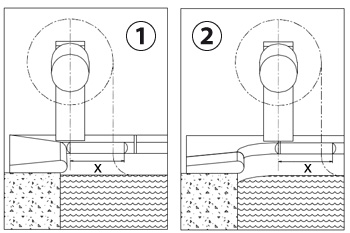 Sharp angled pools
(1)
, Rounded angled pools
(2)
,
Trim in mm
(X)
Minimum pool trim depending on pool length
Length of cover in meters
Side X in mm
Shutter axis
The axis must be positioned on a horizontal level, perpendicular to the pool.
- The motorisation of the automatic pool cover can be disengaged enabling manual opening and closing of the automatic pool cover. If this is the case, the limit management system needs to be reprogrammed after automatic service has resumed.
- The axis is positioned aligned with the rear pool borders edge or at the end of a terminal radius, centred on the pool's width.
- The axis protection flanges should be positioned level on the edge of the pool border. The lower beam is situated on the swim side of the pool.
- We advise not to proceed with floor anchorage before effectuating a full unrolling of the shutter body to check and adjust positioning.
- It is necessary to effectuate a trim of the pool borders edge to ensure the smooth passage without creating friction with the pool cover when opening and closing, avoiding the risk of breaking the finishing caps.
The power source of the automatic pool cover
- The power source of the cover is ensured by two batteries that operate via solar energy transformed using the high-performance photovoltaic panel creating 10 full cycles when fully charged.
- The solar panel is placed outdoors and must be correctly orientated (southerly facing). Direct exposure offers a minimum of 5 hours allowing normal use, generally, throughout the year.
- An audio signal warning of a low level of batteries, allowing a last open / close cycle to be completed.
Security system
The Banc Solar Energy automatic pool cover is equipped with an anti-lifting device conforming to the norm NF P90-308. This system is composed of ABS flanges + Straps + wall anchoring bracket. There is a minimum of 2 per wall.
The price of the cover includes:
- 2 white lacquered axis supports with three position key command
- 1 composite axis, Ø200mm
- 1 white cover, PVC calcium / zinc
- 1 motor
- 2 batteries
- 1 electronic regulating card
- 1 axis protection with slats
- 1 security kit composed of ABS flanges and straps
- 1 instruction booklet with installation instructions
Optional equipment
Wing System
The Wing System is an Abriblue innovation, allowing lateral surfaces to be covered, securing the total surface area of the pool water as a whole.
Security systems
- Available on option, the Coverlock security system is a new fixation system that combines simplicity of use and esthetic.
To close the cover, simply insert the locking mechanism into the designated orifice and push the Coverlock to lock.
To open, just push simultaneously the Coverlock and the cover locking system to free the shutter before rolling on it's axis.
Available in 4 colours : White, sand, blue and grey. Coverlock conforms to the norm NFP 90-308.
- ABS flanges + Straps + Stainless steel supports to fix under the pool border available on option.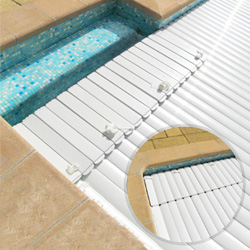 Wing System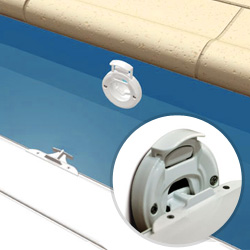 Coverlock security system
Warranty
3 years on slats
3 years on mechanics
3 years on motorisation
10 years on solar panel
2 years on batteries
Photos non-contractual
Price incl. VAT
Ask for a free quote abriblue banc solar automatic pool shutter
Other product : ABRIBLUE Banc Solar automatic pool shutter
At best price 7390 eur Including VAT.
Please fill in this form carefully. Our commercial service will handle your request promptly.
---
UK freephone hotline
Monday Friday 9.00 19.00, Saturday 10.00 18.00

---
Spare parts order
You are looking for a spare part for «ABRIBLUE Banc Solar automatic pool shutter» ?
Please click the button below. Our commercial service will handle your request promptly.