Pool covers - pool covering solutions

Pool shutters

Subwater immersed shutter with motor contained in axis
Subwater immersed shutter with motor contained in axis
SUBWATER immersed pool shutter with motor contained in axis
, powered by cable
creating the perfect balance between security, available options, discression and esthetic.
Inner dimensions of pool
Prices including VAT *
7 m x 3,5 m
7360 eur including VAT
8 m x 4 m
7600 eur including VAT
9 m x 4,5 m
9210 eur including VAT
10 m x 5 m
9590 eur including VAT
11 m x 5 m
9800 eur including VAT
12 m x 6 m
10750 eur including VAT
* Above prices include departure from manufacturer, white slats, white PVC, 700 mm slatted flooring and 1m high white PVC seperation panel.
Stair cut
including VAT **
roman Diameter maxi 3 m square finish
860 euros including VAT
roman Diameter maxi 3 m shaped finish
1210 euros including VAT
roman Diameter maxi 4 m square finish
1150 euros including VAT
roman Diameter maxi 4 m shaped finish
1690 euros including VAT
**White slats, for other colours, consult us
2 persons are needed to reception delivery
Call us today to get your personalised quote including transport costs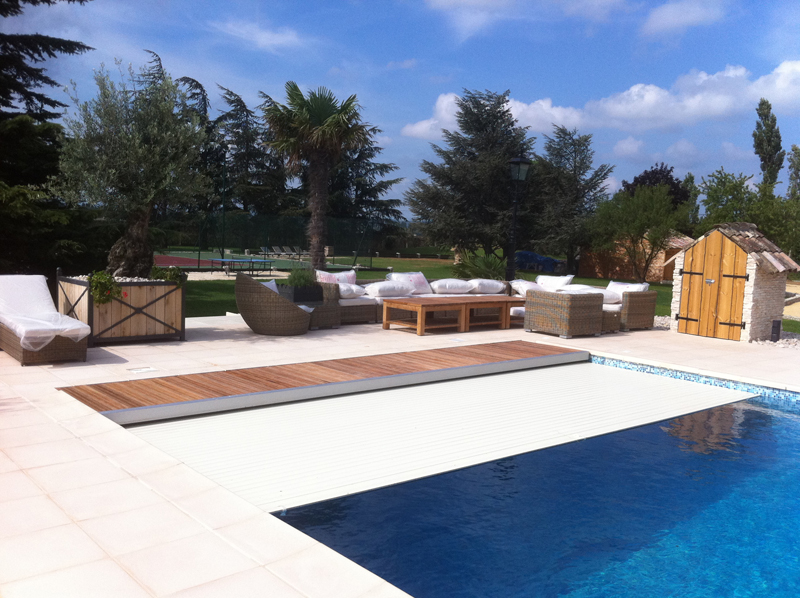 The Subwater immersed shutter conforms to the norm NF P90-308. The floating cover consists of slats made from extruded PVC measuring 73mm that offers excellent buoyancy. Air contained in the slats acts also as an insulator that limits the loss of heat, lengthening the swimming season.The opaque slats prevent photosynthesis conducive to the development of algae to keep your pool cleaner, longer.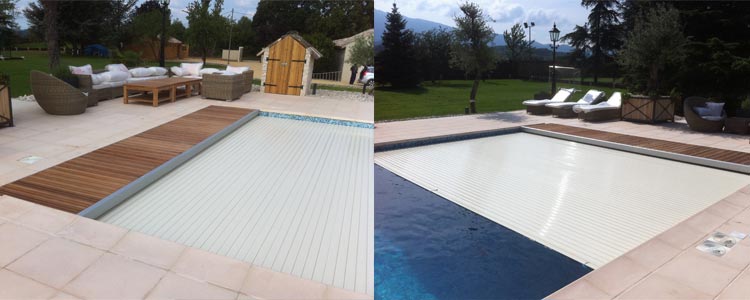 By means of fixation flanges situated on the pool wall and its axis contained motor, the Subwater is easy to use. Its cover unrolls directly over the pool water and floats on its surface. The Subwater is easy to use as opening and closing manipulation is completed by means of a key command manipulated by one person alone. The Subwater uses a 250nm motor contained in the axis and is powered on 24V with limit management.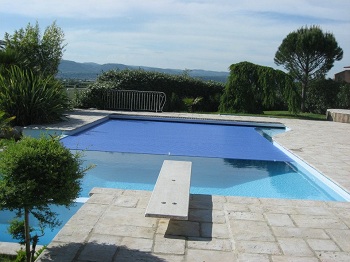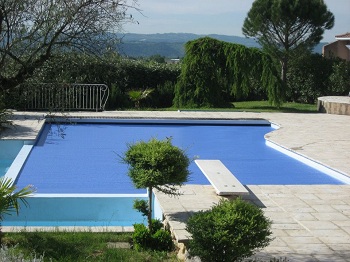 The price of the shutter includes:
- 2 axis flanges with fixations on the pool wall (fixation to the pool edge available on option)
- 1 aluminium axis measuring 140mm in diameter and 5mm in depth
- 1 250nm motor running on 24 volts with limit management
- 1 3 positioned key command
- 1 shutter cover composed of slats (blue, light grey, stone grey or beige available on option)
- 1 counterweight kit to ensure shutter stability
- 1 white or beige separation panel
- 2 insertion sections for the separation panel
- 1 white or beige supporting beam
- 1 slatted flooring section 700mm or 900mm in white or beige (composite wood available on option)
- 1 security system composed of ABS flanges and straps to be fixed to the pool wall (or pool edge on option)
- 1 packaging.
Details of shutter straps
The slats of the Subwater conform to the norm NF P90-308
Each slat is composed of 3 compartments. Each compartment contains air that ensures buoyancy and limits heat loss.
Each slat is finished with a welded cap to offer perfect sealing.
Slats
PVC with anti-staining and anti-UV treatment
Available colours
White (blue, beige and grey on option)
Stair option
contact us for your quote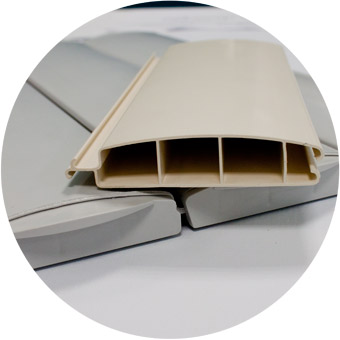 Slat colours

White

Blue

Beige

Light Grey
;

Stone Grey
Assembling the shutter cover

The assembly of the shutter is effectuated by clicking the slats together.

To click one slat to the other, commence by engaging the lower hook to the "male"side of the right-hand slat into the "female" side of the left-hand slat (fig.1).

Repeat an osculating movement till the slats totally click together (fig.2)

- Attach the 1st rang of slats equipped with fixation straps using pliers. Equalise the lateral movement of the shutter cover (fig.3).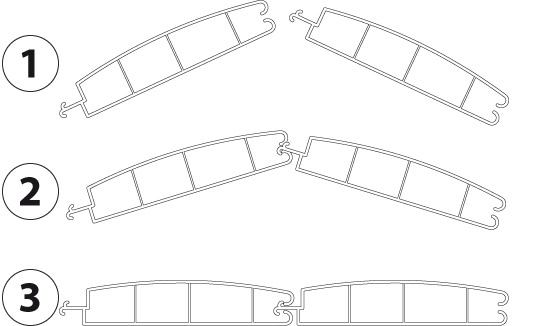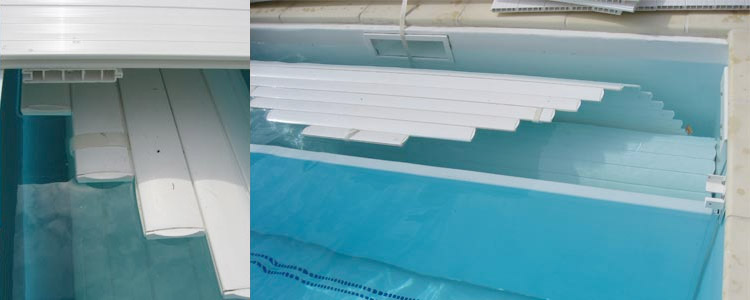 Stair cuts
Two finishes are possible for your stair cut : angled or shaped.
The angled cut is the most simple. The "shaped" cut is perfectly formed to the shape of your pool. This solution proves to be the most esthetically pleasing.
Stair cuts are on option : consult us for your specific quote
Possible finishes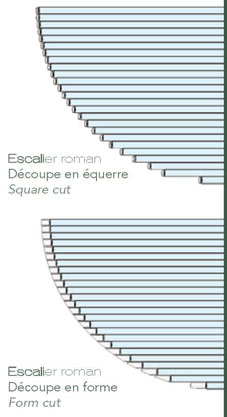 Possible shapes : roman, straight, trapeze, free form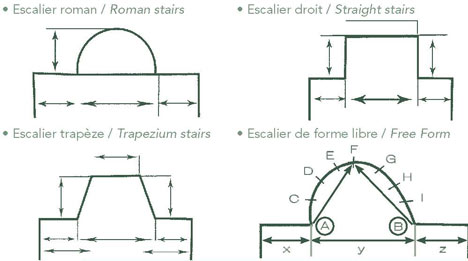 For specific shapes please consult us
Fixation of flanges

The fixation of the flanges to the pool wall is made using a chemical sealant or by pre-sealing (a).
Fixation plates to be positioned on the pool edge are available on option (b)
Motor contained in axis
The Subwater is equipped with a 250nm motor powered on 24v and contained in the axis. Bearings offering perfect stability of the shutter when being actioned on the waters surface.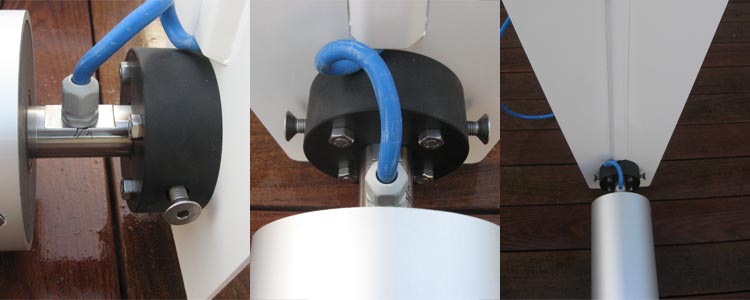 Separating panel
- The technical duct is imperative to avoid all unwanted contact with the shutters axis and slats. The walls must be vertical and parallel, angled at 90°.
- The width of the technical duct needs to accommodate the rotation of the roll and slats and its depth should accommodate the movement of counterbalance.
There are two types of technical duct : a purpose built duct constructed when the pool is built (schema 1) or a PVC separating panel (schema 2).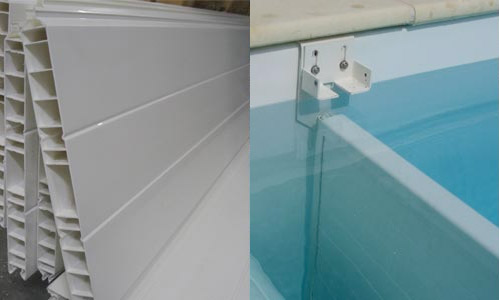 The separating panel is made of PVC slats that are 25mm in depth and 250mm in height for a duct 1 to 1.50m in depth and a width of pool measuring 4 to 6m.

The panel is maintained by supports that are fixed to the pool wall or anchored to the beam supports.

2 colours :

• white
• beige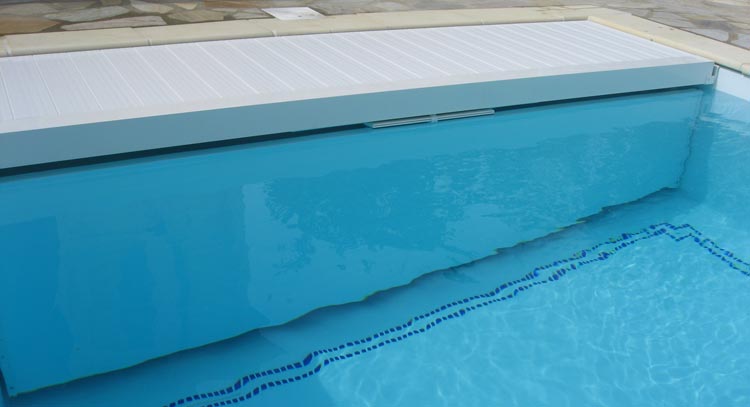 Slatted flooring
The slatted flooring "masks" the immersed shutter whilst allowing full, fast access to its mechanism.

Available in several colours, the flooring element harmonises perfectly into your pool environment.

Colour of flooring : White or beige PVC / Black or brown composite wood available on option.

2 possible widths :
• 700mm
• 900mm

Made to measure slatted flooring possible : contact us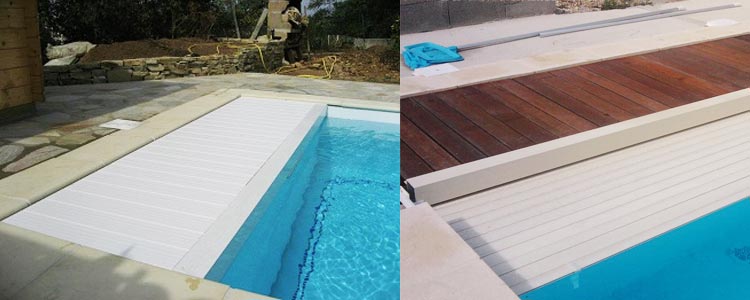 White PVC or hardwood (on option) slatted flooring
Security system
The Subwater uses an anti-lifting system conform to the norm NFP 90-308. The number of elements depends on the pools width : a minimum of 2 is required per wall.
ABS flanges + Straps + Supports in stainless steel to anchor under the pool edge (a) on option

ABS flanges + Straps + Supports to anchor to pool wall (b)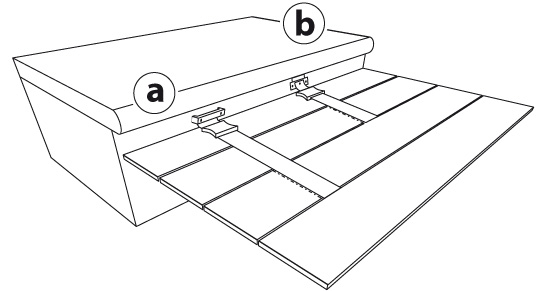 Technical information concerning the Subwater
Cable sections
1.Technical shelter

2. Key command cable 3 x 1.5mm²

3. Motor cable 24V :
2 x 6mm² if L < < 15m OR 2 x 10mm²
if 15 < L < < L < 30m
To be connected in a sealed junction box.

4. Limit management cable 4 x 1.5mm²

5. Pool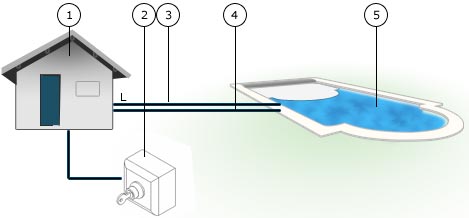 Packing and transport of the Subwater
The Subwater is delivered in kit form, 2 persons are required to reception the material.
The delivery must be checked in the presence of the transporter.
Guarantees of the Subwater shutter
The 2-year guarantee covers electronic material (on the condition that the cables have been connected in respect of the norm C 15.100).
The axis is guaranteed for 3 years concerning the resistance of material excepting corrosion and decomposition of certain materials resulting from shock chlorine treatments or automatic treatments non-adapted or non-regulated to the use of the shutter and does not cover wear and tear parts (bearings).
The PVC slats carry a 5-year guarantee concerning articulation, buoyancy and sealing.
Excluded from the guarantee
- The non-respect of installation instructions that lead to an abnormal use of the product.
- All modification of the product without the manufacturer's written accord.
- Slat colour deterioration or deformation due to non-conform use or the immersion of the motor.
- Consecutive deterioration due to weather conditions : violent wind, snowfall, violent hail, lightning.
Photos non-contractual
Price incl. VAT
Ask for a free quote subwater immersed shutter with motor contained in axis
Other product : Subwater immersed shutter with motor contained in axis
At best price 6190 eur Including VAT.
Please fill in this form carefully. Our commercial service will handle your request promptly.
---
UK freephone hotline
Monday Friday 9.00 19.00, Saturday 10.00 18.00

---
Spare parts order
You are looking for a spare part for «Subwater immersed shutter with motor contained in axis» ?
Please click the button below. Our commercial service will handle your request promptly.