Pool covers - pool covering solutions

Pool shutters

ECA CAPCIR eco pool shutter
ECA CAPCIR eco pool shutter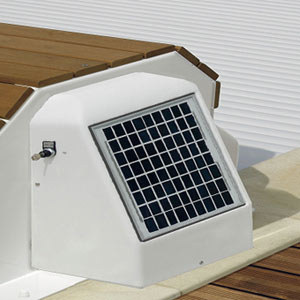 Recommended retail price 2023 starting from :
Our Price starting from :
Ref. Abatik 009473
ECA CAPCIR ECO SOLAR PVC
Cable free ! for pools up to 6 x 12 m,
Shutter with wooden, PVC or wooden effect PVC removable bench
Memorised limit management
Complies with standard NF P 90-308
In stock


The CAPCIR Eco solar has been designed for existing pools or pools under construction up to 6 x 12 m (with stairs)
Price indications of ECA CAPCIR Eco solar prices incl VAT
| | | | |
| --- | --- | --- | --- |
| Pool dimensions in meters | White PVC | PVC wooden effect | Wood |
| 3.5m x 7m | 5180 € | 5750 € | 6070 € |
| 4m x 8m | 5440 € | 6020 € | 6340 € |
| 5m x 10 m | 6530 € | 7320 € | 7680 € |
| 6m x 12 m | 7790 € | 8200 € | 9090 € |
| Option : On option : ROMAN stairs straight cut, diametre <= 3 m | + 330 € | + 330 € | + 330 € |
*Price inc VAT leaving factory : model featuring white slats on a standard shaped pool .
To establish your personalised quote, taking into account the criteria of your pool installation, contact us today.
The price of the shutter includes the above ground reel + shutter cover + security system (ABS wall fixation + strap) + packaging
The price does not include the stair cut (available on option) and the transport (contact us).
An above ground shutter for you pool with wooden or PVC bench axis protection, dependable and esthetic
.
> Assured security :
The slats can resist up to 100kg in weight.
> Simplified installation :
No electrical cables.
> Autonomy:
Up to 40 cycles of opening and closing measured on a 5 x 10 m pool

Bench axis protection for the perfect visual finish !
White or sand PVC finish
,
Wooden effect PVC
or
Handroanthus wood.
.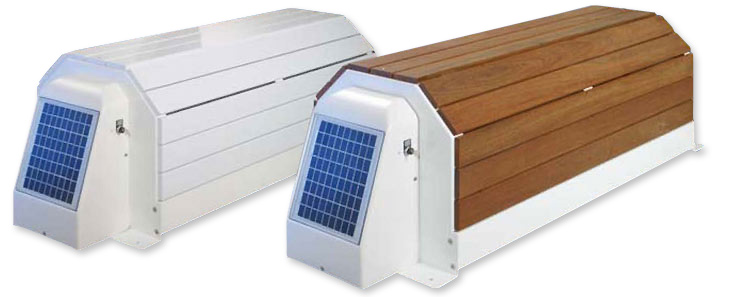 CAPCIR Eco solar mechanical kit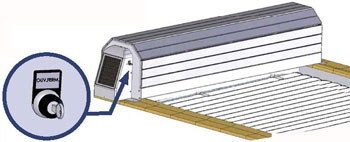 Overview of the CAPCIR Eco solar shutter
• Lacquered aluminium shutter, choice of cover ranging between White or sand PVC finish, Wooden effect PVC or Handroanthus wood.

• 1 photovoltaic cell

• 1 axis

• 1 12 volt 150 Nm motor reducer featuring memorised limit management

• 1 key command (3 positions, to be held in place) situated on axis support

• 1 12 volt battery
Details of slat and axis protection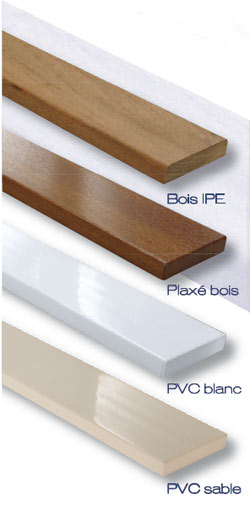 Your solar shutter axis protection
Bench covered with Handroanthus wood
- Bench covered with Wooden effect PVC
- Bench covered with white or sand PVC finish
Removable axis casing
(Only PVC and up to 5,03 m max)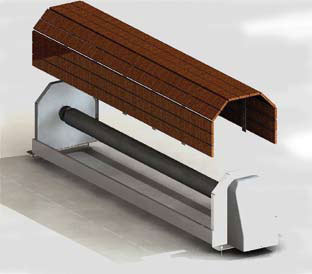 The slats of the ECA Capcir Eco conform to the resistance requirements of the norm NF P90-308
Each slat is composed of 3 compartments. Each compartment contains air. This creates the slats buoyancy and limits heat loss.
At the extremity of each slat, soldered caps ensure the shutter is sealed against its aquatic environment. Fins measuring 20mm ensure the finish of each slat. These fins can be replaced by others of varying size.

slats
PVC with anti-stain and anti-UV treatment
Composition of slats
Stabilised by Calcium / zinc, to avoid staining
Colour
White, sand, blue or grey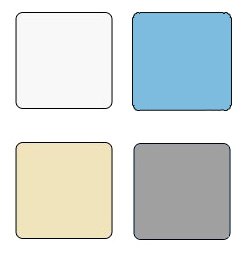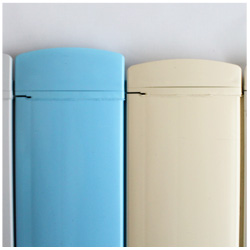 Fin finish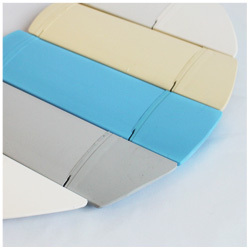 cut finish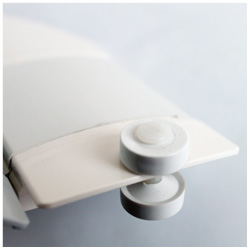 Guiding wheel

Assembling your shutter

- The shutters cover is assembled by clicking one slat to another.

- To click one slat to the other, commence by engaging the lower hook to the "male"side of the right-hand slat into the "female" side of the left-hand slat (fig.1 and fig.2).

- Create a to and fro movement till the two slats "click" together completely (fig.3).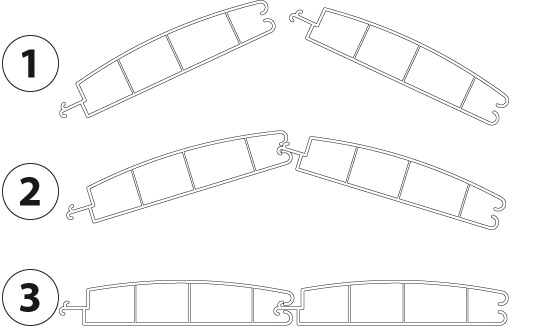 Stair cuts
When the ECA Capcir Eco is positioned on the width of the pool, it adapts to different stair shapes: rectangular (1), trapeze (2), roman (3), semi-circle (4) or free form (5) (following consultation with us).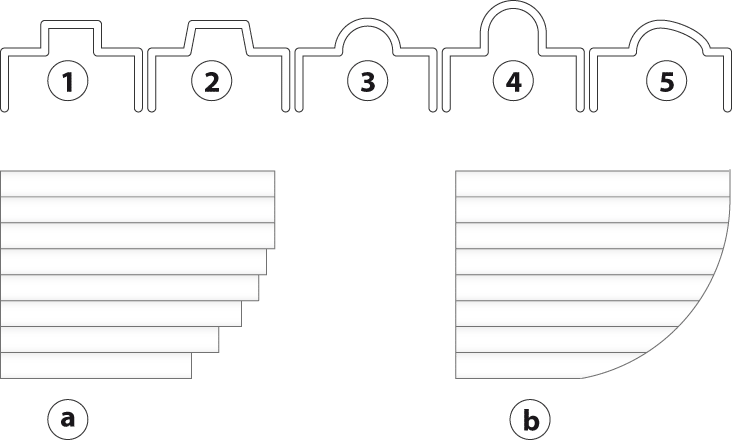 Two finishes are possible for your stair cut : A straight cut (a) a shaped cut (b).
The straight cut is the most simple. The "shaped" cut is perfectly formed to the shape of your pool. This solution proves to be the most esthetically pleasing
Stair cuts are on option : consult us for your specific quote
Pool surround cuts to position the shutters roller
Axis dimensions

1. Up to a maximum width of 4.03/maximum length of 9 m

2. Up to a maximum width of 6.03/maximum length of 12 m
Pool border trim to position axis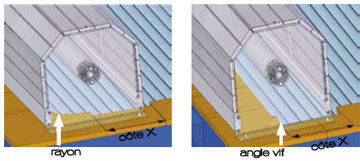 | | | | | | | |
| --- | --- | --- | --- | --- | --- | --- |
| Length of pool in m | 4 | 5 | 6 | 8 | 10 | 12 |
| X : Side X in mm | 250 | 265 | 285 | 305 | 335 | 350 |
Diameter of axis + slats
Length of pool in m
2
3
4
5
6
7
8
9
10
11
12
Axe + slats in mm
290
320
360
390
430
460
470
490
530
540
560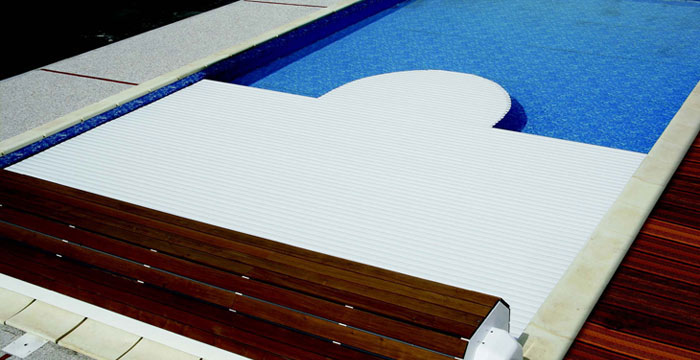 Security system
Your Capcir motorised above ground rolling shutter is delivered with an anti-lifting system. It is imperative that your shutter is equipped with a strap system to conform to the norm NF 90-308.
When choosing the Capcir, you select one of the 3 following systems:
Loop and strap system
Installation - One of 2 fixation systems can be chosen :
- On the pool wall (included in the price of the shutter)
- On pool surround(on option) with 2 possible heights : 2 supplied connecting rods (1 long, 1 short) to choose from depending on the water height
- Supplied hardware
Use: Easy, material strap with clip buckle
Colour of strap : White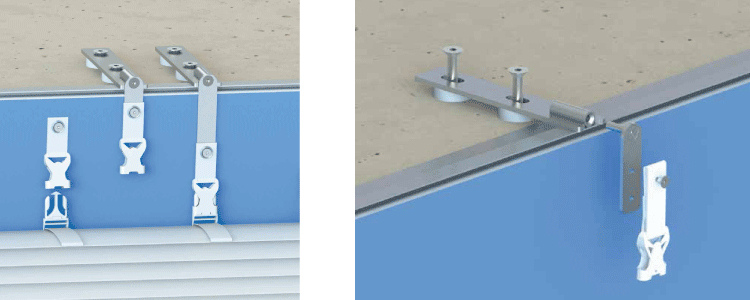 Loop and strap system, fixing point on pool wall or pool surround, two possible heights
ABS fixation system with material strap (on option)
Installation : Pool wall or pool surround, hardware supplied
Use: Easy, material strap with clip buckle
Colour of strap : White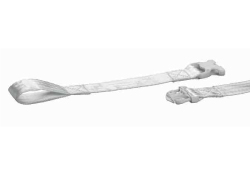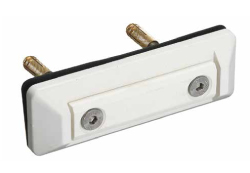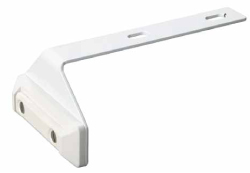 316L stainless steel and ABS strap system (On option)
Ultra resistant, esthetic and discreet
Easy installation - 2 types of fixation to choose from :
- Fixing point on pool wall
- Fixing point on pool surround : 2 connecting rods supplied (1 long, 1 short).
- Hardware supplied
Use :
To attach a strap : Uncover the shield on the wall plate and insert the locking system.
To free a strap: Pivot and free the locking system, replace the shield on the wall plate.


ABS straps can match the slats of your shutter in colour. You have the choice of white, sand, grey or blue

Secure opening
Warning : Fixation system is incompatible with salt treatment
How many security straps do I need on a roller with axis protection?
Max. inner width of pool
Reel side
Stair side
Total
Width lesser or equal to 3 m
0
2
2
Precautions for use of your shutter
This product can be used during all seasons, except in freezing conditions
Security cover for pools designed to secure access for children under 5 years old.
The bench axis protection is a decorative aspect of the shutters design
and should not be used for sunbathing or diving.
For optimal operation, keep the water level 100 mm under the pool edge.
During the winterization period, maintain the water level at 100 mm under the pool edge.
Packing and transport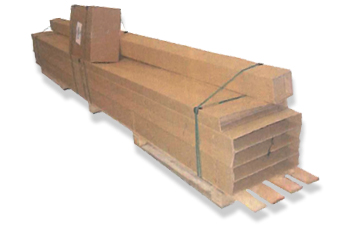 At least two persons and adapted equipment are needed to unload and manipulate the delivery.

All delivered merchandise should be checked with the driver.
Warranty
3 years on motor (not including labor)
3 years on buoyancy and sealing
2 years on battery
Photos non-contractual
Price incl. VAT
Ask for a free quote eca capcir eco pool shutter
Other product : ECA CAPCIR eco pool shutter
Starting from 5232 eur Including VAT.
Please fill in this form carefully. Our commercial service will handle your request promptly.
---
UK freephone hotline
Monday Friday 9.00 19.00, Saturday 10.00 18.00

---
Spare parts order
You are looking for a spare part for «ECA CAPCIR eco pool shutter» ?
Please click the button below. Our commercial service will handle your request promptly.