Spas

Spa Canouan
Spa Canouan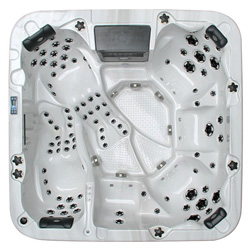 Recommended retail price 2023 starting from :
Our Price starting from :
Ref. Abatik 011826
Ref. Provider SUNNY
Canouan spa 6 person capacity
6 person spa, 4 sitting, 2 lounging
100 water jets, 8 air jets
Ozone generator
Waterfall, aromatherapy unit
In stock
The Canouan spa is an ideal choice for beauty salons and health clubs. Spacious, with a 6 person capacity : 4 persons sitting and 2 persons lounging.
The control panel is accessible from the spa and simplifies your programmes and settings. Including a wide range of equipment and options such : soft headrests giving head support, Chromotherapy feature (relaxation by colour) creating unique atmospheres and an audio system to listen to music (speakers are available on option).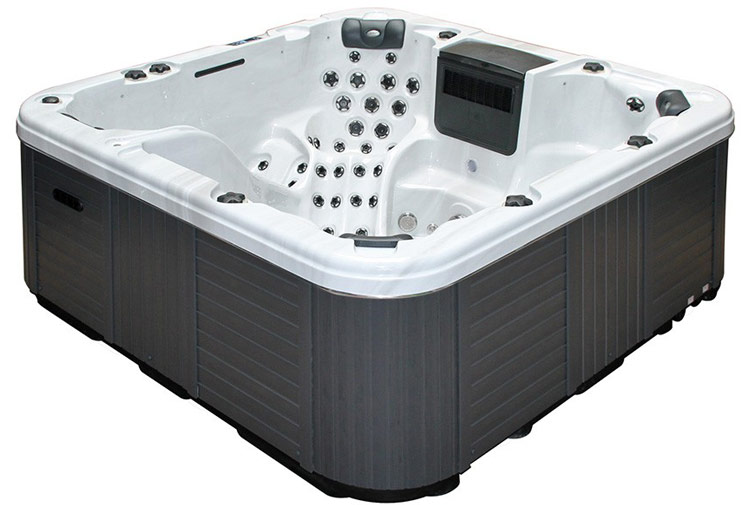 With Venturi controls, this spa allows you to regulate the mix of air and water propulsed by jets into your spa, to get the desired intensity of massage at any given time. 100 water jets coupled with 3 pumps offer multiple types of massage : gentle, detoxifying or deep.
Canouan spa includes an aromatherapy unit that diffuses soothing essences throughout the water.
The tub of the Canouan is finished with a thermoformed leaf of Lucite® acrylic. Lucite® acrylic evokes quality, resistance and durability. Its PVC outer casing does not require maintenance.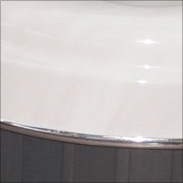 Multi-layered tub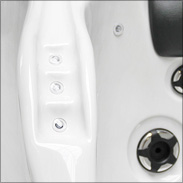 LED integrated into tub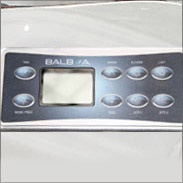 Control panel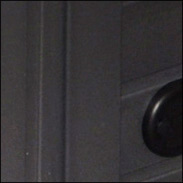 PVC outercasing
The Balboa 3 Kw water heater coupled a polyurethane foam insulation conserves heat, giving you the ideal water temperature at any moment.

Dimensions
• Length : 228 cm
• Width : 228 cm
• Height : 95 cm
• Empty weight : 350 kg, full weight : 2030 kg
• Capacity : 1680 liters

Jets, seating and comfort
• 6 places including 2 lounging zones
• 100 water jets
• 8 air jets dispatched in 5 zones
• 1 waterfall
• 26 ambient LEDs
• 4 comfortable headrests
• Aromatherapy unit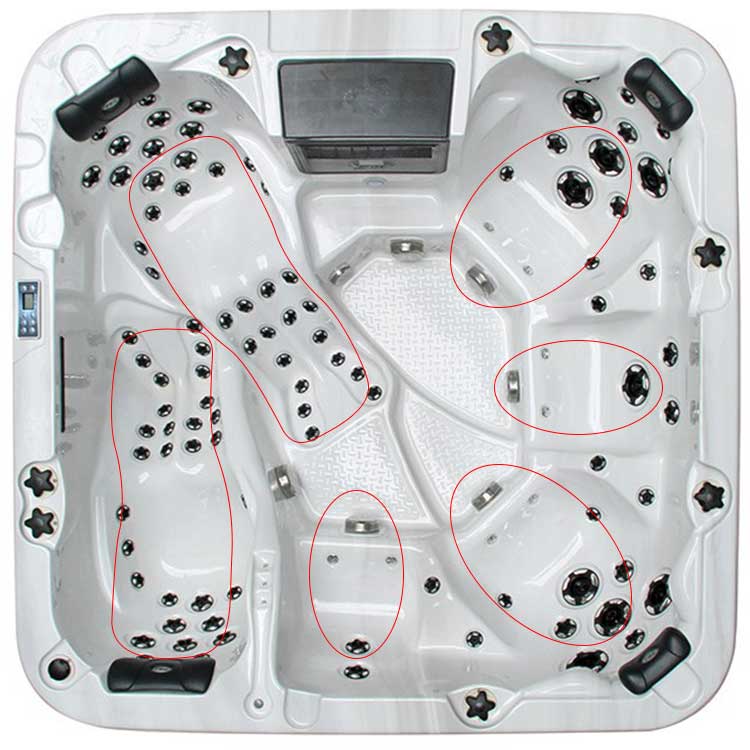 Spa Canouan in detail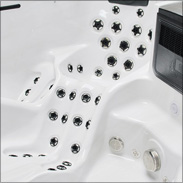 2 lounging zones
100 jets, head rest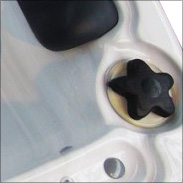 Venturi (personalised massage)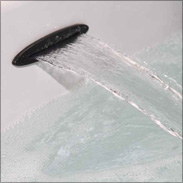 Backlit waterfall
The Canouan spa features a high flow filtration system composed of two micro filter cartridges that keep water clean in combination with the disinfecting ozone generator guaranteeing sanitised water.
This spa is delivered with an insulating cover that limits water evaporation and helps to maintain water temperature.
Technical details
Outer casing
PVC - no maintenance
Insulation
Polyurethane against the tub
Insulation
Thermo-reflective against the outer casing
Base
ABS insulating and waterproof
Projector
Subaquatic multicolour LED
Water treatment
By ozone 600 mg/h
Pumps
3 3HP pumps, 1 250 W filtration/circulation pump, 1 300 W blower
Filtration
Programmable high flow filtration system with two micro filter cartridges
Lighting features
4 on the contours of the outer casing
Required electrical supply
380 V / 3 x 20 A ou 230V / 32 A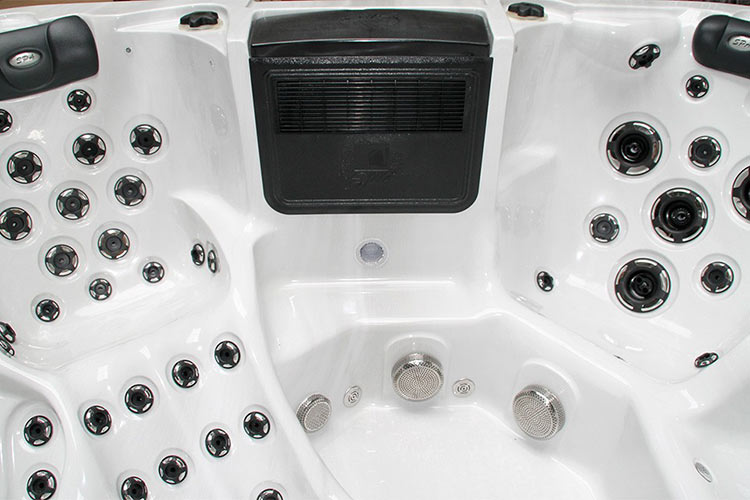 Warranty
10 years on structure
5 years on tub
2 years on all other parts
Photos non-contractual
Price incl. VAT
Ask for a free quote spa canouan
Other product : Spa Canouan
Starting from 9990 eur Including VAT.
Please fill in this form carefully. Our commercial service will handle your request promptly.
---
UK freephone hotline
Monday Friday 9.00 19.00, Saturday 10.00 18.00

---
Spare parts order
You are looking for a spare part for «Spa Canouan» ?
Please click the button below. Our commercial service will handle your request promptly.