Spas

Syracuse spa
Syracuse spa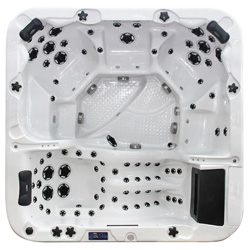 Recommended retail price 2023 starting from :
Our Price starting from :
Ref. Abatik 011823
Ref. Provider BRIGHT
Syracuse spa 5 person capacity
Syracuse spa with a 5 person capacity, 4 sitting, 1 lounging,
88 water jets, 8 air jets,
26 LED
Waterfall feature
In stock
The Syracuse spa is a hydrotherapeutic reference offering 1 lounging zone with 50 jets dedicated jets and 4 sitting areas. The spacious tub has a 2 step walk-up that facilitates spa entrance. The tub finish is composed of a thermoformed leaf of Lucite® acrylic which evokes quality, resistance and durability.
If you are looking for a quality spa that will relax you following exercise or simply for your well being, 5 separate pumps and 88 hydrotherapy jets deliver the power required for you to fully benefit from this experience.
Esthetic and quality are equally finely finished with 26 LEDs positioned on the waterline, 3 comfortable head rests, a waterfall and an aromatherapy unit that will create a soothing atmosphere.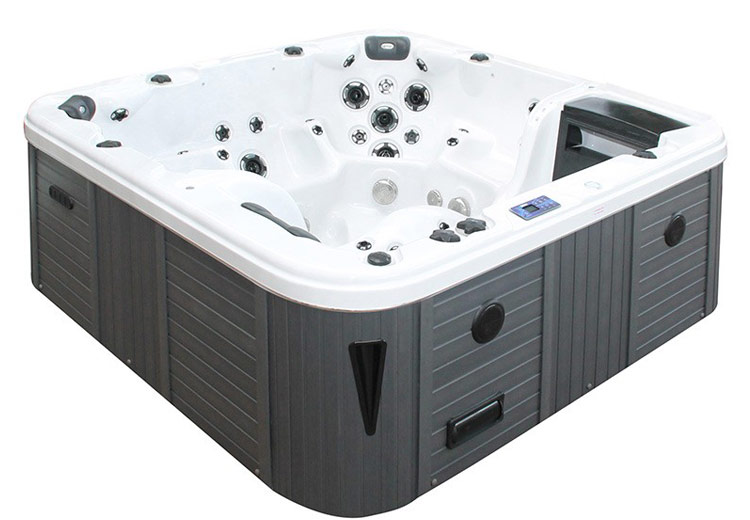 The cartridge micro filter system and the disinfection by ozone treatment produces sanitised and clean water with little maintenance.
The Venturi control of this spa gives the opportunity for you to dose the quantity of air injected into the water flow. For a gentle massage, selection only water pressure, for a more tonic effect, inject air into the water flow.
The Syracuse spa control panel is digital and luminous. Easy to use, you can control the diverse functions of the pumps and lighting features by the touch of a button.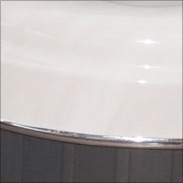 Multi layered tub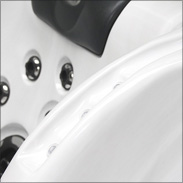 Led starBrite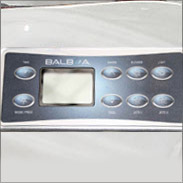 Control panel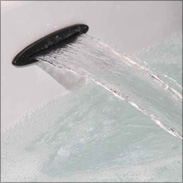 Waterfall
Dimensions

• Length : 228 cm
• Width : 228 cm
• Height : 95 cm
• Empty weight : 350 kg, full weight : 2070 kg
• Water capacity: 1720 liters
Jets, seating and comfort

• 5 places, 4 sitting, 1 lounging
• 88 hydrotherapy jets
• Venturi control for personalised massage
• 8 air jets dispatched through 5 zones
• 1 waterfall
• 26 LEDs on waterline
• Subaqua multicolored LED projector
• 2 lighting feature on the contour of the outer casing
• 3 soft cushions
• Aromatherapy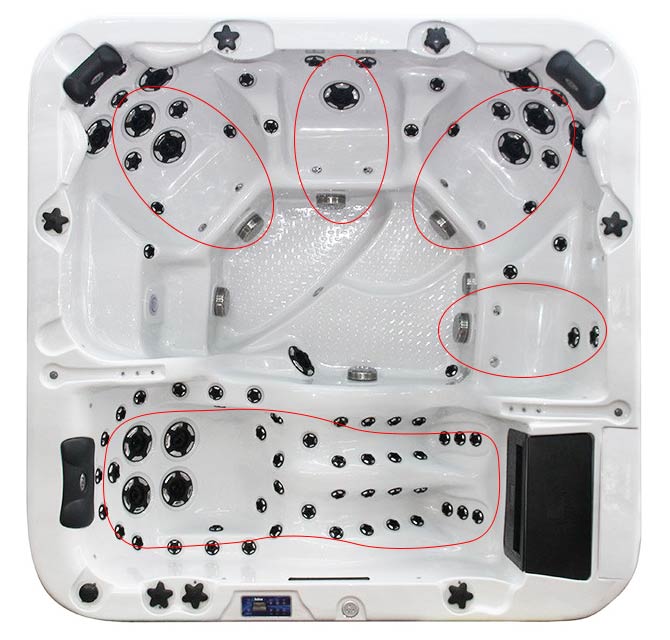 Designed in PVC, the outer casing of the spa is water resistant and requires little maintenance. Classic, discreet design, this spa is easily integrated into your indoor or outdoor environment.
In an effort to maintain water temperature and have a more economic utilisation, Syracuse benefits from a polyurethane thermic insulation that works by recuperating excess heat produced by the pumps and electrical equipment. The thermic cover is also supplied helping to limit evaporation and maintain water temperature.
Syracuse spa in detail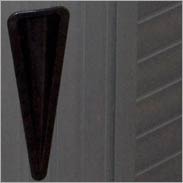 Outer casing and LED mood lighting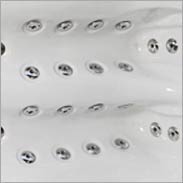 Lounging zone for a full body massage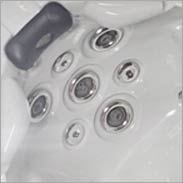 4 sitting areas for back massage
Technical features
Outer casing
PVC -labour free
Insulation
Polyurethane against the tub and thermo-reflective against the outer casing
Base/hood
ABS Waterproof and insulating
Pumps
3 3HP pumps, 1 250 W pump for the filtration-circulation and 1 300 W blower
Filtration
Programmable high flow 2 cartridge micro filter
Water treatment
By ozone 600 mg/h
Required electrical supply
380V / 3 x 20 A ou 230 V 32 A
Warranty
10 years on structure
5 years on tub
2 years on material
Photos non-contractual
Price incl. VAT
Ask for a free quote syracuse spa
Other product : Syracuse spa
Starting from 10400 eur Including VAT.
Please fill in this form carefully. Our commercial service will handle your request promptly.
---
UK freephone hotline
Monday Friday 9.00 19.00, Saturday 10.00 18.00

---
Spare parts order
You are looking for a spare part for «Syracuse spa» ?
Please click the button below. Our commercial service will handle your request promptly.