Material and equipment for your technical shelter

Outboard filtration monoblocs

SOLIFLOW compact filtration bloc
SOLIFLOW compact filtration bloc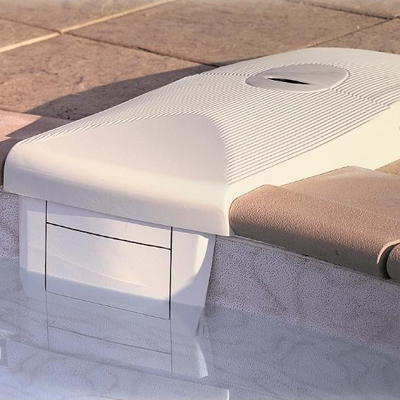 Recommended retail price 2023 starting from :
Our Price starting from :
Ref. Abatik 000073
Ref. Provider 8410000
SOLIFLOW filtering monobloc
For pools up to 25m3
Filtration capacity 15 or 25 microns
Delivered with filtering pockets
Cartridge on option
Maximum pool volume 25 m3
In stock
Entirely built-in under the pool coping, the SOLIFLOW monobloc merges perfectly into its environment. The pool coping conserves its line and regularity : a determining esthetic element in your choice of filtrating monobloc and filtration equipment.
Using a pump without ventilator (water cooling system), SOLIFLOW discreetly filters, without disrupting the peace and tranquillity you require from your pool area. You can choose where to position the monobloc discharge as to optimise water circulation and pool water cleanliness.

Made from injected ABS, Soliflow is a product that has an excellent finish whilst offering a wide range of features, including :

- Exclusive water cooling system offering very low noise level in operation and recuperation of water, using fewer calories.
- Automatic regulation of the water level, compensating water loss due to natural evaporation.
- Using a vertical pump, water cannot reach the motor, therefore, the pump remains primed.
- SOLIFLOW has been designed and manufactured respecting the industries standards and norms

Composition of SOLIFLOW in detail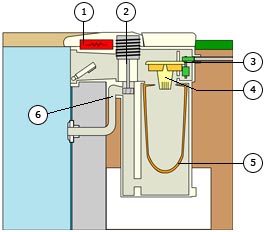 1. Electrical cabinet : Featuring a time clock, transformer 230/12V and 315VA and dry flow security
2. Pump : 11m3/h flow. Very low noise level in operation because of water cooling system. Motor situated under water level.
3. Water level regulation : Permanently controls and maintains the water level of the pool. An overflow protects the motor and electrical components.
4. Automatic water treatment : Automatically ensures your water treatment.
5. Filtering pockets : Double filtering pocket, disposable, with 25-micron filtering capacity and a total surface of 1,08m². Supplied with 6 filtering pockets.
6. Discharge : Choice of positioning of 1 or 2 discharge nozzles.
Security
To guarantee optimum quality, Soliflow is tested in depression conditions by the manufacturer. All electronic and mechanical components are inaccessible to children and protected by a key locked lid.
On option - filtration cartridge
A high capacity cartridge is available for the Soliflow. This is a washable, more durable solution for filtering, offring more independence between washes. The cartridge ensures a filtering capacity of 15 microns, providing clear, limpid water. The available kit is needed to adapt the cartridge to your Soliflow system.
Energy economy
The position of the pump is patented. This system removes the need for suction piping and reduces friction loss that is evident with other filtration systems. Soliflow optimises the motor performance making 30 % of electricity economy (equaling water flow to that of a traditional system).
Maximum volume of pool
25m3
Filtration capacity
25 microns with filtering pockets or 15 microns with the optional cartridge
Surface filtered with filtration pockets
1,08 m²
Surface filtered with cartridges
6,9 m²
Choice of positioning of discharge nozzles and projector
Yes
Lid
Acrylic reinforced with glass fiber
Dimensions in mm
l 400 x L 800 x H 1000
Timeclock and transformer
300 WA
Conform to EU norm
certified TÜV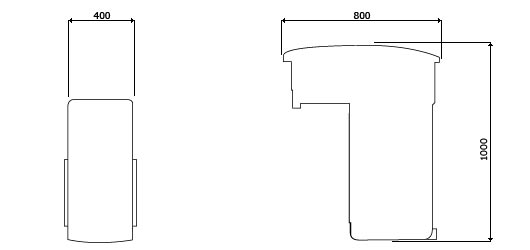 Dimensions of SOLIFLOW (in mm)
Implantation
The SOLIFLOW can be installed with one or two discharge outlets.
Installation with 1 discharge outlet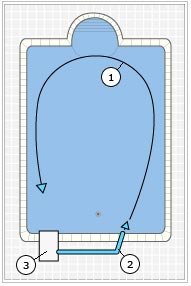 Installation with 2 discharge outlets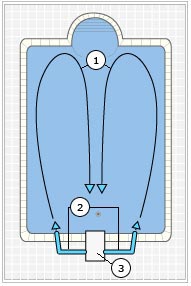 3
SOLIFLOW filtration monobloc
The use of a second discharge is recommended as to limit friction loss and better water circulation.
Position the SOLIFLOW opposing dominant wind to avoid an accumulation of pollution.
Warranty
2 years
Photos non-contractual
Price incl. VAT
Ask for a free quote soliflow compact filtration bloc
Other product : SOLIFLOW compact filtration bloc
Starting from 2031.60 eur Including VAT.
Please fill in this form carefully. Our commercial service will handle your request promptly.
---
UK freephone hotline
Monday Friday 9.00 19.00, Saturday 10.00 18.00

---
Spare parts order
You are looking for a spare part for «SOLIFLOW compact filtration bloc» ?
Please click the button below. Our commercial service will handle your request promptly.