Filtrinov MX18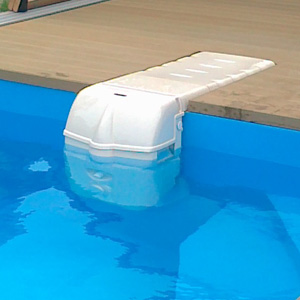 Recommended retail price 2023 starting from :
Our Price starting from :
Ref. Abatik 000072
Ref. Provider MX18 C00 LED/32
Standard evolving filtration monobloc MX18
Total filtration for your pool,
Waterflow 18m³/h, for maximum pool volumes of 80m³,
Easy installation on pool coping,
Filtering capacity 25 microns,
Equipped with a white LED lighting feature
In stock
The Filtrinov MX18 filtration monobloc manages your pool filtration system and is adapted to all pools with a maximum volume of 80m³. Its inground housing carries the pump, filter and optional equipment.
Sand in colour, merging perfectly with your poolside environment. The installation and start-up of the monobloc MX18 is very easy, the pump is self-priming.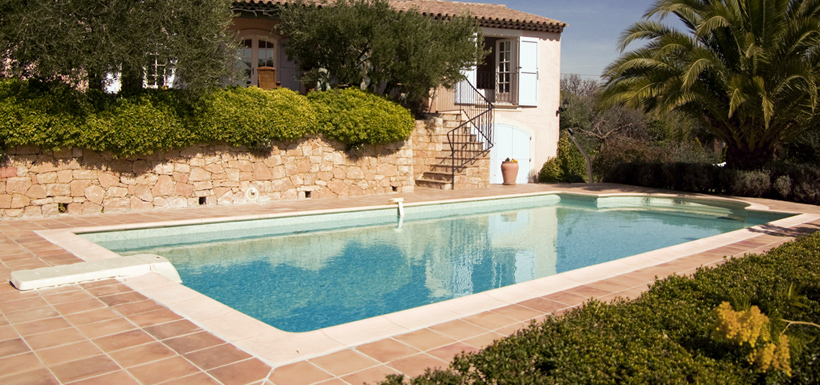 YouTube conditions the playback of its videos on the deposit of tracers in order to offer you targeted advertising based on your browsing.
By clicking on "I authorize" the plotters will be deposited and you will be able to view the video. You have the option of withdrawing your consent at any time.

For more information, visit the YouTube cookies policy
Technical features
Maximum volume of pool
80m³
Bodywork
ABS, PMMA anti-UV thermoformed
Capacity of filter pump
0,75kW (1HP)
Filtering system
2 removable polyester cartridge filters
Filtering capacity
25 microns
Lighting options
White LED feature (Secure, very low current transformer)
Anchoring system on unit
Yes (avoiding masonry work)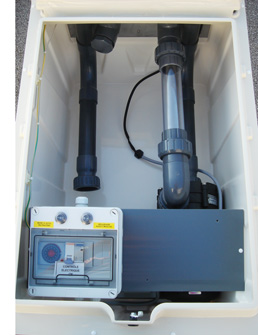 The supplied Skim Vac allows you to connect a manual brush or a hydraulic pool cleaner to your filtering bloc.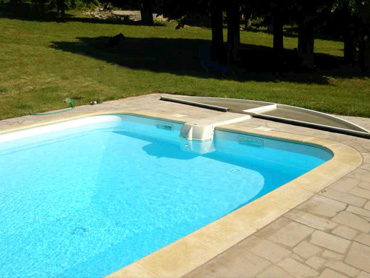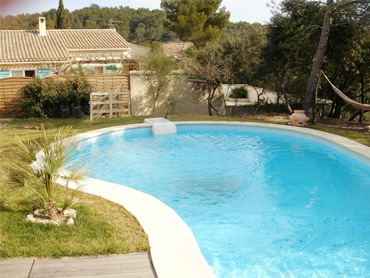 Description of elements Filtrinov MX18 filtration monobloc
A. Soundproof removable lid with locking function.

B. Filter (automatic or manual) and lighting feature control box.

C. Inground sector containing the filter pump and optional equipment.

D. Skim Vac allows the connection of a brush or a pool cleaner.

E. Two removable filter cartridges with collector baskets.

F. Balneotherapy (Air regulator knob).

G. Skimmers, two openings creating suction inlet.

H. Adjustable, high debiting, discharge nozzles.

I. LED lighting feature.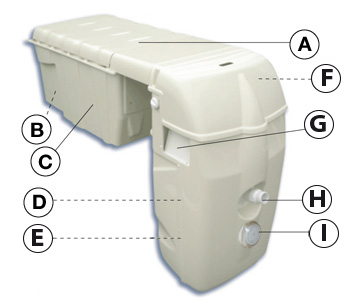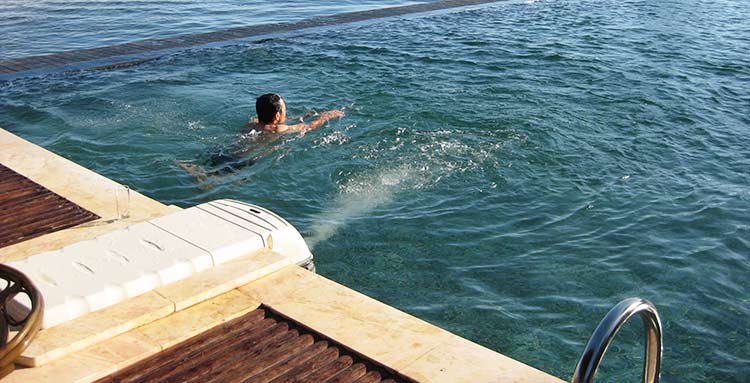 Optional equipment
There are several versions of the Filtrinov MX18 filtering monobloc. The standard model can add on options even several years after installation:
- Salt Electrolysis system automates your water treatment system.
- Automated pH regulation
- 3-way valve allows the redirection of the discharge water to a heat pump or any other heating system.
- Countercurrent option means that you can benefit from a double flow (2 x 18m³/h equating to 36m³/h) creating a strong current for on the spot swimming.
- Colour LED lighting feature + remote control (carrying range 8m) to create different atmospheres and moods with your pool.

Salt electrolysis option


It is possible to add to the Filtrinov MX18 a salt electrolysis system to ensure ecological and economical pool water disinfection by chemical reaction.
Using this system, it is no longer a requirement to add treatment products, such as chlorine, to your pool water.
This procedure leads to automated water treatment, resulting in pure, clear pool water.

This option also offers pool water that will not provoke allergic reactions or irritations and is odourless.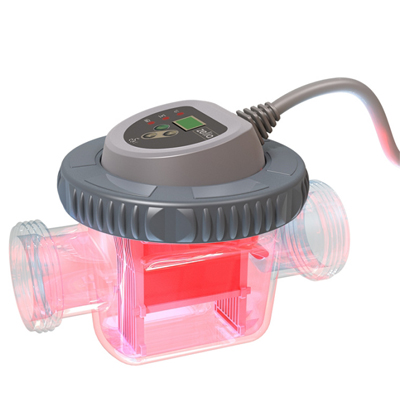 pH regulator option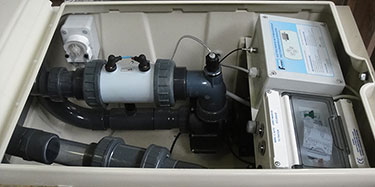 Your Filtrinov MX18 filtering monobloc can now integrate a pH regulator. This equipment ensures that your water is regulated at the desired pH level, controlling the acidity using a probe. This means you no longer need to manually regulate your pool water pH. With an automatic pH correction, the water is easily maintained every day.

To facilitate maintenance of your pool throughout the year, you can associate the salt electrolysis system and the pH regulator. These two options maximise to an optimum your water treatment system.
Combining a salt electrolysis system and pH regulator: How does it work?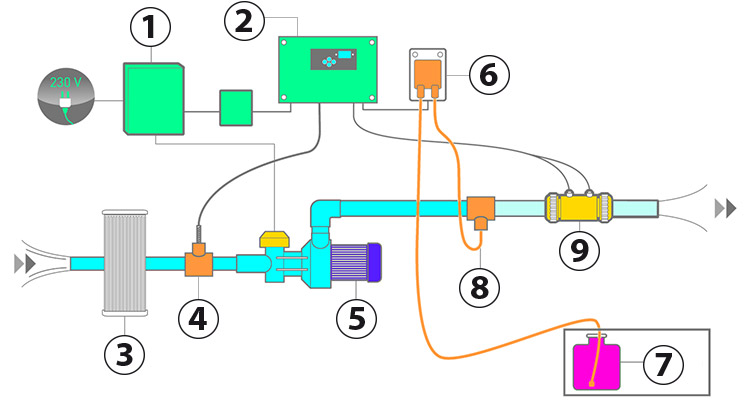 8
Injection of pH correction liquid
3-way valve option

You can equally connect your pool to a heating system such as a heat pump, to guarantee an agreeable pool water temperature all year round.

This happens by capturing the calories naturally present in the environment and rendering them into your pool water. This ecological and economical method significantly lengthens your swimming season.

You can cumulate the salt electrolyser and by-pass valve options.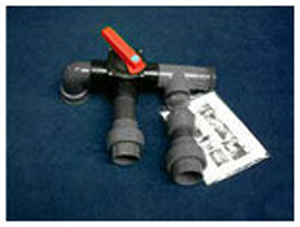 Counter current option

This option has been designed for recreational family use.
Easily connected to a secondary pump, without modification to your filtration bloc.

Offering a flow of 36 m3/h providing massage and swimming pleasure to adults and children alike.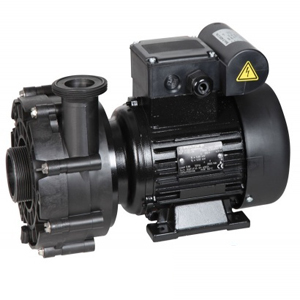 LED + remote control option

Personalise your pool atmosphere using varied gradients of red, green and blue colour palette is now possible. Easy installation, completed in a few minutes.
The remote control has a carrying range of 8 meters, offering total freedom of movement.

A LED bulb consumes less, requires less maintenance as well as a lifespan superiour to a classic bulb.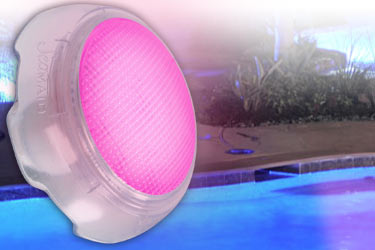 Dimensions of filtration monobloc Filtrinov MX18 in mm

Waterlevel (
A
), Gradient 2% (
B
), Pool structure (
C
) Pool border (
D
Schema for filtration monobloc Filtrinov MX18
1
Filtration pump,
2
PVC pipes,
3
Filter cartridges,
4
Discharge nozzles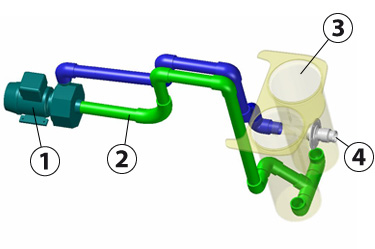 Standard non evolving Filtrivov MX18 filtration monobloc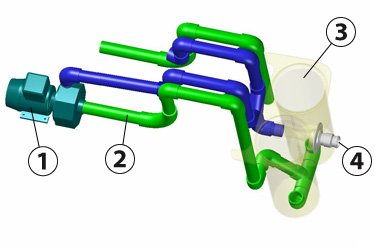 Standard evolving Filtrivov MX18 filtration monobloc
Pakaging and transport of Filtrivov MX18 filtration monobloc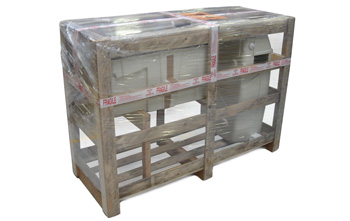 The Filtrinov MX18 filtration monobloc is delivered in a wooden case, 2 persons can reception the delivery.

All deliveries must be checked in the presence of the transporter.
Warranty
2 years
Photos non-contractual
Price incl. VAT
Ask for a free quote filtrinov mx18
Other product : Filtrinov MX18
Starting from 2404 eur Including VAT.
Please fill in this form carefully. Our commercial service will handle your request promptly.
---
UK freephone hotline
Monday Friday 9.00 19.00, Saturday 10.00 18.00

---