COVER WOOD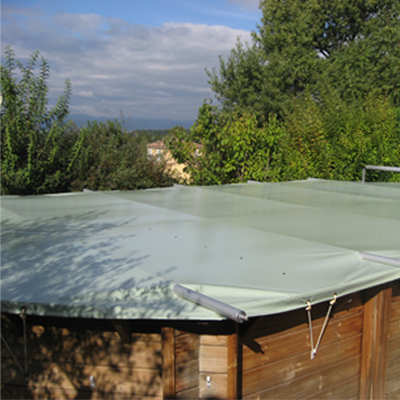 Recommended retail price 2023 starting from :
Our Price starting from :
Ref. Abatik 011386
Ref. Provider 422770
COVER WOOD barred pool cover for above ground pools conform to NF P 90-308 shape A
Specific for wooden pools up to 10x5.40 m,
Anti-UV and anti cryptogam treatment,
Requires reduced storage space,
Summer and winter use,
6 available colours
Complies with standard NF P 90-308
In stock
| | | |
| --- | --- | --- |
| Compatible pool shapes | Shape A | Shape B |
| Price incl VAT m² | 23.90 € incl VAT | 30.90 € incl VAT |
The best way to secure your above ground wooden pool :
- Eased manipulation by means of a directional wheel (13 x 13 mm female adapter).
- Peripheral bungee fixations for better sealing of your pool.
- One cover for both Summer and Winter seasons : Economises energy during the Summer and ensures cleanliness in the Winter season.
Conform to the norm NF P 90-308 (tested by the National Testing Laboratory)
Available cover shapes for above ground wooden pools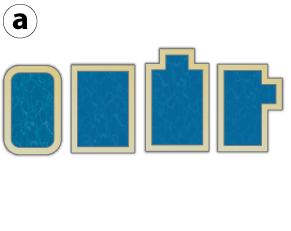 Shape A : for rectangular above ground wooden pools...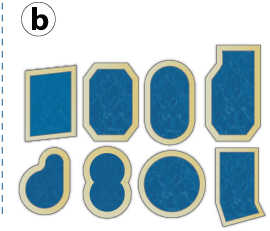 Shape B : for oval, round, eight-shaped, parallelogram,...
Contact us today for your quote
+ 33 475 802 962
Surcharge for covers
Lesser than 10m²
:
+25%
Monobloc outboard filtration cut :
+ 112 euros incl VAT
Technical details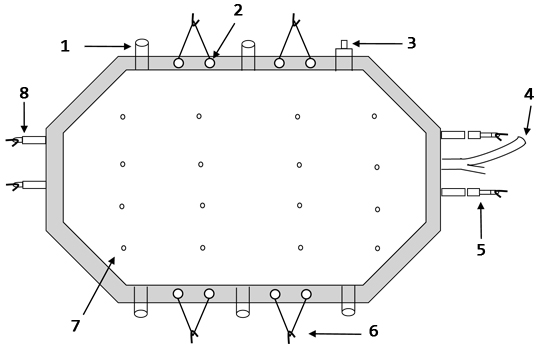 1-Aluminium bar
2-Stainless steel eyelets
3-Rolling block
4-Strap (to unroll cover)
5-Ratchet tensioner and loop
6- V bungee fixation and hook
7- Rainwater evacuation cavity
8- Strap and loop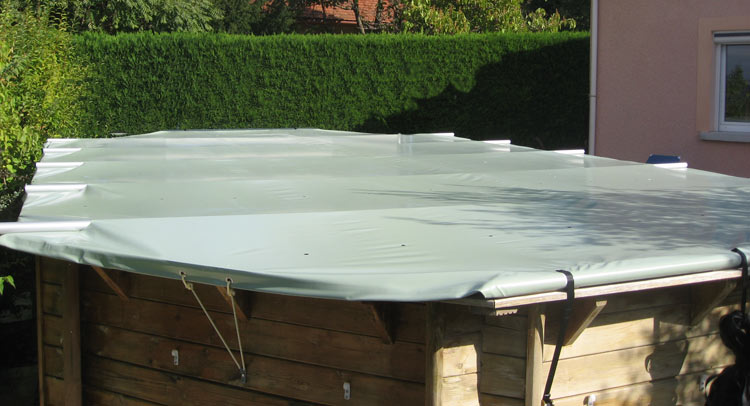 Security
Designed to ensure optimal security for all wooden above ground pools up to 10 x 5.40 m with :
- Half-rounded anodised aluminium maintenance bars,
- Reinforced flexible composite modular panels with a density of 580g/m2 featuring an anti-abrasion treatment,
- Fixation system secured by ratchet tensioners.
Maximum dimensions of the cover
10m x 5.40m
Bars
Anodised aluminium spaced on average at 1.30m and 1.50m maximum, diameter 45mm, 2mm thick
PVC canvas
580gr/m², finished with hemmed lengths
Anti-abrasion pads
PVC against pool coping
Fixation system
Stainless steel and PVC hooks
Rolling block adaptor
13 x 13mm, male
Protection and cleanliness of your pool
By means of a closing system by ratchet tensioners coupled with peripheral bungee fixations, you pool remains perfectly clean.
The cover's opaque canvas stops the penetration of light and slows the development of algae and pathogens. The use of chemical treatment agents is considerably reduced.
Using a barred cover for your above ground wooden pool creates an insulating layer of air that protects your pool water from calorie loss during the night. Your swimming season is, therefore, lengthened.
Reduced storage space required

Using a directional wheel for fast and easy rolling, you can uncover your pool in less than 3 minutes. Once fully rolled at the end of the pool, the cover requires a reduced storage space, approx 30cm in diameter.
Available colours for the pool cover COVER WOOD

Blue with sand underside
1.
Beige,
2.
Almond Green,
3
Blue,
4
Grey,
5
Anthracite,
6
Green
images depicted are an indication and non contractual
Fixation and anchoring to pool

For the security of above ground pools the cover is equipped with frontal
ratchet tensioner fixations
.
Bungee fixations are positioned on the lengths of the cover to ensure maintain on the pool border.
Behind the pool (storage side) stainless steel fixations ensure a strong hold on the cover.
Precautions for use of your barred cover
It is imperative to follow all recommendations to fully benefit from the cover guarantee.
Maintenance advice
The cover is not compatible if the above ground height of your pool is lesser than 55cm.
The rainwater evacuation cavities must not be obstructed.
After removing your cover (the use of a reel is strongly recommended) - Rinse your cover in clear water and dry before storing.
GENERAL CONDITIONS
- The guarantee of a defective product is applied after analyse and verification by the manufacturer following the return of the product.
- Transportation costs to return the product to the manufacturer are not covered by the guarantee.
- Products which are damaged during transport are not covered by the guarantee. It is the Client's responsibility to check the material on reception, formally note any abnormalities with the transporter or refuse the merchandise.
- The Manufacturer reserves the right to decide if a product should be repaired or replaced.
EXCLUDED FROM THE GAUARENTEE
- The non-respect of the installation and user instructions of the pool cover resulting in abnormal degradation of the material.
- All modification of the pool cover other than those given by the written consent of the Manufacturer.
- Deterioration due to the use of cleaning products other than those recommended.
- Consecutive deterioration due to meteorological conditions: violent winds, snowfall, heavy hail, lightening strikes, snow > or = to 5cm.
- Deterioration due to abnormal rubbing, abrasive pool borders or concaved pool borders that present an uneven water surface.
Deterioration due to rubbing, snagging, tearing, unadapted water treatment and the covers colour stability is equally excluded from the guarantee.
Warranty
3 digressive years on the cover
2 years on accessories
Photos non-contractual
Price incl. VAT
Ask for a free quote cover wood
Other product : COVER WOOD
Starting from 23.90 eur Including VAT.
Please fill in this form carefully. Our commercial service will handle your request promptly.
---
UK freephone hotline
Monday Friday 9.00 19.00, Saturday 10.00 18.00

---
Spare parts order
You are looking for a spare part for «COVER WOOD » ?
Please click the button below. Our commercial service will handle your request promptly.