SECURIT COVER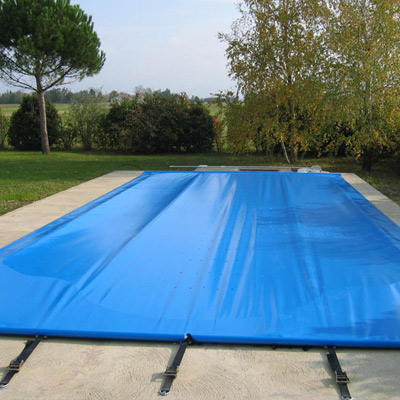 Recommended retail price 2023 starting from :
Our Price starting from :
Ref. Abatik 001722
Ref. Provider 151519
SECURIT COVER bar and strap pool cover conforms to NF P 90-308
Bar and strap security cover - offers resistance in the case of snowfall
For maximum pool dimensions of 12 x 6m.
5 available colours,
Supplied with retractable fixations
Conform to norm NF P90 308
In stock
Pool cover for pool with maximum inner dimensions of 12 m x 6 m.
Examples of prices for security pool cover :
| | | |
| --- | --- | --- |
| Inner dimensions of pool* (without overlap)** | Price VAT included*** without stair cut | Price VAT included*** with stair cut on pool width |
| 7m x 3,5m | 841 euros | 991 euros |
| 8m x 4 m | 1064 euros | 1214 euros |
| 9m x 4,5m | 1312 euros | 1462 euros |
| 10m x 5m | 1586 euros | 1736 euros |
| 11m x 5m | 1734 euros | 1884 euros |
| 12m x 6m | 2212 euros | 2362 euros |
* Supplement of 25% for pools with dimensions less than 10m².** Overlap of + 35cm on the parameter of the pool to maintain the cover in place.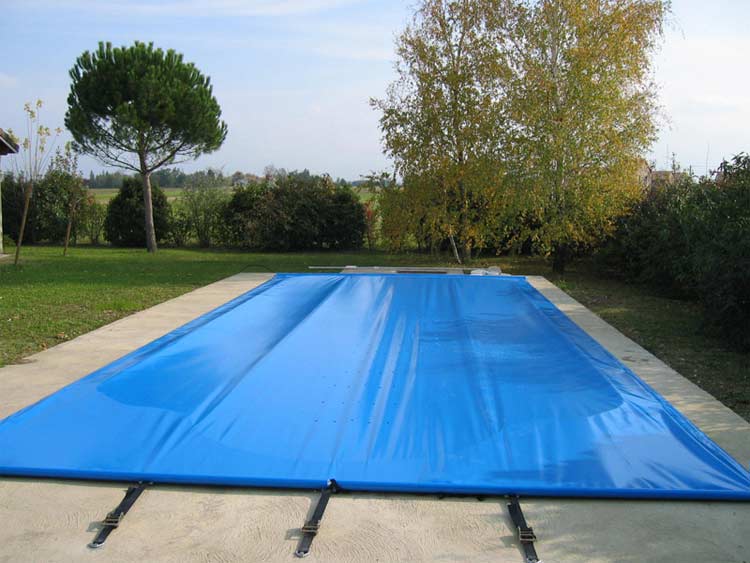 Technical features
Uses 2 anodised aluminium bars (diameter 50mm, width 3mm), fixed to the two extremities of the cover and resting on the pool surround or the pool edge.
Polyester straps (45mm wide) ensure the rigidity of the cover lengthways. Can be used in the case of snowfall as it does not feature bars above the cover that could fold under the weight of snow.
Several orifices evacuate surplus water and avoid the formation of water pockets on the surface of the cover.
Supplied with a manual, threaded crank and a guiding strap for easy unrolling.
Maximum inner pool dimensions
12m x 6m
Anodised aluminium bars
diameter 50mm, width 3mm
Polyester straps
5 lengths, 45mm in width
Water evacuation orifices
Central position on cover
Available colours
Blue / Beige - Green/ Beige, Almond/ Beige - Beige / Beige - Grey/Beige
Manual threaded crank for reel
Yes
Rechargeable electric crank
On option
Cut for filtration monobloc
Unavailable for this model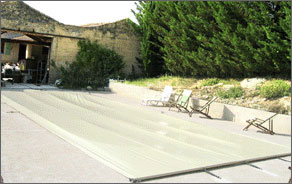 The use of this cover
replaces a bubble cover, pool cover reel, a winter cover and all other security systems,
saving space in your pool area.
Advantages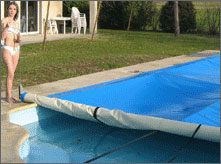 Differing from other models of pool security covers, lighter and uses longitudinal straps.

Rolling the cover is easier and demands less physical effort as the cover does not use rigid bars.

Particularly adapted to large dimensioned pools (up to 12 x 6m), and is more resistant in the case of snow as there is not a central bar that presents the risk of becoming bent.
Schema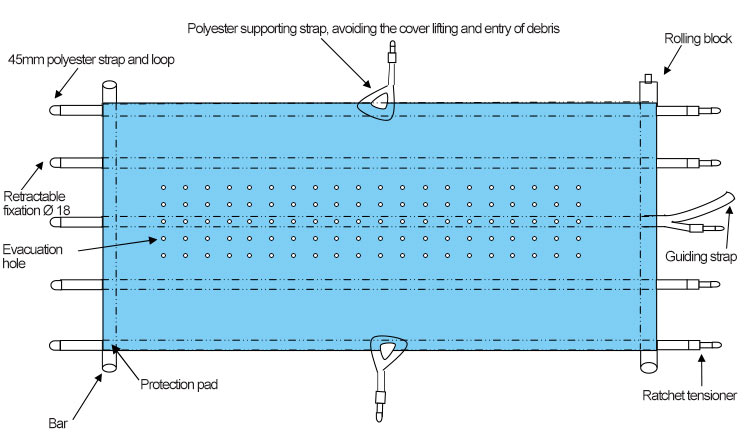 Available colours

Blue downside sand

Green downside sand

Almond green downside sand

Sand downside sand

Grey downside sand

Carbon grey downside sand
The colours presented are an indication and images are not contractually binding.
ROLLING UP motorised crank
ROLLING UP motorised crank for barred security pool cover
:
749.00 €
The
use of the ROLLING UP motorised crank
is recommended for
all pools from 40m² or 4.50 X 9 m
to facilitate rolling and unrolling your cover alone.
Using a powerful motor and integrated battery the motorised crank provides up to 10 cycles between each recharge.
To roll your cover, just insert the square adaptor
(1)
of the crank into the rolling block of your barred cover.
When the adapter has been inserted into the roller block, firmly grip the handle and push the button
(2)
whilst following the covers movement.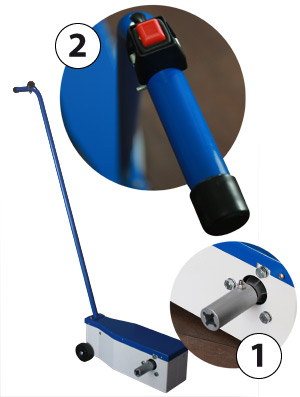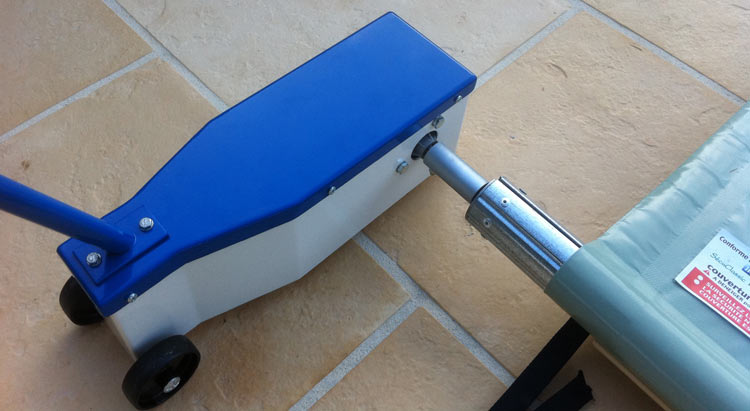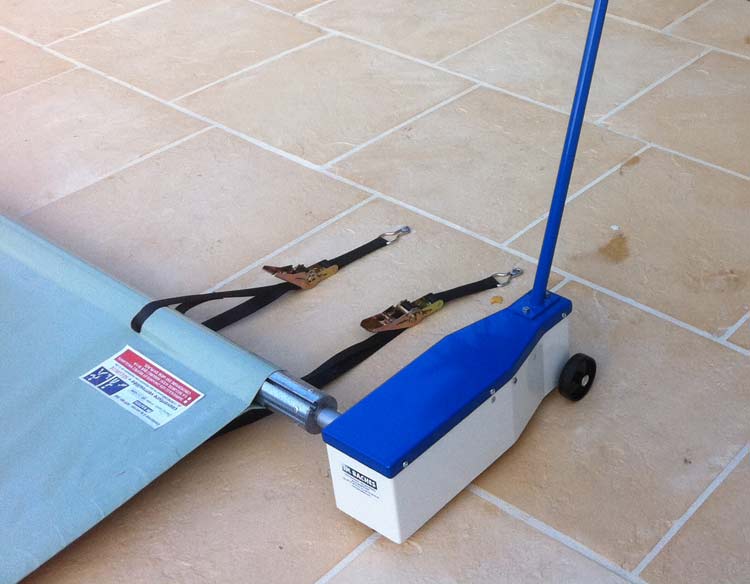 Model shown : Rolling Up on the SAFETY COVER
Precautions of use for your barred cover
It is imperative to follow all recommendations to benefit from the gaurentees
MAINTAINANCE RECOMMENDATIONS
After removing your cover (we strongly recommend the use of a reel) :
- Rinse your cover in clear water and dry before storing.
GENERAL CONDITIONS
- The guarantee of a defective product is applied after analyse and verification by the manufacturer following the return of the product.
- Transportation costs to return the product to the manufacturer are not covered by the guarantee.
- Products which are damaged during transport are not covered by the guarantee. It is the clients responsibility to check the material on reception and formally note any abnormalities with the transporter or refuse the merchandise.
- The manufacturer reserves the right to decide if a product should be repaired or replaced.
EXCLUDED FROM THE GAUARENTEE
- The non-respect of the installation and user instructions of the pool cover resulting in abnormal degradation of the material.
- All modification of the pool cover other than those given by the written consent of the manufacturer.
- Deterioration due to the use of cleaning products other than those recommended.
- Consecutive deterioration due to meteorological conditions: violent winds, snowfall, heavy hail, lightening strikes, snow > or = to 5cm.
- Deterioration due to abnormal rubbing, abrasive pool borders or concaved pool borders that present an uneven water surface.
Deterioration due to rubbing, snagging, tearing, unadapted water treatment and the covers colour stability is equally excluded from the guarantee.
Warranty
3 years digressive on cover
2 years on motor and mortorised crank communicator
2 years on manual crank
Photos non-contractual
Price incl. VAT
Ask for a free quote securit cover
Other product : SECURIT COVER
At best price 23.90 eur Including VAT.
Please fill in this form carefully. Our commercial service will handle your request promptly.
---
UK freephone hotline
Monday Friday 9.00 19.00, Saturday 10.00 18.00

---
Spare parts order
You are looking for a spare part for «SECURIT COVER» ?
Please click the button below. Our commercial service will handle your request promptly.