Pool equipment

Pool lighting, projectors and bulbs...

Eolia WEX30 bulb for pool
Eolia WEX30 bulb for pool
The Eolia WEX30 bulb diffuses a multicoloured light allowing you to personalise your pool and create diverse atmospheres.

Easy and simple to put into place, installed in standard PAR-56 alcoves that make this bulb the ideal replacement for a classic 300w 12v filament bulb.

Benefiting from a lifespan 100 times greater than a classic bulb, the WEX30 equally presents an advantage by consuming up to 80% less energy.


Technical details

The Eolia WEX30 is equipped with finned, aluminium outer casing, favouring heat dispersion.

316L stainless steel connections prove resistance to prolonged immersion.

The range of colours available with the WEX30 is obtained by mixing three primary colours : Red, green and blue.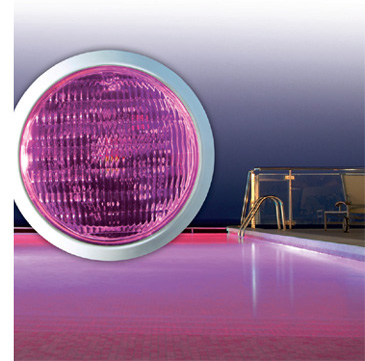 By adjusting the intensity of each of these three colours, it is possible to obtain nearly 16 million diverse shades.

This bulb operates independently. You can choose from 18 models : 11 static and 7 automatic sequences to change colour allowing you to change atmospheres by a simple press of a button.
You can equally command your lighting system at a distance by using a radio remote control connected to a command box (available on option).
Installing the bulb
The Eolia WEX30 bulb
(2)
can be installed in all PAR-56 alcoves
(1)
replacing your old filament bulb. Its installation is easy and ensures perfect sealing.
Low energy consumption allows intensive use without the risk of the transformer overheating resolving difficulties of voltage drops.

The transformers capacity
The transformer connected to the LED WEX30 runs on 12v. Its capacity should correspond to the bulbs to which it is connected.
The below table indicates the number of bulbs that the transformer can power depending on its capacity.
Transformer capacity
Number of WEX30 bulbs
When connecting your electrical supply, protection is required for each bulb. 3 or 5A fuses or trip switches can be used.
Technical features
Power supply
12V AC 50Hz/60Hz
Number of LEDs
9 : 3 red, 3 green and 3 blue
Number of colours
16 million
Colour control
Start/stop button or radio remote with Brio RC box (on option)
Contents of package
- 1 Eolia WEX30 bulb
- 2 stainless steel screws + washers for connection
- 1 instruction sheet
Warranty
2 years
Photos non-contractual
Price incl. VAT
Ask for a free quote eolia wex30 bulb for pool
Other product : Eolia WEX30 bulb for pool
At best price 224 eur Including VAT.
Please fill in this form carefully. Our commercial service will handle your request promptly.
---
UK freephone hotline
Monday Friday 9.00 19.00, Saturday 10.00 18.00

---