Material and equipment for your technical shelter

Electrical boxes for pools

Facilelec electrical box from Astral
Facilelec electrical box from Astral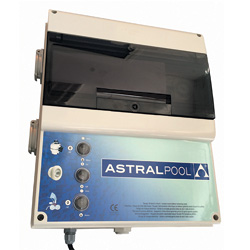 Recommended retail price 2023 :
Our Price :
Ref. Abatik 020481
Ref. Provider 45587-6/10-6/10
ASTRAL FACILELEC 6-10 A + 6-10A booster pump electrical box
Electrical box designed in France
Can connect filtration, booster pump and electrolyser,
Can also command your lighting projectors,
Easy to install
In stock
The
Facilelec electrical box
can easily be connected to
electrical equipment
of your
pool.
Made in France, with three dependable and easy to manipulate connections for your
filtration pump, hydraulic cleaner booster pump or electrolyser
. You can equally command your pool lighting.
The Facilelec box does not require a certified electrician to be installed as the simplification of connection is a key part of its design, avoiding connection error.
Simplified connection of your equipment
Your
Facilelec electrical box
is pre-cabled and ready to be installed in your technical shelter.
There are three connection terminals - one for the booster, one for filtration, or the electrolyser. The connection is so easy you can connect or disconnect your equipment easily and quickly, to meet your needs by means of covered sockets.
Key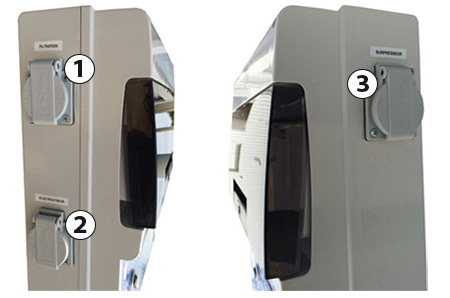 Easily program your pool equipment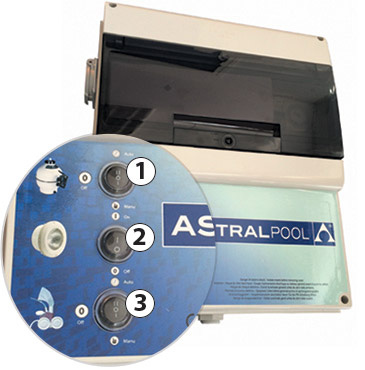 Your
Facilelec electrical box
uses easily accessed control buttons. Using these, programming is simple :
1
Filtration pump: Manual/Stop/Automatic
3
Booster: Manual/Stop/Automatic
Pictograms indicate in a simple manner which equipment corresponds to each command button.
When your pump and booster are programmed, you can define the duration of the program cycle. A timeclock dedicated to each piece of equipment is integrated to the command box, which is protected by a smoked, plastic shield.
Protect your equipment
The
Facilelec electrical box
conserves the good working order of your equipment. Its connection to your booster and filtration pump feature a magnetic-thermal trip switch. This type of trip switch conserves your equipment in the case of overheating, short circuit or surcharge.
The Facilelec electrical box equally features a 30mA trip switch, ensuring the protection of the power supply to your technical shelter.

Command box protected by smoked shield
key :
3)
"Water treatment" switch
5)
Time set and cycle duration
6)
Calibrating of the magnetic-thermal trip switch depending on the pump capacity (left) or pool cleaner booster (right), adjustable from 6 to 10 A.
Features
General features
Connection
Sockets (consommation max : 16A)
Differential protection
30mA
Filtration
Maximum capacity
6/10A 230V
Invertor
Manual/stop/automatic
Booster
Maximum capacity
6/10A 230V
Invertor
Manual/stop/automatic
Electrolyser
Power supply
230V, on covered socket
Lighting
Connection
Dual connector and connection cable
Warranty
2 years
Photos non-contractual
Price incl. VAT
Ask for a free quote facilelec electrical box from astral
Other product : Facilelec electrical box from Astral
At best price 499 eur Including VAT.
Please fill in this form carefully. Our commercial service will handle your request promptly.
---
UK freephone hotline
Monday Friday 9.00 19.00, Saturday 10.00 18.00

---