Our pool solutions

Inground pool kits

Galvanised steel pool kit

10 x 5m pool kit
10 x 5m pool kit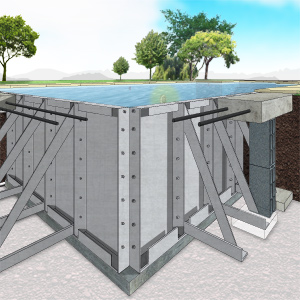 Recommended retail price 2023 starting from :
Our Price starting from :
Ref. Abatik 012106
Galvanised steel pool kit 10x5m h1,10m
Pool kit including liner, sealing parts, plumbing elements, filtration system and accessories for your n-ground pool. 2 panel heights available, 1,10m or 1,50m
In stock
You have decided to build your own pool. Your source of well being and relaxation will soon take shape. Easy to build, our pool kits are designed to last, personalised to fit your unique requirements. An economical solution.
Features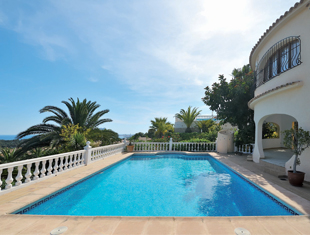 Rectangular shape, choice of pool floor
Price including VAT
Galvanised steel pool kit 10x5m h1,10m
7652.00 €
Rectangular shape, flat pool floor
Price including VAT
Galvanised steel pool kit 10x5m h1,50m
9040.00 €
Several pool floor shapes are available for the kit 1,10m in height :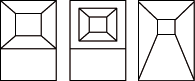 For kits H 1,50m : only flat pool floor is available
Composition
Self-supporting pool structure in 200/100th galvanised steel.

Filtration parts

(specific panels that do not have contact with the structure)

- High flow skimmer
- Large skimmer inlet
- Discharge nozzles
- Brush adaptor
- Main drain
- Lighting projectors(s) 300 W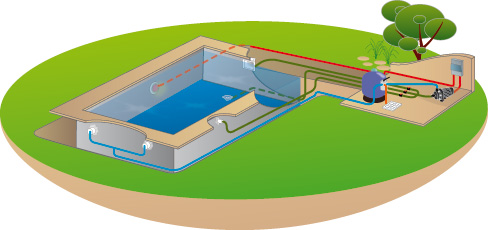 Number of discharge nozzles
3
Galvanised steel structure
Self-supporting galvanised steel 200/100th, made in France (25-year guarantee against perforation).

Panel height 110cm or 150 cm, inserts for sealing parts pre-cut by the manufacturer.

THE ADVANTAGES OF GALVANISED STEEL

Galvanised steel is renowned for its properties of remarkable mechanical strength and is the reason why this material is used in many sectors of the construction industry.

This material is robust and malleable and offers an excellent protection against corrosion. Galvanised steel is often chosen as the construction material used to build supporting frames of bridges, tunnels and buildings.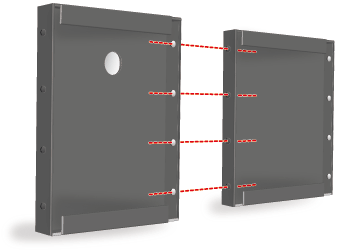 Our metallic kits are designed using a hot-dip galvanization process, ensuring a long lifespan and exceptional protection against corrosion. The structure is guaranteed for 25 years against rust perforation.
SELF SUPPORTING STRUCTURE
The structure is constituted using galvanised steel, self-supporting panels. The panels are capable of resisting the pressure of water, without the necessity of completing a backfill around the parameter of the structure. The panels are also totally secure when emptying the pool as the panels support the weight of the surrounding earth.
Installed with ease, you can totally backfill around the pool, install the pool border or add-on peripheric borders. You can also envisage a pool design partially in-ground and partially above ground, with no difficulty regarding water pressure resistance.

Height of panels
110cm or 150cm
Structure of panels
6 fold, ensuring pressure resistance and maximum rigidity
Sealing parts insertion
Pre-cut by manufacturer
Supporting legs
Angled steel
Assembly nuts and bolts
Galvanised
Detailed view of the swimming pool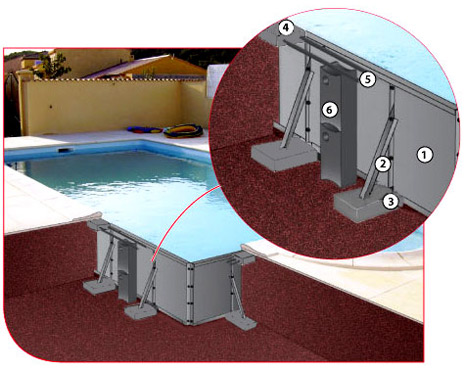 Detailed view of pool structure

1. Galvanised steel panel structure
2. Supporting legs
3. Concrete sealing of supporting leg
4. Peripheric chaining supporting pool border (peripheric concrete beam + reinforcing bars)
5. Reinforcing bars
6. Support plot (concrete block structure)

Main stages of your pool installation:

Following excavation, the structure is assembled, positioned, and levelled. Then sealing is then completed with concrete mixed to 350kg.

The pool floor screed is completed in the pool cavity. Filtration parts are positioned and plumbing work is carried out.

The supporting plots needed to install the peripheric chaining is completed. Backfill behind the panels and position the liner track. Complete the peripheral chaining. Install the pool border, followed by the pool floor underfelt followed by the pool liner. Fill with water.
The filtration of your pool
Our galvanised steel pool kits are available with a choice of two water filtration systems.
An outboard filtration system means you do not require a technical shelter or underground service piping and you do not put residual chemical waste back into the water system. Practical, this system limits installation work.
A traditional filtration system is composed of a sand filter, a self-priming pump, and electrical distribution box with cables, various valves, collectors and u-bends, PVC piping and PVC glue. This evolving system is more economical when purchasing, and all the material is contained on one, protected transportation pallet.
Filtration monobloc, without technical shelter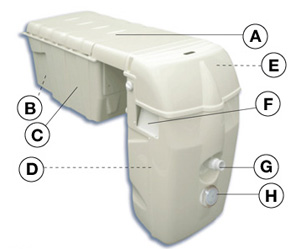 A
. Soundproof removable lid with locking function
B
. Electrical box + Programmation control
C
. Filter pump
D
. Two removable filter cartridges with collector baskets.
E
. Balneotherapy (Air regulator knob).
F
. Skimmers, two openings creating suction inlet.
G
. Adjustable discharge nozzle
H
. LED lighting feature
Filtration pump with a motor capacity of 1,1kW
Water flow 25m³/h
Featuring two removable polyester filter cartridges
Filter surface 9m2
Filter capacity 25 microns
Bodywork ABS – PMMA thermoformed
Security overflow
Electrical distribution box with 30 mA circuit breaker
To learn more please consult
Filtrinov MX25 filtration monobloc
Classic filtration system using Quick Pack Plus 80
For pools up to 65m3. Compatible with traditional water treatment systems (chlorine, bromine, active oxygen...)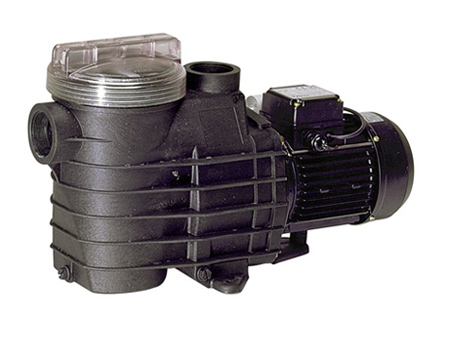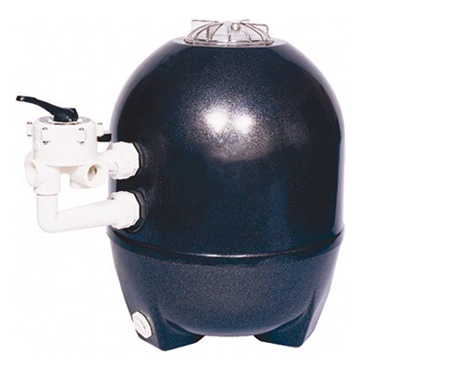 Self-priming filtration pump
Delfino inlet/outlet 2", 1hp, single-phase
Pre-filter lid with O-ring
Volume pre-filter basket 2852cm3

Bali Sand filter
Bicomponent laminated polyester and fibreglass bodywork
Large screw-on transparent lid
Screw purge valve situated on the tank
6-way side valve (not pre-assembled)
Filter sieve 1/4 turn
Diameter 61cm
Filter capacity 15m3/h

Distribution box and cables
For pump + maximum 2 lighting projectors and trip switch
- 1 cable 3 x 1,5, 5m long
- 3 electric lighting ducts 3 x 1,5, 5m

Sealing parts
Skimmer
2 discharge nozzles
Main drain
Brush adaptor
Lighting projector

Plumbing parts
PVC kit includes :
- 1 collector 50/63
- 5 FIP valves 50mm
- 3 threaded unions 1,5"/50mm
- 2 threaded unions 2"/50mm
- 1 T connection 50mm
- 10 90° pipe bends /50mm
- 1 specific glue Pooltite 500g
- 4 rolls of Teflon
- 10 pipe collars
- 6 PVC tubes, resistance to pressure 10 bars per 1m

By Pass
- 2 T connection 50mm
- 3 FIP valves 50mm
- 5 pipe bends 50mm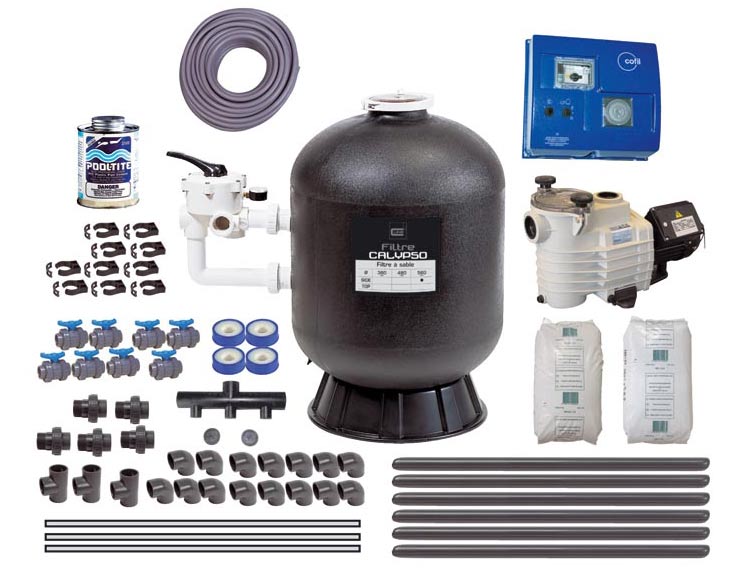 Composition of Kit
Liner
Liner, 75/100, mono colour, made to measure, guaranteed for 10 years, (digressively concerning welded points), 7 standard colours (border or impression available on option).
Liner rail "Hung" using self-piercing screws. Pool floor anti-rotting underfelt 350 g/m2, supplied with specific glue.
Important :
it is indispensable to check the installed pool dimensions BEFORE ordering your liner
Available colours
Anthracite ALKORPLAN 2010
White
Blue France
Pale blue
Grey ALKORPLAN 2010
Sand
Byzantin blue
Byzantin green
Persian blue
Persian blue grey
Persian green
Persia old rose
Marble blue
Marbre grey
Marble sand
Borders
Carthage blue
Carthage green
Genova grey blue
Florentine grey blue
Olympia blue
Olympia green
Oxford blue
Oxford grey blue
Mallorca blue
Mallorca sand
Sealing parts
Installation system

The panels are precut by the manufacturer taking into account the position and dimensions of the sealed filtration equipment such as the skimmer, the discharge nozzles, brush adaptor and projector(s).

This system is totally specific to an aquatic environment and ensures that water is not in contact with the steel panels.

The sealed parts overlap the pool structure, ensuring no contact between the pool water and the pool structure.
Detailed view of the discharge nozzle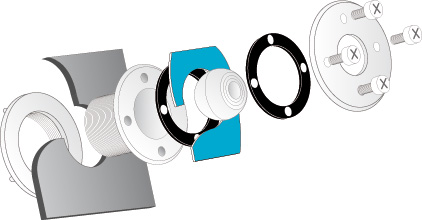 1
.
Skimmer
Elegance 400 from WELTICO has a modern, elegant design. The skimmer features a wide water inlet (opening 200 x 400) and is equipped with an outlet connection that links a water level regulator if desired (available on option).
2
.
Brush adaptor
PVC ASTRAL POOL complete with o-rings, sealing clamp and screws. Diameter 50mm.
3
.
Discharge nozzle
PVC ASTRAL POOL with adjustable ball joint and adjustable diameter of discharge. This equipment ensures the return of filtered, treated water to your pool.
4
.
Main bottom drain
5
.
Projector
Projector 300 W/ 12V and its connection box.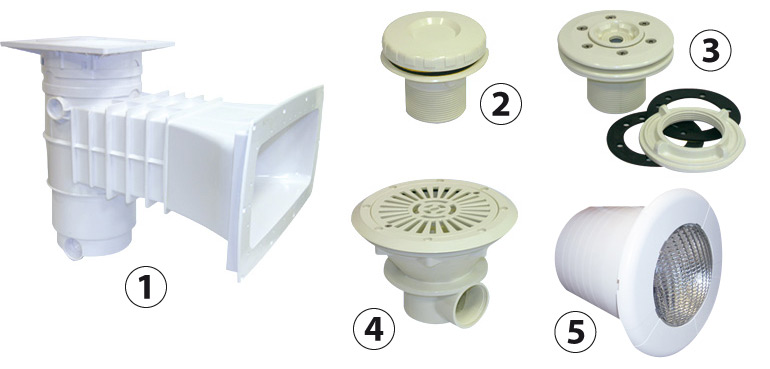 Maintainance
Cleaning kit
Brush head
Telescopic handle
Floating pipe
Cleaning net
Test pouch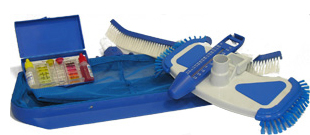 Various
- Excavation plan (
must be scrupulously respected
)
- Installation guide
- Maintainance and use guide
- Helpline
Ladder
3 step stainless steel with anchoring plates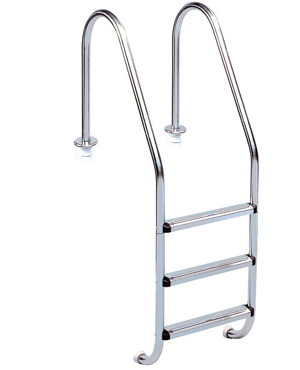 Step option
DOM COMPOSIT reinforced acrylic
To facilitate access to the pool and create a relaxation zone, the step designed in DOM COMPOSIT reinforced acrylic is the ideal solution. You can position your steps on the length, width or corner angle of your pool.
Easy to install, the step module takes the place of one or several panels of the pool structure. The liner is clamped on the front of the steps, avoiding un-esthetic folds and a slipping hazard.
Reinforced acrylic indicates the steps are very resistant, do not scratch, do not chip and are not affected by varying temperatures, chlorine or UV. An anti-slipping treatment is applied to the steps and is tinted in the mass.
The steps are supplied with a spare discharge nozzle and have a 10-year guarantee. The step option cancels the supplied ladder.
The choice of 6 colours can adapt to the majority of pool liners.
Available colours

Light blue

Sand

Azur blue

White

Caribbean green

Grey
We can supply steps with various colours, dimensions and heights, so you can find the perfect solution to fit your operational and esthetic pool criteria.
To find out more about our range of Dom Composit products click on the following link
DOM COMPOSIT acrylic steps
Installation
Warranty
25 years on the structure against perforation due to rust
Photos non-contractual
Price incl. VAT
Ask for a free quote 10 x 5m pool kit
Other product : 10 x 5m pool kit
Starting from 7652 eur Including VAT.
Please fill in this form carefully. Our commercial service will handle your request promptly.
---
UK freephone hotline
Monday Friday 9.00 19.00, Saturday 10.00 18.00

---