FAQ - Swimming Pool Online advice and recommendations

Choosing your pool heating system
Choosing your pool heating system
To enjoy your pool for longer and lengthen your swimming season, a pool heating system is obliged.
There are various solutions to pool heating, one of which will be perfectly adapted to your pool configuration. For further guidance, contact our Client Advisor Team.
To assist you in your choice, here is an overview of the
principal options
:
Heat pumps
,
Electric pool heaters
,
Solar heating
and
Heat exchangers
To choose the best-adapted solution to heat your pool configuration, you must consider :
-
Pool dimensions
: Length, width and depth to determine the approximate volume of water to be heated.
-
Pool type and installation
: Inground or above-ground pool, with or without overflow, indoor or outdoor installation...
-
Geographical situation and exposure
: nominal weather condition of the region in question, altitude, wind and sun exposition.
-
Complementary equipment already installed
: Enclosure, cover, automatic shutter, water treatment system...
You also must take into account :
-
The period of the year during which you wish to use your pool
: just during the summer or all year round...? Weekend only or regular use?
-
Temperature
Desired temperature and time required to reach the desired temperature
-
Operational costs
depending on your budget
-
Consumed energy
depending on available energy network and the consumption of other material already connected to the same network.
Important :
90% of heat dispersion in a pool occurs at the water's surface. The use of a
thermal cover
is required. A
bubble blanket
or
automatic shutter
provides more efficient heat, maintaining calories and avoiding a surcharge in energy consumption.
Choice of various pool heating systems
1. Heat pump pool heating solution
A
heat pump
is an economical pool heating solution
Operating system :
When using an air/water heat pump, calories present in the ambient atmosphere are transferred to your pool water. The process of compressor, exchanger and condenser coupled with cooling liquid results in heat production. This is similar to the working principal of a fridge, transferring heat to chill an indoor atmosphere. A heat pump transfers calories present in the outdoor atmosphere to heat your pool water. Heat is diffused through the pool water and chilled air is evacuated into the atmosphere. The air outlet temperature is always 5°c less than the air inlet temperature.

Installation schema of heat pump fitted with a by-pass on the hydraulic circuit
Advantages :

For each 1 KW consumed, the heat pump renders 4 to 5 KW into the pool water depending on the coefficient of performance and nominal climatical conditions. Your energy bill will be less expensive in comparison to use with a regular heater when often, the ratio is 1KW consumed = 1KW rendered.

Ecological, 80 % of energy transferred to the pool is sourced from ambient air.
Recommended precautions:

Certify the electrical installation by a qualified Electrician, conform to the norm C 15-100,

Outdoor installation (except models designed for indoor use),

Higher investment, but immediately rendered with low consumption energy savings.
2. Water heater pool heating system
Operational system :
A
Electric pool heater
is composed of body casing, a regulator and an electrical resistance.
Principal : Water flows through the body of the heater, gaining calories when in contact with the electrical resistance.
An electrical heater is easy to install, take up little space and is easy to maintain. Installed at the filtration outlet, either with a direct flow or diverted by means of a bypass.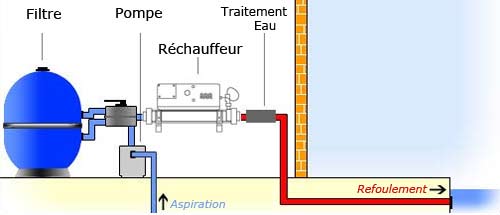 Installation schema of an electrical heater using direct flow
Advantages :

Adapted to family use, easily installed.

Less expensive investment than other systems.

Compact dimensions, allowing installation in even the smallest technical shelters.

Fast rise in temperature.

Easy to maintain.
Recommended precautions:

Greater electrical consumption than other available systems.

Electrical installation to be dimensioned depending on the capacity of the heater.

Certify the electrical installation by an electrician, conform to norm C 15-100.
3. Heating system using solar sensors (solar heat)
OPERATING SYSTEM :
When using a
Solar heating system
, your pool water circulates through a network of sensors powered by the sun's energy.
Water then gains temperature.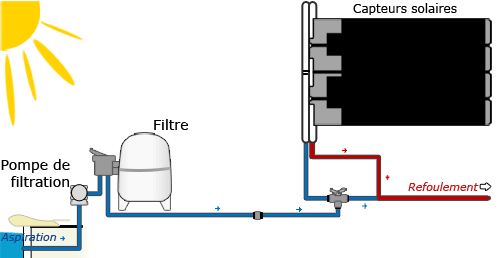 Heating powered by solar sensors
Advantages :

Energy free of charge.

Ecological system.

Recommended precautions :

Energy produced is dependent on climatical conditions: The installation should be dimensioned to the volume of water which required heating and the nominal climatical conditions of your geographical area.Over-dimensioning your installation is possible!

Opt for the regulation option so your pool water does not disperse calories during the night.

Maximise the surface area of panel installation.
4. Heat Exchanger heating system
Operational method:
A
Heat exchanger
transfers heat from the domestic heating system to your pool water. An exchanger is connected to the filtration circuit of the pool and should equally be connected to the hydraulic circuit of your domestic heating system, heat pump or solar panels.
2 types of exchangers can be chosen from, depending on the required performance:
tubular exchangers
are more economical whilst
plate exchangers
provide better thermic exchange.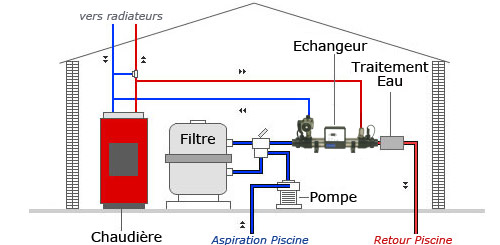 Heat Exchanger system connected to domestic boiler
Advantages :

Fast temperature rise

Domestic heating system or heat pump already operational
Recommended precautions:

Remember that a heat exchanger uses the energy source of your domestic heating system (oil, gas...)

Be sure to install the exchanger as close as possible to your domestic boiler to avoid heat dispersion
Further information
: A pool heating system creates a certain quantity of evaporation. For indoor pools, or pools under enclosure, the use of a
dehumidifier
is required to evacuate condensation, avoiding humidity damage to the technical shelter and optimising comfort.