Pool heating and dehumidification

Heat pumps for swimming pools

Pool Heat Pumps AQUACAL

Pool heat pump AQUACAL HEATWAVE H120
Pool heat pump AQUACAL HEATWAVE H120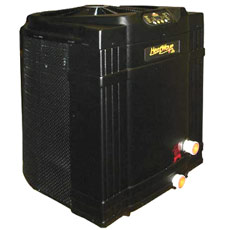 Recommended retail price 2022 starting from :
Our Price starting from :
Ref. 001681
AQUACAL HEATWAVE H120 defrosting, single-phase (reconditioned model)
For pools with a maximum volume of 160 m³,
TITANIUM exchanger with lifetime guarantee
Maximum pool volume 160 m3
Single-phase
Three-phase
In stock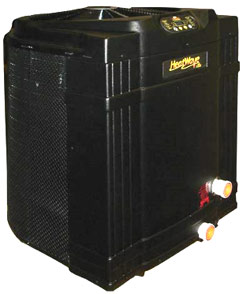 Heat pump specifically designed for pool use. It is imperative to install this heat pump outside, close to the pool's technical house. Can be used with a minimum ambient outdoor temperature of 5°C. Used to heat pool water with a maximum volume of 160m3 maximum. Titanium exchanger with a lifetime guarantee.

The HEATWAVE H120 heat pump is an ideal heating solution for outdoor pools up to 160m3. Its efficiency and equipment make the HEATWAVE H120 excellent value for money. Compact and very quietly run, the heat pump HEATWAVE H120 integrates easily into your poolside environment. Using a digital thermostat and water flow manometer, you can easily check its operation and control water temperature. Equipped with a flow rate controller the HEATWAVE H120 starts and stops automatically at the same time as the filtration unit.

- TITANIUM water condenser with an anti-corrosion lifetime guarantee.
- Conform with EU European norms.
- R407C cooling liquid (conform with relative legislation concerning cooling liquids).
- Scroll rotary compressor, very quiet running. Manometer flow rate controller.
- Digital thermostat for regulation with on/off switch and indicator. Management by microprocessor, time, programme and auto diagnostic settings.
- ABS bodywork
Hydraulic PVC connections Ø 50 to be used via a by-pass fitted on the filter circuit; two supplied PVC 1/2 threaded connections Ø 50
Power supply
230 V / 400 v depending on model
Noise level at 3 m
57 dB(A)
* Residential pool, with thermal cover from May to September, ambient air at 26° C
** Coefficient of performance = Power output / Power input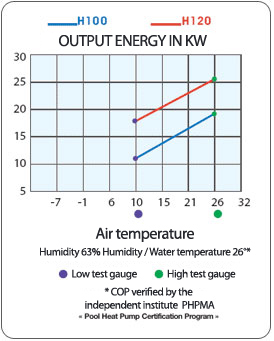 Curve chart depicting the power of the heat pump in comparison to the ambient outdoor temperature - (constructors data)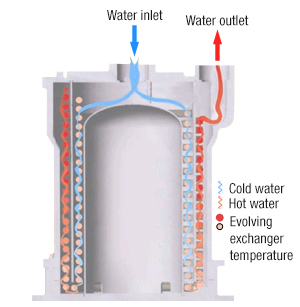 Titanium exchanger "Thermolink" technology
TITANIUM exchanger using "Thermolink" technology :
- This double passage using hydraulic strength increases the power output guaranteeing the best COP.
- Offers exemplary sustainability without sacrificing performance and efficiency.
- Guides water flow and R407C cooling gas in opposite directions. This design ensures a maximum transfer of calories by means of an important differential of temperature and minimises friction loss for total compatibility with all hydraulic systems.
- Allows easy winterizing by means of a simple valve.
- Carries a lifetime guarantee.

1. Heat pump
2. Pool pump
3. Pool filter
4. Suction
5. Discharge nozzles
6. Condensation evacuation
7. Hot air entry
8. Cold air exit
9. Electrical supply
OPTION: U-CONNECT CONNECTION KIT FOR HEAT-PUMP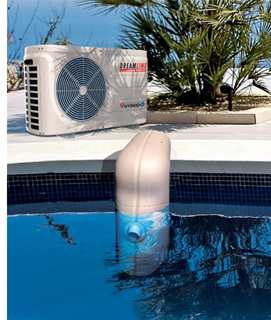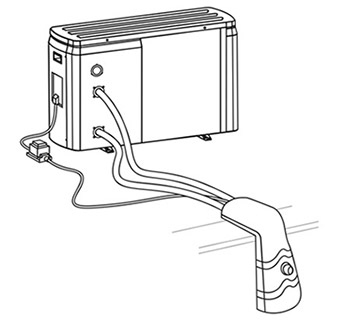 The
U-Connect connection kit
allows you to link a heat pump to your pool
without plumbing labour or tools.
This fast and easy installation does not require a supplementary power supply and avoids the need for a by-pass. Just connect the supplied pipes to your
Aquacal Heatwave H120 heat pump
and link to the U-Connect portable control box. Self-priming, U-Connect stays independent from your filtering system allowing you to get warm water fast, without losing heat through piping as is often the case with traditional systems.
Warranty
2 years
Photos non-contractual
Price incl. VAT
Ask for a free quote pool heat pump aquacal heatwave h120
Other product : Pool heat pump AQUACAL HEATWAVE H120
Starting from 5141 eur Including VAT.
Please fill in this form carefully. Our commercial service will handle your request promptly.
---
UK freephone hotline
Monday Friday 9.00 19.00, Saturday 10.00 18.00

---
Spare parts order
You are looking for a spare part for «Pool heat pump AQUACAL HEATWAVE H120» ?
Please click the button below. Our commercial service will handle your request promptly.