Material and equipment for your technical shelter

Filtration pumps for pools

Intelliflo Ultraflow VS varying speed pump
Intelliflo Ultraflow VS varying speed pump
Intelliflo Ultraflow-VS in detail
The Intelliflo Ultraflow-VS variable speed pump is part of the new generation family of pumps. Its permanent magnet motor coupled with varying speed features many advantages compared to a classic induction motor. You choose the motor speed which is best adapted to the filtration of your pool water. Your electrical consumption can be reduced by 8 when running at low speed, using no more energy than a lightbulb.
Perfect adaptation
A filtration pump with variable flow has direct impact on the quality of pool water :
• A filtration effectuated at low speed allows a nocturnal cycle, lowering chemical product treatment.
• The possibility to selection with precision the speed and flow of the pump which will regulate not only the waters movement but also selections the filtration speed depending on the needs of your pool.
• Low-speed filtration allows an efficient cycle and debris is easily treated by the filter. Back-wash cycles show to be of better quality, eliminating with ease debris from the water, in comparison to a fast cycle.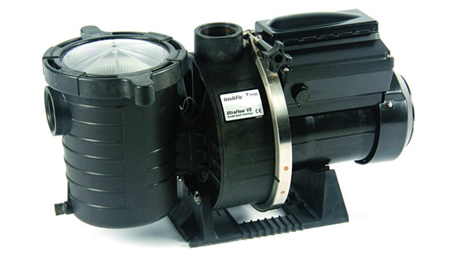 Respects the enviroment


By using this motor, less energy is used and the lifespan is lengthened.

Less heat and vibration is generated, the components are subject to less wear and the lifespan of the motor is prolonged.

The pump is cooled by integrated ventilation system that does not allow the entry of water or dust to the motor.
Easy to use

The control panel of the pump allows you to select one of four pre-programmed speeds and equally the possibility to manually adjust the speed and flow by an increment of 10 rotations per minuite, from 400 to 3450 rotations per minute.

You no longer need to replace your pump if you add additional equipment to your pool such as a heat pump or water treatment that requires a greater pump capacity. Simply modify the flow of the pump by the press of a button.

No more worries concerning your equipment's protection, the pump is fitted with an alarm that warns you in the case of overheating, frost or voltage peak.

The UltraFlow VS features a large capacity pre-filter basket that reduces the frequency of hydraulic maintenance.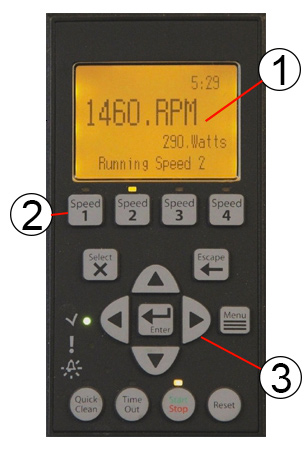 Control panel

1. 16 button screen indicating motor rotation and consumption.

2. 4 available speeds

3. Easy access to all pump features
Main advantages
- Varying frequency permanent magnet motor (very high energy performance)
- 4 pre-programmed speeds, capacity available 1/2 to 3 HP, varying flow from 4,5 to 36m3/h,
- Integrated frost protection with automatic start of the pump at 4°C (ambient temperature)
- Energy savings of 90% at low speed
- Lengthened lifespan, free from vibration or rise in temperature
- Very low noise level in operation (30dB at 3m slow speed)
- Integrated protection against overload
- Compatible with the UltraFlow classic and can be installed without modification
- Easy to use control panel
- Compatible with salt water treatment
- Optimised 24h/24 operation
- Diameter of connections 63 (2")
- Power supply 220V single-phase
Varying speed technology allows the operation of your pump at very low speed, reducing energy consumption and lowering noise level in operation.

The Ultraflow VS® pump equally reduces CO2 emissions, betters the quality of filtration and chlorine efficiency, reduces the frequency of backwash cycles and maintenance requirements and much more... Why? Because of this pumps very high energy performance permanent magnet motor reflecting the law of affinity : when the flow is divided by 2, electricity consumption is divided by 8.
Comparason of Intelliflo UltraFlow VS UltraFlow 1,5cv classic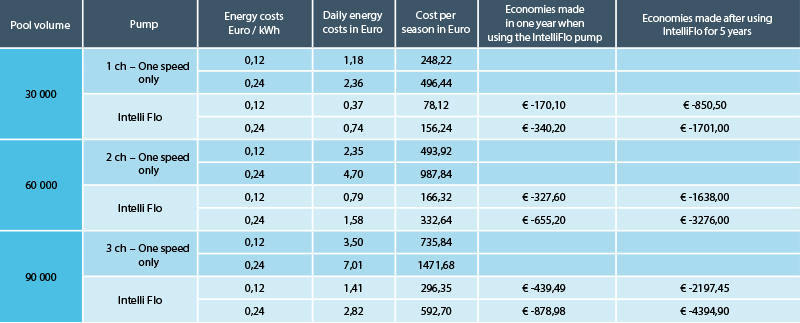 At 0,12€ /kWh, estimated economies range from 170€ to 440€ per year
At 0.24€ /kWh, estimated economies range from 340€ to 880€ per year
Estimation based on : x3 10 hour cycles per day and 200 days of use per year.
Warranty
3 years
Photos non-contractual
Price incl. VAT
Ask for a free quote intelliflo ultraflow vs varying speed pump
Other product : Intelliflo Ultraflow VS varying speed pump
At best price 1399 eur Including VAT.
Please fill in this form carefully. Our commercial service will handle your request promptly.
---
UK freephone hotline
Monday Friday 9.00 19.00, Saturday 10.00 18.00

---
Spare parts order
You are looking for a spare part for «Intelliflo Ultraflow VS varying speed pump» ?
Please click the button below. Our commercial service will handle your request promptly.