Material and equipment for your technical shelter

Filtration pumps for pools

Intelliflo Starite SW 5P6R VS variable speed pump
Intelliflo Starite SW 5P6R VS variable speed pump
By means of its motor with the capacity of variation of frequency, the Intelliflo Starite SW5P6R VS pump with variable speed can operate from 6 to 36m3/h : indicating your filtration permanently adapts to the size and functions of your pool, whatever the season.
This indicates a reduction of energy costs, the motor speed and its consumption is constantly regulated at the minimum required to correctly filter your pool water. Your energy consumption is regulated at the required minimum. When running at it's lowest motor speed, this filtration pump uses the same amount of electricity as a light bulb.
The fact that this pump runs at a reduced speed also lengthens its lifespan and internal components last for longer. The sound level of the Intelliflo starite SW 5P6R-VS is very low in operation. When running at low speed, it is barely audible. The Intelliflo SW5P6R VS pump resists to water treated by salt electrolysis. This pump is the ideal replacement for a Starite 5P6R pump.
Operation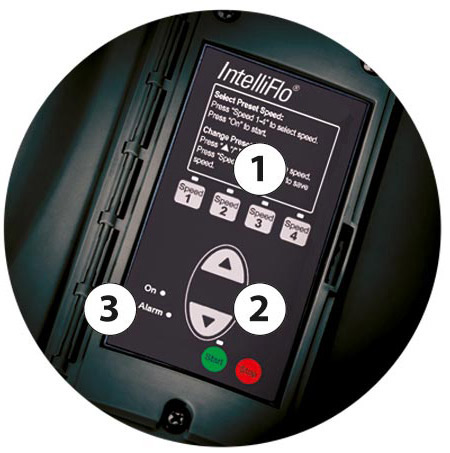 The control panel is user-friendly and intuitive. You can finely tune the performance of the pump
to fit the specific needs of your pool, enjoying optimal filtration even if you add features to your
pool (fountains, overflow feature, change of water treatment system...). The pump speed can be
independently adjusted from 400 to 3450 tours/minute or by using one of the 4 pre-selection modes
(750, 1500, 2350 et 3110 tours/minutes), allowing you to selection the filtration speed by the simple
click of a button.
1. 4 pre-selection mode buttons
2. Manual speed adjustment
3. Fault signal alarm

The integrated frost protection function avoids burst pipework in the case of an eventual omission as the pump
independently goes to automatic once the outdoor temperature reaches 4°.

You make further economies if you use a QUAD diatomaceous earth filter in conjunction with this pump and
reduce waste of water treatment products.
Principal advantages
- Variable-speed, permanent-magnet motor (very high energy performance)
- 4 programmed speeds, ranging from 1/2 to 3 HP, varying in flow from 4,5 to 36m3/h
- Frost protection function with automatic starting system at +4°c ambient temperature
- 90% energy economy at slow running speed
- Long lifespan, without vibration or rise in temperature
- Very low noise level in operation (30dB at 3m on slow running speed)
- Integrated protection against overvoltage
- Compatible with the Starite 5P6R, replaces your old pump without modification
- Compatible with salt water treatment systems
- Allows optimised operation 24h/24
- Diameter of connections 63 (2")
- Single-phase 220V power supply
Varying speed technology allows your pump to run at a very low speed, considerably reducing energy consumption and decibels when in operation.

In addition, the IntelliFlo® reduces CO2 emissions, betters the quality of filtration and chlorine efficiency, reduces the frequency of back wash cycles and maintenance requirements and much more... Why? Because of this pumps very high energy performance permanent magnet motor reflecting the law of affinity : when the flow is divided by 2, electricity consumption is divided by 8.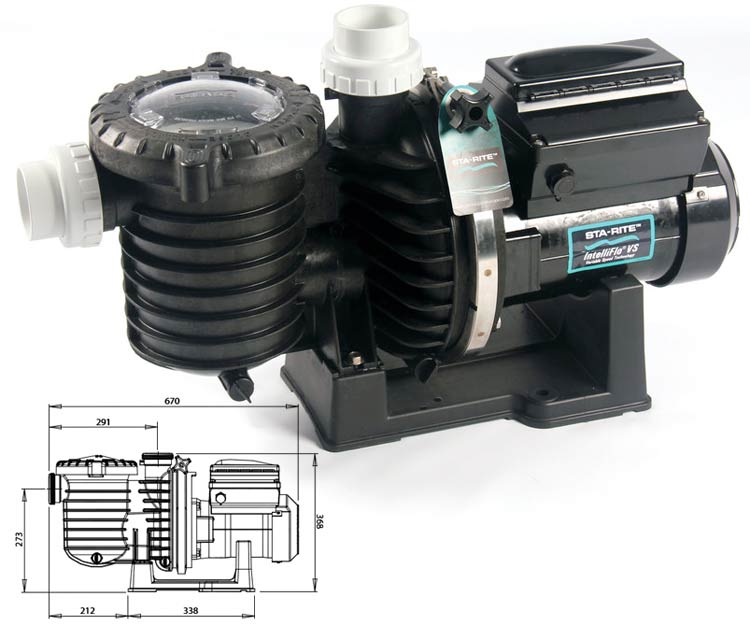 Comparison between the Intelliflo VS pump versus the 1,5hp classic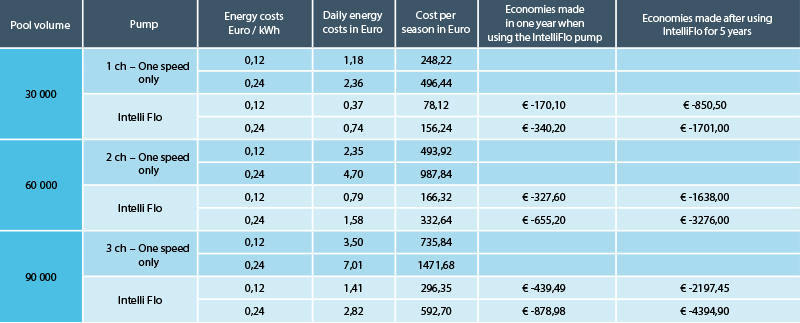 Intelliflo reduces your electricity bill by approx 332€ each season.
After 5 seasons of operation, the Intelliflo should economise approx 12000kw of electricity, equal to the average consumption of 2,7 European households.
Warranty
2 years
Photos non-contractual
Price incl. VAT
Ask for a free quote intelliflo starite sw 5p6r vs variable speed pump
Other product : Intelliflo Starite SW 5P6R VS variable speed pump
At best price 1785 eur Including VAT.
Please fill in this form carefully. Our commercial service will handle your request promptly.
---
UK freephone hotline
Monday Friday 9.00 19.00, Saturday 10.00 18.00

---