Material and equipment for your technical shelter

Filtration pumps for pools

Intelliflo Whisperflo VSD
Intelliflo Whisperflo VSD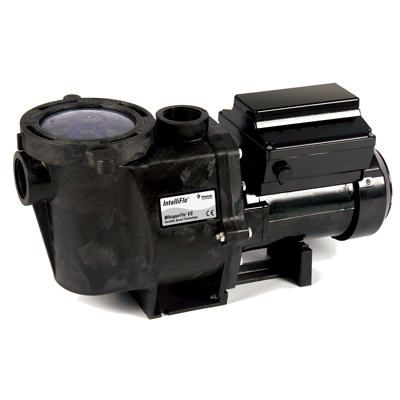 Recommended retail price 2023 :
Our Price :
Ref. Abatik 012547
Ref. Provider INTELLIFLO
WHISPERFLO VSD variable speed pump
Variable speed filtration pump
Economic, ecological
Compatible with salt water treatment
Stainless steel turbine shaft
Pre-filter with screw on lid
In stock
Intelliflo WhisperFlo VSD in detail
The Intelliflo WhisperFlo VS-3050 variable speed pump features the latest advanced technology concerning motorisation, offering unequalled energetic performance, long lifespan and is barely audible in operation.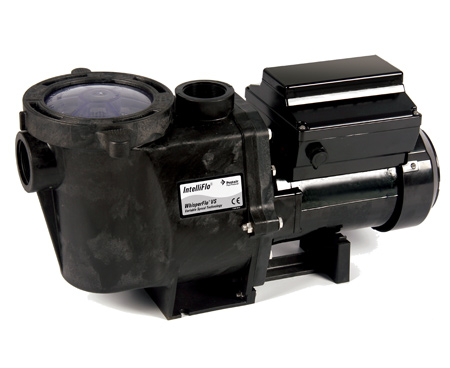 Energy performance

Did you know that a low-quality pool pump consumes as much energy as 7 refrigerators? Imagine the economic and ecological impact that this creates. Intelliflo uses an adjustable 4-speed varied frequency motor. This type of motor is inspired by those used with hybrid motors. Its high energy performance enables you to lower your energy bill by a minimum of 30 %.
The intelliflo VS-3050 pump is totally programmable and adapts to the optimal speed of filtration for your pool. This pump can equally be used for specific uses that demand a high water flow, such as heating, cleaning, spa jets or water features in your pool.
This pump can be used on a long filtration cycle at reduced speed with a very low energy consumption. Compared to a 2-speed basic pump, Intelliflo uses up to 90 % less energy.
Why use Intelliflo ?
• Because of its low noise level in operation :
the magnetic motor and the outer ventilation of the pump ensure the low noise level. Used at slow speed, the pump is barely audible.
• Because of its long lifespan :
in operation, varied frequency motor produces less heat and vibration than a traditional induction motor. These elements are known to be the cause of problems after several years of use. This pump equally features a program of intelligent self-diagnosis, warning of the most frequent problems such as overheating, overcharge or frost.
• Because it can evolve :
A pool is a source of permanent investment. Add solar heating, modify the filter of your pool, add a water feature... You no longer have to change your pump to accommodate your new features. Just push a button to change the pump to the optimised speed for your pool. You will continue to make economies even if you modify the configuration of your pool.
• Because it adapts to your water features:
You require higher fountains or a fast flowing waterfall? Select a stronger flow and you can create a specific poolside atmosphere to enhance an enjoyable evening or day.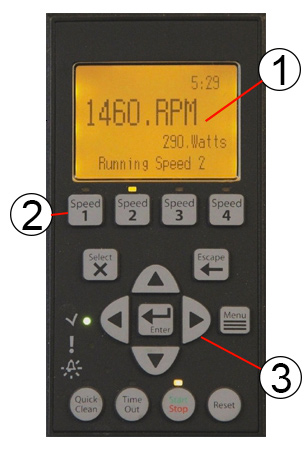 Control panel

1. 16 button screen indicating motor rotation and consumption.

2. 4 available speeds

3. Easy access to all pump features


Technical features

• Adaptable to most pools, this pump ranges in capacity from 0,5 to 3 HP
• Multi-application pump
• Unequalled low noise level
• Motor does not rise in temperature
• Multitouch technology to detect problems
• Integrated frost protection with immediate start at 4°C air temperature
• Compatible with the Whisperflo classic, and can be installed without modification
• Easy to use control panel
• Permanent magnetic motor with high energy performance
• Pump designed for permanent use
• Pump can communicate with automation using IntelliComm technology
Maximum operational pressure
3.5 Bar
Rotations per minute (rpm)
0 - 3450
Inlet outlet threading
2" BSP

Warranty
2 years
Photos non-contractual
Price incl. VAT
Ask for a free quote intelliflo whisperflo vsd
Other product : Intelliflo Whisperflo VSD
At best price 2053.44 eur Including VAT.
Please fill in this form carefully. Our commercial service will handle your request promptly.
---
UK freephone hotline
Monday Friday 9.00 19.00, Saturday 10.00 18.00

---