Pool equipment

Pool lighting, projectors and bulbs...

Ixia WIX15 pool projector
Ixia WIX15 pool projector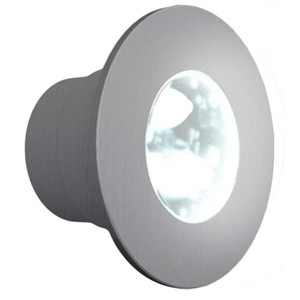 Recommended retail price 2023 :
Our Price :
Ref. Abatik 014506
Ref. Provider PK10R303+PF10R1
BAHIA full stainless steel projector for nozzle WIX15
3 LED mini pool projector
Easy installation in 2' wall crossing or panel
Powerful 333lm beam
Low energy consumption
Multicoloured light
In stock
The Ixia WIM15 LED mini projector diffuses a multicoloured light, perfectly valorising certain zones of your pool.
Because of its universal size, this mini projector is simply screwed onto a 2' wall crossing of a pool being built or in replacement for a 300w filament bulb.
Technical details

Very robust, the Ixia WIX15 is entirely composed of full 316L stainless steel, resistant to shocks, heat and chemical aggression of water treatment products.

This projector offers an excellent distribution of light in the pool without blinding swimmers during use.
This source of light uses 3 LEDs, economic to install and use, consuming little energy. A 20VAC toroidal transformer is sufficient to install an Ixia WIX15 mini projector.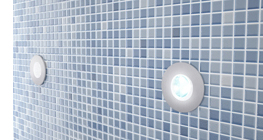 The colours projected by the Ixia WIX15 are obtained by mixing 3 primary colours (red, green and blue). This offers 16 million shades of colour, creating individual atmospheres in your pool by adjusting primary colour intensity.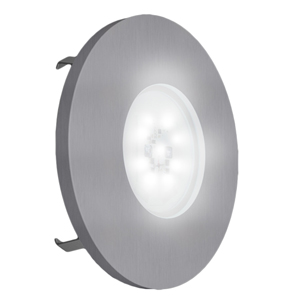 Totally independent, this projector allows you to choose from 18 operational modes : 11 static colours and 7 automatic sequences that can evolve with the simple press of a button.
The lighting atmosphere can equally be controlled at a distance with a radio remote control connected to a command box (available on option).
Transformer capacity
To operate, the Ixia WIX15 mini projector must be connected to a transformer with a secondary output of 12v.
The power provided must be adequate to power the total number of mini projectors to be used.
The below table indicates the number of projectors that a transformer can power, depending on its output.
Transformer capacity
Number of projectors WIX15
When connecting, a protection must be provided for each mini projector, by using a 2A fuse or trip switch.

Installation schema
The Ixia WIX15 projector is easily installed on a pool wall panel or by using a wall crossing using its 2' threaded fixation support.
To install, just screw the projector onto a discharge nozzle, brush adaptor
(1)
inserted in a wall crossing
(2)
. The power cable passes through the discharge nozzle or brush adaptor arriving in a water tight duct till it reaches the electrical connection box situated above water level (3).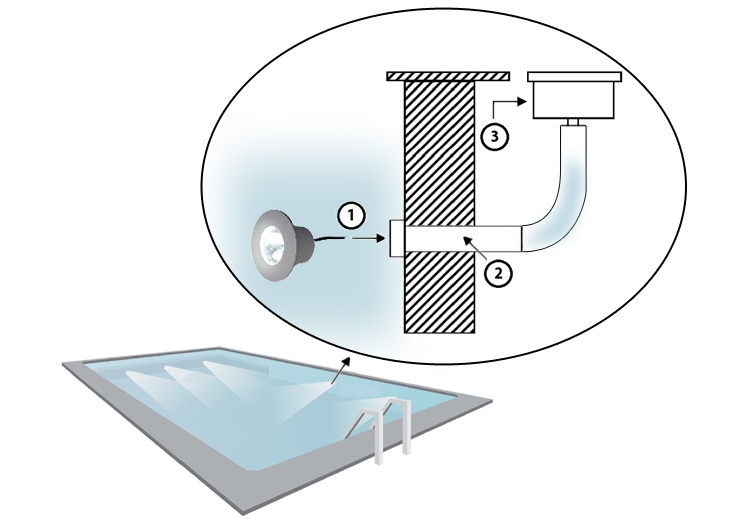 Technical details
Power supply
12V AC 50Hz/60Hz
Number of colours
16 million
Colour control
Start/stop button, or radio remote control with Brio RC box (on option).
Fixation
Threaded 2' connection
Packed weight
- 1 Ixia WIX15 mini projector
- 1 instruction sheet
Warranty
2 years
Photos non-contractual
Price incl. VAT
Ask for a free quote ixia wix15 pool projector
Other product : Ixia WIX15 pool projector
At best price 384 eur Including VAT.
Please fill in this form carefully. Our commercial service will handle your request promptly.
---
UK freephone hotline
Monday Friday 9.00 19.00, Saturday 10.00 18.00

---