Pool equipment

Pool lighting, projectors and bulbs...

Weltico Rainbow Power Design LED without alcove
Weltico Rainbow Power Design LED without alcove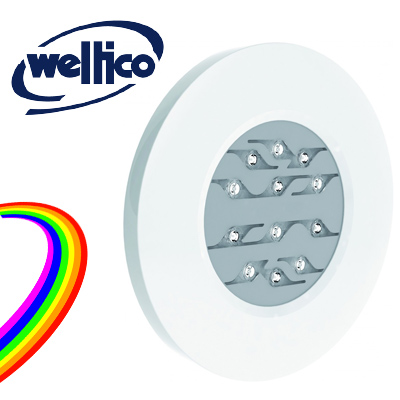 Recommended retail price 2023 starting from :
Our Price starting from :
Ref. Abatik 012767
Ref. Provider 67025LC15
RAINBOW POWER 12 LED coloured projector without alcove
12 LED pool projector
Designed for renovation,
Easy installation in standard PAR-56 alcoves,
Powerful focus,
Low energy consumption,
Multicoloured lighting

In stock
The
Rainbow Power Design LED projector without alcove from Weltico
is made in France and compatible with all PAR56 alcoves. Designed for renovation situations, perfectly adapted to replacing lighting in all types of pools. More economic than a classic projector using LED technology. Its beam is intense and balanced, consuming only 28W.
Three basic colours are integrated on the same LED for a perfect colour mix, resulting in an optimised sequence or static colour depending on the chosen cycle.
Main advantages
- Ideal for renovation
- Extra set of long fixation clips are supplied to adapt to any type of alcove
- Extra universal cable gland.
- Easy to install
- Possible to control at a distance (on option)
Energy consumption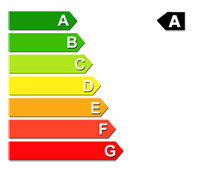 • Excellent production of lumens that translates up to 80% of energy economy.
• Duration of lifespan 50 to 100 times superior to that of a traditional bulb.
Technical details
Each LED Rainbow Power Design projector features a polycarbonate focus, creating an amplified and homogenous beam to light your pool : The light is better distributed and limits shadowed zones.
The LEDs and their focus are sealed in the projectors resin to ensure total sealing.
The supplied outer casing is available in white.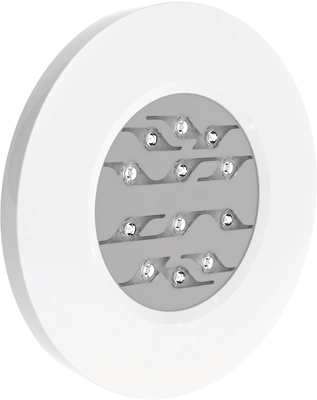 Operation:
This projector operates independently, you can choose from 10 static colours and 5 automatic sequences to change colour by the simple press of a button.
You can equally control at a distance a radio connected remote control, available on option.
CPL box + remote control (on option)
The Rainbow Power remote control has an integrated RF receptor (Radio Frequence) allowing the reception of a signal at a carrying distance of 50m on clear ground. Its specific frequency means other household equipment are not perturbed.
Remote control

The remote control commands the CPL box to change lighting colours or start/stop the projector.

5 bouttons :
- one stop button.
- 2 buttons to control static colours.
- 2 buttons for sequenced programmes.

CPL box

The box is connected to the power cable of the projector after the transformer.

You can command up to 10 coloured projectors for perfect control and synchronisation.

The signal is sent by the projectors cable.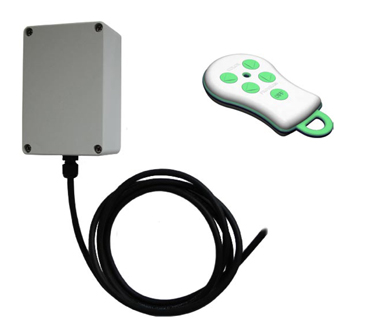 Projector installation
The projector is installed in an existing PAR-56 alcove, replacing a filament bulb, easy to install and guaranteeing sealing.
Low energy consumption allows intensive use, without the risk of overheating the transformer, resolving the problem linked to voltage drops.
Electrical connections
The transformer
The transformer on which the LED will be connected must have a secondary tension of 12v.
The power supply should be adequate to the requirements of the projectors to be connected. The supply should be 10% greater than the power consumed by the projector.
The below table indicates the number of projectors that a transformer, depending on its capacity
| | | | |
| --- | --- | --- | --- |
| Capacity of transformer | Maximum number of projectors Diamond 6 LED | Maximum number of projectors Diamond 12 LED | Maximum number of projectors Rainbow 12 LED |
| 50VA | 1 | - | 1 |
| 100VA | 3 | 1 | 2 |
| 300VA | 9 | 5 | 7 |
Cable sections
Remember weak currents, short cables, poor connections, oxidised wiring and poorly tightened lugs can be the cause of voltage drops.
Measure the power supply at the end of the cable section (minimum required power supply: 10,5V / maximum power supply : 13,5V)
Please refer to the below table to define the required cable section depending on the length and available power supply.
Rainbow Power 12 LED
Cable section
Maximum length
Installation of LED bulb with distance control (on option)
A
Transformer power source: 230 volts
B
Transformer power output : 12 volts
C
Regulation module, remote control receptor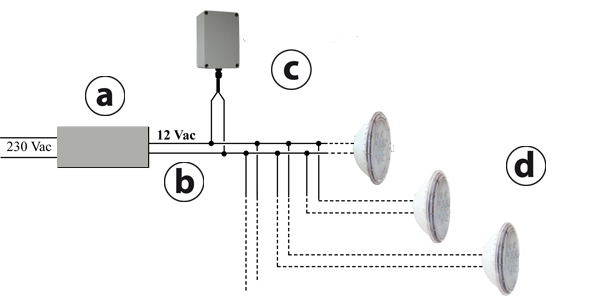 These projectors use carrier current technology.
The remote control (on option)
The box has a carrying distance of
up to 50 metres
on clear ground by remote control. The bulb of the projector lights as soon as the transformer is powered.
Automatically when lit, the initial colour of the bulb is white. The "colour" and "program" choices on the remote control allow you to make a choice of colour or sequence.
Key
1)
Activate the previous colour
2)
Activate the previous sequence
3)
Switch off the projector
When the projector is switched off, the receptor of the remote control memorises the last colour and sequence used.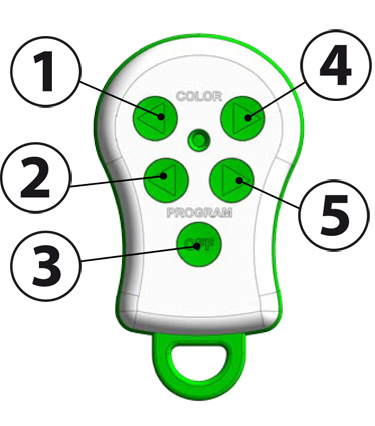 Technical characteristics
Projectors
Rainbow Power 12 LED
Power supply
12V AC 50Hz/60Hz
Colour command
Start/stop button or remote control + CPL box (on option)
Dimensions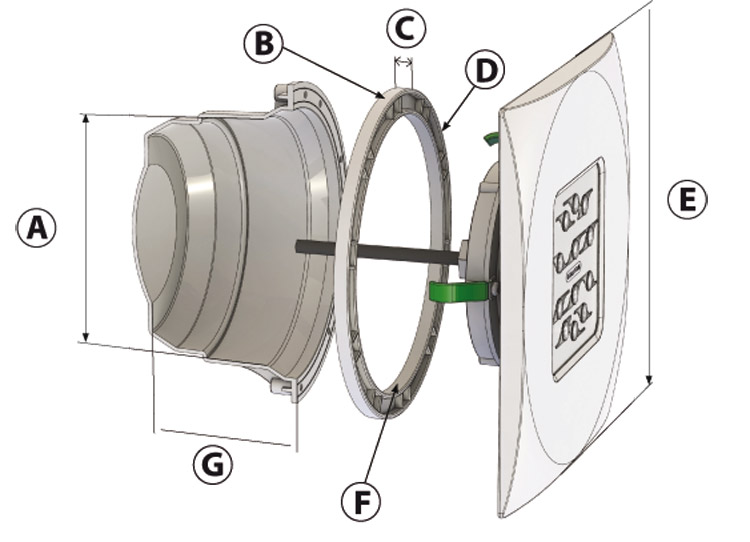 Side A
Ø280mm maximum (concrete) Ø230mm maxi (liner, shell) Ø180mm mini
Side F
212mm inner minimum
Side G
120mm inner minimum
Contents of packaging

- LED lamp
- 1 finishing ring
- 1 connector with cable gland
- 1 packet of fixation screws
- 1 instruction sheet
Photos non-contractual
Price incl. VAT
Ask for a free quote weltico rainbow power design led without alcove
Other product : Weltico Rainbow Power Design LED without alcove
Starting from 299 eur Including VAT.
Please fill in this form carefully. Our commercial service will handle your request promptly.
---
UK freephone hotline
Monday Friday 9.00 19.00, Saturday 10.00 18.00

---