Pool equipment

Pool lighting, projectors and bulbs...

Astral Lumiplus Wireless LED pool projector
Astral Lumiplus Wireless LED pool projector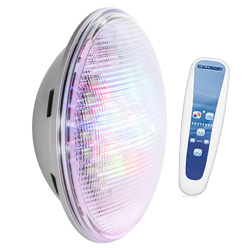 Recommended retail price 2023 starting from :
Our Price starting from :
Ref. Abatik 016734
Ref. Provider 45079KIT1
Lumiplus Wireless 1 Kit
Remote control,
Easy installation in alcove PAR56,
Powerful 1100lm beam,
Low energy consumption,
Multicoloured lighting
In stock
The LumiPlus Wireless combines LED lighting with a receptor modulator. This unit can be commanded at a distance by remote control.
Light diffused is intense and personalises your pool by creating various atmospheres of colour whilst reducing energy consumption.

Universal, this projector can be installed in PAR56 alcove without adjustment, replacing your traditional 300w filament lamp.


Main advantages of the bulb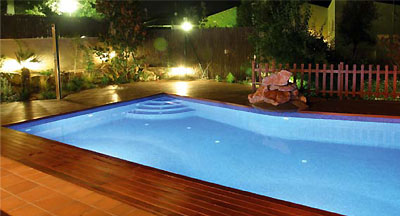 Practical and fun
By means of the featured receptor modulator, the bulb can be directly commanded by LumiPlus Control Motion that is supplied in the kit. Fun to use, a selection of 12 colours and 8 sequences are available to choose from by means of shaking the remote.
Easy to use
This bulb is installed in any PAR56 alcove on the market.
Economic
A LED source of light represents a substantial economy : The LumiPlus uses 20 times less electricity than a filament bulb.
Durable
The LumiPlus uses high luminosity Luxeon LEDs, a guarantee of quality. These LEDs have a lifespan 100 times superior to conventional bulbs.
LumiPlus Control Motion remote control
This remote allows you to :
- Switch on and off up to 2 LumiPlus Wireless LED bulbs PAR56 RGB 1.11,
- Choose from 12 colours and 8 pre-programmed sequences,
- Regulate sequencing speed and style (static, flash or merging),
- Regulate the colour intensity.

The carrying range of the remote is 5 meters.

The Lumiplus Control Motion is equipped with a movement detector (accelerometer sensor).

This allows :
- selection of colours by shaking the remote in a vertical motion (A).
- Choose a sequence and its speed by using a horizontal movement (B).

The remote can also be used in a classic manner by pushing buttons.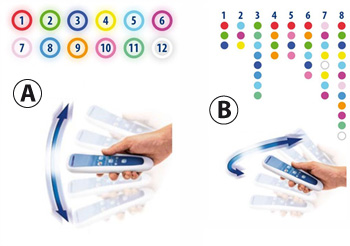 Luxeon LEDs

LED is an abbreviation for "Light Emitting Diode". This technology was developed during the 60's and was recognised as THE TECHNOLOGY of the future. LEDs are generally used in electronic equipment, games, domestic appliances, road signals etc. In general, LEDS are low lumen
High lumen LED technology was first used in the automobile industry, and then, in a domestic context.
Light is created by electricity that passes through the LED. As there are no filaments, LEDs cannot burn or break. The result is a lifespan which is multiplied by 100 times greater than a conventional bulb coupled with reduced consumption.
Colour shades abtained with bulb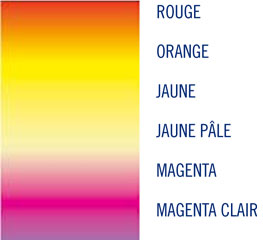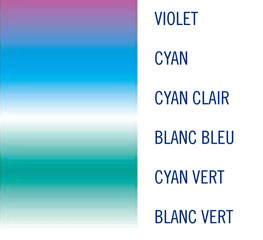 There are different types of LEDs : those with low lumens (5mm) and those with high lumens (High Power LED). The LEDs used in the Lumiplus Wireless are Luxeon high lumen (1W to 3W).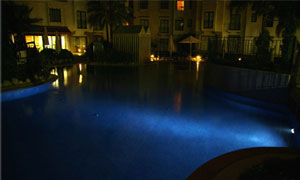 Using a LED PAR-56, low lumen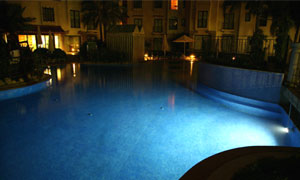 Using a LED PAR-56 LumiPlus Wireless, high lumen
Transformer capacity
Your Lumiplus bulb must be connected to a transformer producing 12v.
Its capacity should correspond to the bulbs to which it is connected. The capacity of the provided power supply must be 20% more than that consumed by the projector.
The below table indicates the number of LumiPlus Wireless bulbs that a transformer can power, depending on its capacity :
Transformer capacity
Maximum number of bulbs
Technical characteristics of bulb
Power supply
12V AC 50Hz/60Hz
The Lumiplus Wireless 1 kit includes :
- 1 LumiPlus PAR56 RGB 1.11 Wireless bulb
- 1 wireless remote LumiPlus Control Motion
The Lumiplus Wireless 2 kit includes :
- 2 LumiPlus PAR56 RGB 1.11 Wireless bulbs
- 1 wireless remote LumiPlus Control Motion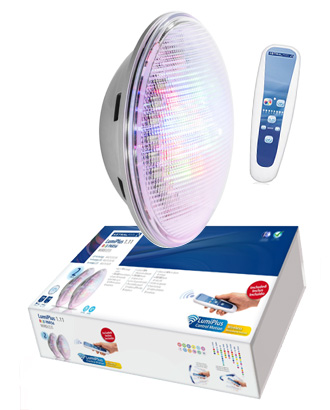 Warranty
3 years
Photos non-contractual
Price incl. VAT
Ask for a free quote astral lumiplus wireless led pool projector
Other product : Astral Lumiplus Wireless LED pool projector
Starting from 409 eur Including VAT.
Please fill in this form carefully. Our commercial service will handle your request promptly.
---
UK freephone hotline
Monday Friday 9.00 19.00, Saturday 10.00 18.00

---