Mancora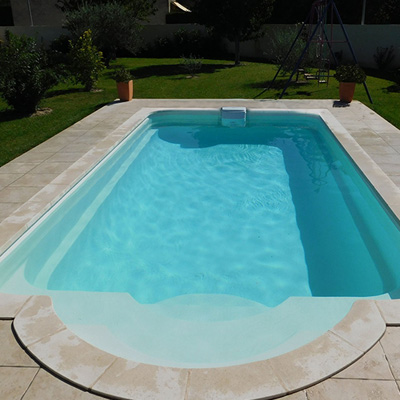 Recommended retail price 2023 starting from :
Our Price starting from :
Ref. Abatik 017248
Ref. Provider DECLIC600FT
MANCORA shell pool kit R60 FT - 6.00x2.80m
Polyester shell pool with flat floor and stairs,
Inside length from 6m to 8,50m,
Depth 1,40m or 1,50m depending on model,
Available colours white, beige or blue,
Traditional filtering system or outboard monobloc,
White LED lighting projector
In stock
The Mancora range is composed of five models with various dimensions, available in white, sand or blue. The Mancora's stairs and comfortable, wide bench allow you to enjoy the full benefits of the sun and water whilst facilitating pool access

Each model can be equipped with either a classic filtration system or an outboard monobloc. The choice is yours.
The solidity and sealing of the Mancora range are ensured by their unique, entirely automatic manufacturing process that results in a perfectly homogenised pool structure.
Each pool shell carries a 10-year manufacturer's guarantee on the structure, shell finish and sealing.
This 10-year guarantee contract, maintains legal mentions, notably in the case that the manufacturer ceases to exist.
Manufacture of Mancora polyester shell pool

Available shapes







Mancora R60
Length
6,00m (inner length, stairs incuded)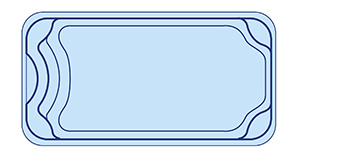 Mancora 73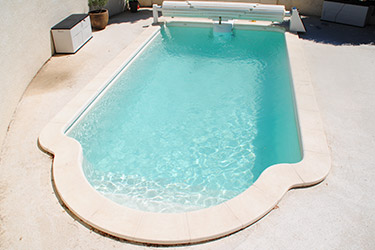 Length
7,30m (inner length, stairs included)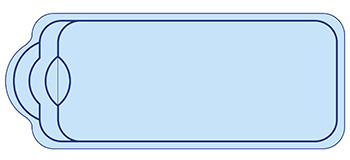 Mancora R70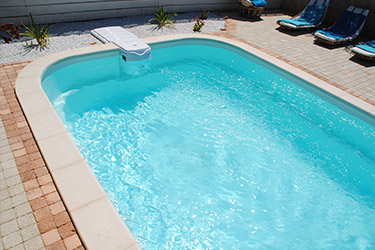 Length
7,00m (inner length, stairs included)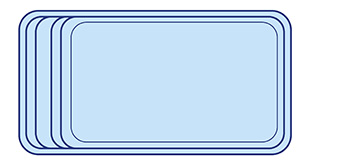 Mancora 85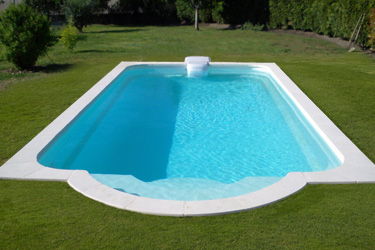 Length
8,50m (inner length, stairs included)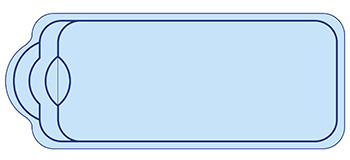 Mancora R80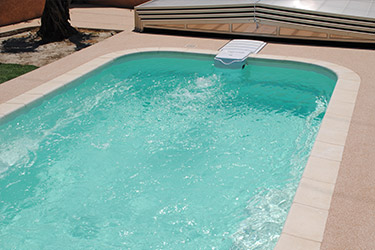 Length
8,00m (inner length, stairs included)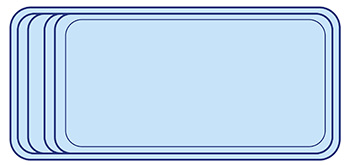 Polyester shell
Using the latest technology methods in the manufacturing process, coupled with raw materials classed ISO 9001-9002 and various patented production techniques, our provider guarantees quality pools boasting a long life span.

The projections applied to the pool shell are effectuated by total automation :
1. The « Gelcoat » : specific paint creating the shells colour and gloss aspect,
2. The « Barrier coat » : glass fibre reinforced polyester ensuring perfect sealing between the Gelcoat and the remainder of the structure
3. Glass fibre reinforced polyester resin, obliged for the production of the pool.

Reinforced stair area

To reinforce the structure and avoid deterioration, the pool wall which contains the stairs features horizontal and vertical reinforcements which are positioned just before the projection of the resin coat.

Each shell features:
- Triangular reinforcements under the lip of the pool (1),
- Mid-wall brace (2),
- Triangular reinforcement on 2/3 of the wall (3),
- Natural reinforcement (rounded shape) creating a superior resistance to the pressure of water volume (4).

Security valve

The Mancora pools are equipped with a security valve.

This valve is permanently kept in a closed position when the pool contains water, being opened only in the case of the pool's installation or if the pool is empty and is to be filled at a later time.
In the case of heavy rain, this allows water that is situated in the evacuation pipe to enter into the pool shell as to avoid the build-up of hydraulic pressure.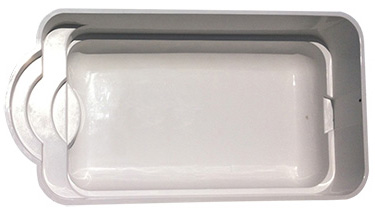 Mancora 73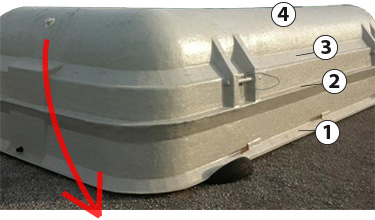 The filtration of your pool
For each Mancora polyester shell, you can choose between :
- An outboard filtering monobloc
- A classic sand filtering system (pump and sand filter not included).
Outboard filtration monobloc (BF model)

This filtration monobloc features two cartridge filters with a capacity of 25 microns, a Speck pump, 22m³/h, two skimmers, a discharge nozzle and a white LED projector.
The compact filtration monobloc is installed on the pool surround and is in part, immersed into the water.

Easy to use with self-priming pump.

With ABS - PMMA white outer casing, this filtering solution easily merges into your pool environment.

DETAILS OF THE FILTERING MONOBLOC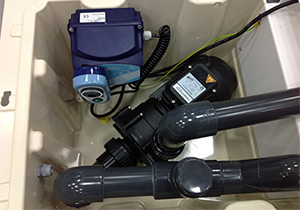 Inner view of standard filtration monobloc
A. Removable lid with locking system
B. Electrical terminal block + daily timer
C. Filtration pump
D. Skimmers, with two lateral suction openings
E. Two removable filter cartridges with leaf gathering baskets
F. White LED lighting projectors
G. Adjustable discharge nozzle

Speck filter pump
Waterflow 22m³/h
Filtration featuring double cartridges
Filtering capacity 25 microns
Filtration surface 4,5m²
Outer casing thermoformed ABS – PMMA
Overflow security
Distribution box with transformer (to be used with a 30mA circuit breaker)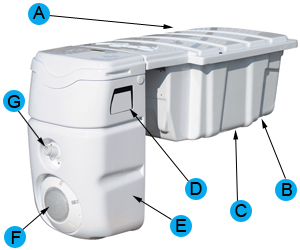 This filtration box cannot be modified with optional equipment.
Available on option
Evolving filtering monobloc
on which you can add :
- A counter-current system.
- By-pass allowing the installation of a heat pump or other heating system.
- A salt electrolyser, chlorinator or brominator so the maintenance of your pool water can be managed automatically.
- pH regulator.
Filtration by sand (FT models)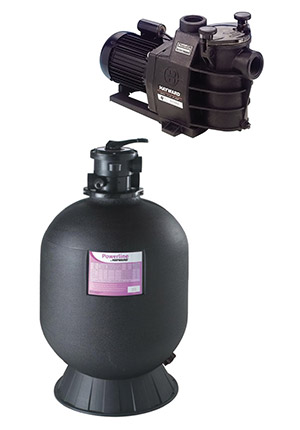 Hayward Powerline 3/4HP filter pump with a flow of 10m³/hour
Hayward Powerline sand filter with multiway valve
Electrical distribution box with transformer
The PVC connection kit includes :
- 50ml flexible PVC
- 4ml rigid PVC
- 4 D50 valves
- 1 3-way collector
- 1 cross 5 union threaded connector
- 1 solvent
- 1 500G pot of glue
- 1 T connection
- 5 threaded fittings
- 20 90° bend fittings
- 4 45° bend fittings
- 1 repair kit and 1 cartridge of acetate putty
- 3 rolls of teflons
Maintenance material includes:
- 1 wall brush
- 1 cleaning net
- 1 suction brush
- 1 floating tube
- 1 telescopic handle
- 1 thermometer
Delivery
Mancora pool with filtration monobloc

The delivery includes :
Polyester shell (3 available colours)
1 filtration monobloc featuring a LED lighting projector
1 electrical distribution box with transformer
1 security valve
1 security overflow
1 maintenance kit
Mancora pool with classic sand filtering system

The delivery includes :
Polyester shell (3 available colours)
1 LED lighting projector
1 skimmer
2 discharge nozzles
1 brush adaptor
1 main drain
1 security valve

Filter and maintenance kit on option
Pool surround (optional)
The pool surround is available in white or yellow. Delivered with a colouring pigment (yellow or white) to mix with white cement (cement not included).
Dosing :
3 volumes of pigment to 1 volume of white cement.

Reception and delivery of pool
A complete instruction manual including excavation and preparation for the reception of your Mancora polyester pool shell kit will be provided.
Steps :
1
.
Trace
To prepare excavation, trace out the form of your pool using the provided plan.
You need to add to the excavation dimensions,
• 0,60cm in length and width (in addition to the dimensions of the pool shell),
• 10cm in height of the pool cavity (in addition to the depth of the pool).
Example
Mancora R60 FT

Mancora R60 BF

2
.
Excavation
Excavation work can be completed using an adapted, mechanical unit that can respect the precise trace produced on ground level in accordance with the supplied plan.
3
.
Creating a base for the pool cavity
After excavation completion, you should prepare the base of the pool cavity by :
- positioning a geotextile
- covering the geotextile with a layer of crushed gravel
This layer should be levelled. Your polyester shell can then be placed on this surface.
4
.
Connection of filtration system and landfill of surplus cavity space
Models FT
: Filter connection followed by landfill
Models BF
: Landfill followed by installation of filtration monobloc
5
.
Positioning of pool surround and filling your pool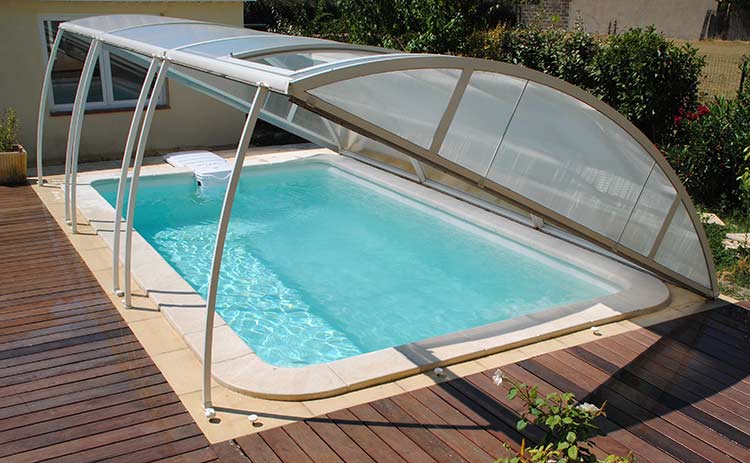 Mancora R60 BF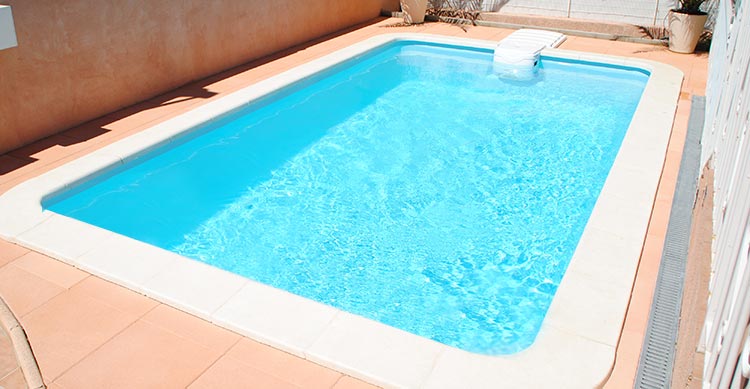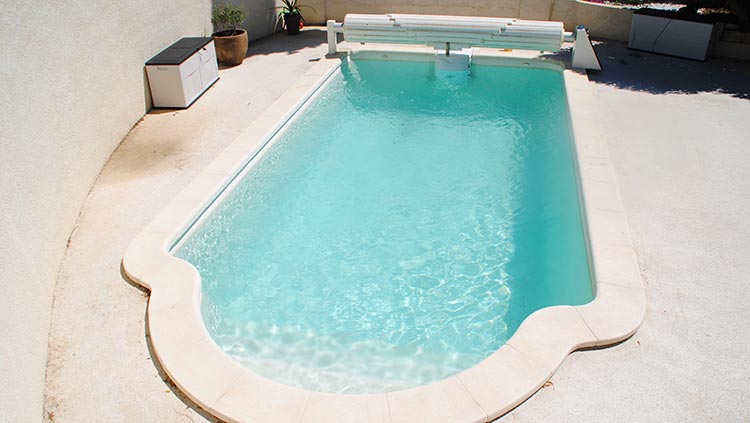 Mancora 73 BF
Warranty
capitalised 10 year guarantee on the structure, sealing and finish
Photos non-contractual
Price incl. VAT
Ask for a free quote mancora
Other product : Mancora
Starting from 7415 eur Including VAT.
Please fill in this form carefully. Our commercial service will handle your request promptly.
---
UK freephone hotline
Monday Friday 9.00 19.00, Saturday 10.00 18.00

---
Spare parts order
You are looking for a spare part for «Mancora » ?
Please click the button below. Our commercial service will handle your request promptly.