Automatic pool cleaners

Electric pool cleaners

Dolphin Nauty
Dolphin Nauty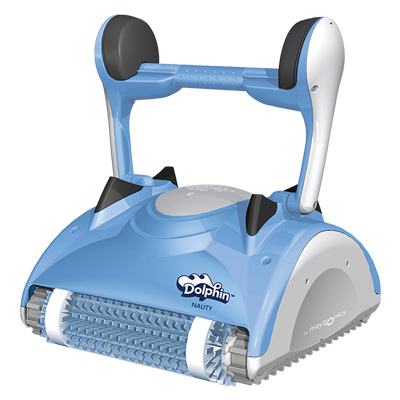 Recommended retail price 2023 :
Our Price :
Ref. Abatik 022043
Ref. Provider NAUTY
Dolphin Nauty electric pool cleaner
Cleans the bottom surface and walls of inground pools,
Compatible with flat and gentle sloping bottom surfaces,
CleverClean advanced sweeping system,
Maximum length of pool 12m,
Duration of cleaning cycle: 2h30,
Filtering cartridges 100 microns, easy to care for,
2 active brushes, eliminating algae and bacteria
In stock
The Dolphin Nauty electric pool cleaner from Maytronics is specifically designed to totally clean the bottom surface and walls of inground pools.

This electric pool cleaner operates in an independent manner, making manual maintenance of your pool a thing of the past.

Featuring two active brushes that efficiently cleanse the pool finish whatever it may be : liner, reinforced PVC, tiles, concrete...

The Dolphin Nauty uses a suction and filter action in the pool water, retaining dirt and debris in its filter basket. This unit is very user-friendly.

With its fast clean cycle the Dolphin Nauty cleans pools with a maximum length of 12m as a whole in 2h30.

Presentation of the Dolphin Nauty pool cleaner from Maytronics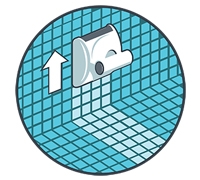 Cleans bottom surface and walls of pool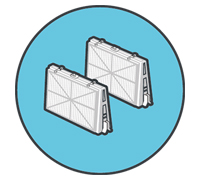 Double filter cartridge (easy to rinse in clear water)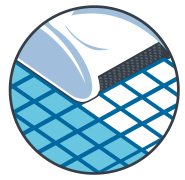 Active brushes for efficient cleaning, eliminates algae and impurities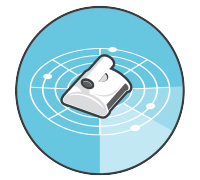 Cleans pool as a whole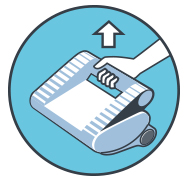 Easy maintainence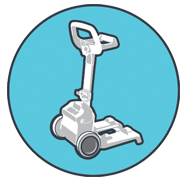 Transportation trolley

Dolphin Nauty : Total effortless cleaning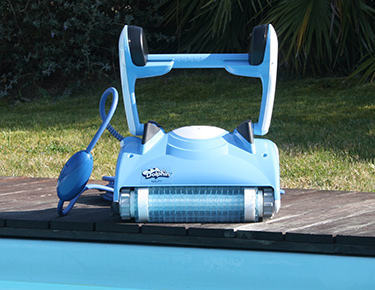 CleverClean navigation system : provides a complete sweep of your pool

CleverClean is an intelligent navigation system based on an algorithm. Using this method, the cleaner calculates the length, breadth and planned cleaning trajectory throughout the pool as a whole, ensuring a detailed clean with no forgotten zones.


Total clean of walls

To clean your walls as a whole, the handle of the Dolphin Nauty features two floaters, creating a slight imbalance. When the cleaner reaches the waterline, the unit inclines and shifts several centimeters to the side before descending to continue the cleaning cycle.
Suction and filtration
The Dolphin Nauty can suction and filter the finest particles just as well as larger debris leaving your water clear and crystalline. The unit filters water and retains dirt and debris in two cartridges featuring a fine filtering capacity (100 microns), that are very easy to care for : Just open the lid situated on the undercarriage, remove the cartridges, empty and rinse in clear water and replace them in the cleaner.
Active brushes
The
Dolphin Nauty from Maytronics
integrate two active brushes featuring PVC slats and a double ring Wonder Brush. These brushes thoroughly cleanse and avoid the spread and development of algae and bacteria on any type of pool finish, reducing the need and use of chemical treatment.
Out of water protection system
The Dolphin Nauty also features an out of water detection system. When the unit detects a lack of water, it inverses its direction. This feature is perfect for immersed border pools (or Californian borders). As soon as the cleaner is out of the water, it inverses direction and returns to the pool.
Easy to use and maintain
The Dolphin Nauty is designed to facilitate the maintenance of your pool. Its use does not require complicated programming or to be linked to your pool's filter system. Just connect the floating cable to the transformer and connect the transformer to the power supply (ensure the cleaner is switched OFF). Then place the unit in the pool water, let it drop to the bottom surface of the pool and switch ON. The cleaner begins its cycle.

Connecting Nauty

Robot Nauty in operation
Once the cleaning cycle is completed, the cleaner is immobilised. Selection OFF. Pull gently on the units cable and guide to the waters edge. The cleaner lifts easily out of the water with its handle by means of its fast water evacuation feature.
Exit from water
Maximum length of pool
12 metres
Length of cleaning cycle
2h30
Control features
Digital command ON/OFF
Filtration
Double filter cartridge
Power supply
Digitally commanded electric transformer, output voltage inferior to 30 VDC, IP 54
Transportation trolley
Supplied
Easy care and maintainence
The Dolphin pool cleaners are designed with easy everyday care in mind. You can :
- Easily clean you filter cartridges after each use : just open the lid situated on the undercarriage to access. To clean, remove, rinse and replace in the cleaner.
- The turbine is easy to dismantle and clean if debris is obstructing smooth operation.

Vidéo : How to clean your filter cartridges

Vidéo : Maintaining your turbine
Warranty
2 years
Photos non-contractual
Price incl. VAT
Ask for a free quote dolphin nauty
Other product : Dolphin Nauty
At best price 799 eur Including VAT.
Please fill in this form carefully. Our commercial service will handle your request promptly.
---
UK freephone hotline
Monday Friday 9.00 19.00, Saturday 10.00 18.00

---