Pool equipment

Pool lighting, projectors and bulbs...

Nova WNM40 pool projector
Nova WNM40 pool projector
The Nova WNM40 lengthens your swimming time at nightfall whilst valorising your pool.

Its LED offers a non-blinding light and consumes little energy.

Practical, this projector is installed in standard PAR56 alcoves without further modification.


Technical details

The Nova WNM40 projector is distinguished by a pure, non-obtrusive, design. More than a simple lighting projector, the Nova WNM40 becomes an esthetic element of your pool.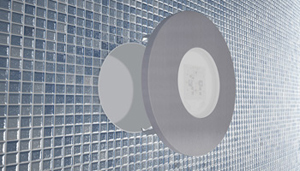 Using adjustable fixation prongs, the projector is easily installed in any PAR56 alcove, without the need for further modification. The ideal solution to replace a 300w 12v filament bulb.
Its powerful beam can reach 2100lm while guaranteeing an energetic consumption lower than a classic 300w projector.
Transformer capacity
The transformer connected to the LED Nova must produce 12v.
Its capacity must be sufficient to run the connected projectors.
The below table indicates the number of Nova projectors that the transformer can run depending on its capacity.
Transformer capacity
Maximum number of Nova WNM40 projectors
When effectuating electrical connections, protection must be provided for each projector. This can be ensured by using 3 to 3,5A fuses or trip switches.
Technical features
Power supply
12V AC 50Hz/60Hz
Fixation
Adustable fixation prongs
Contents of package
- 1 Nova WNM40 projector
- 2 stainless steel screws + washers for connection
- 1 instruction sheet
Warranty
2 years
Photos non-contractual
Price incl. VAT
Ask for a free quote nova wnm40 pool projector
Other product : Nova WNM40 pool projector
At best price 349 eur Including VAT.
Please fill in this form carefully. Our commercial service will handle your request promptly.
---
UK freephone hotline
Monday Friday 9.00 19.00, Saturday 10.00 18.00

---