Pool equipment

Pool lighting, projectors and bulbs...

Ixia WIM15 mini LED pool projector
Ixia WIM15 mini LED pool projector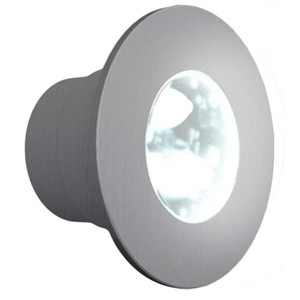 Recommended retail price 2023 :
Our Price :
Ref. Abatik 014505
Ref. Provider PF10R083
Full stainless steel BAHIA mini projector for nozzle WIM15
3 LED mini pool projector
Easy installation on panel or 2" wall crossing
Powerful 700lm beam
Low energy consumption
White light
In stock
The LED Ixia WIM15 mini projector diffuses a white light ideal to indicate pool access on an immersed border or stairs.
This projectors reduced size and low power consumption (15w) indicates the possibility of installing several projectors to define your swimming area, indicate a shallow end or highlight the lines of your pool.
Technical details

Adaptable to all pool types, this projector is designed to be fixed to a panel or wall crossing.

Its support consists of a 2' threaded male connection easily screwed to the wall crossing.

It's full 316L stainless steel body is resistant to corrosion. The Ixia WIM15 projector is perfectly adapted for prolonged immersion.

The 3 LEDs contained in each bulb have an excellent life span.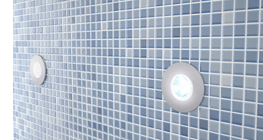 Transformer capacity
The Ixia mini projector should be connected to a
transformer with a 12v secondary supply.

The capacity produced by the transformer should be ample
to serve the consumption of connected projectors.
Transformer capactiy
Maximum number of WIM15 projectors
The below table indicates the number of projectors a transformer can power, depending on its capacity.
When installed, an independent protection must be provided for each projector. 2A fuses or trip switches can be used.
The IXIA WIM15 mini-projector cannot be used with liner finish pools.

Installation schema
The Ixia WIM15 is installed easily and quickly on panelled pools or wall crossings using a 2" threaded connector. Simply screw into place on the brush adaptor or discharge nozzle
(1)
inserted in the wall crossing
(2)
. The power cable passes through the brush adaptor or discharge nozzle, arriving in a water tight duct, leading to the electrical connection box situated above the water level of the pool (3).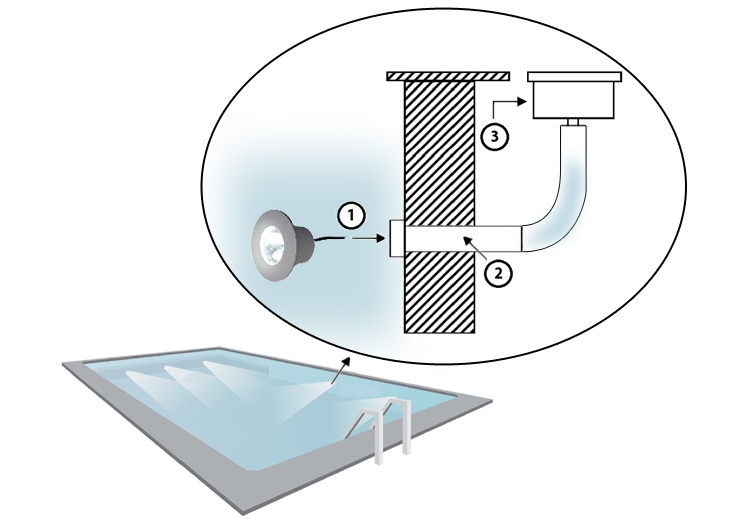 Technical charateristics
Power supply
12V AC 50Hz/60Hz
Maximum lumens provided
700lm
Fixation
Threaded 2" connection
Contents of package
- 1 Ixia WIM15 mini projector
- 1 instruction sheet
Warranty
2 years
Photos non-contractual
Price incl. VAT
Ask for a free quote ixia wim15 mini led pool projector
Other product : Ixia WIM15 mini LED pool projector
At best price 319 eur Including VAT.
Please fill in this form carefully. Our commercial service will handle your request promptly.
---
UK freephone hotline
Monday Friday 9.00 19.00, Saturday 10.00 18.00

---